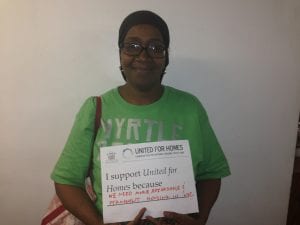 In March 2013, the National Low Income Housing Coalition introduced the United for Homes campaign, which proposes to create a source of funding for the National Housing Trust Fund by modifying the current mortgage interest deduction, reducing the size of a mortgage eligible for a tax break to $500,000 and converting the deduction to a 15 percent non-refundable tax credit. These changes would raise $196 billion in revenue over 10 years. Under the current allocation formula, the NLIHC anticipates that New York State would receive $603.7 million for every $5 billion funneled into the National Housing Trust Fund.
Tenants & Neighbors, a grassroots organization that helps tenants build and effectively wield their power to preserve at-risk affordable housing and strengthen tenants' rights in New York, joined the campaign in July 2013. While the National Housing Trust Fund is primarily a housing production program, we are interested in its potential for preservation of federally subsidized housing that's at risk of losing its affordability. As an organization that works closely with our tenant base, we have seen the negative impact of repeated cutbacks to the HUD budget and the lack of funding for low-income rental housing in general.
Sequestration has exacerbated the pre-existing shortage of federal funding for low-income rental housing though its effect on public housing and Section 8 vouchers, and the tenants wonder if they will be affected next. While there is a robust history of affordable housing provision in New York, programs like rent regulation and the Mitchell-Lama housing subsidy program are rapidly losing units and no longer produce new rental housing on a large scale.
Shortage of Affordable Rental Housing
According to the Community Service Society, New York City has lost 33 percent of its Mitchell-Lama and HUD housing stock since 1990. Around 213,000 rent-regulated units have been lost since the 1980s, according to the Furman Center. Newer housing finance programs like Low Income Housing Tax Credits or HOME do not meet the great need for low-income rental housing. Production limitations are compounded by pressure from an extremely competitive and expensive real estate environment. These factors contribute to New York State's rental market where 74 percent of extremely low-income households (those making below 30 percent AMI) pay more than half of their income toward rent (NLIHC 2013 State Housing Profile). An affordable housing crisis of this magnitude requires an innovative federal housing policy response.
This critical need for permanent, affordable rental housing for low-income households was a major impetus for a nationwide campaign that was launched in the early 2000s for the establishment of a National Housing Trust Fund. The fund was ultimately enacted into law as a provision of the Housing and Economic Recovery Act of 2008 and was structured to benefit very low-income households, with 75 percent of the funding targeting households living below the federal poverty line. This program was the first new production program specifically targeted to extremely low income households since the Section 8 program was created in 1974 (National Coalition for the Homeless). The fund was designed as a permanent federal program that would not be subject to the annual appropriations process and would be under less risk for defunding and would not directly compete with other programs in the HUD budget.
Unlike most federal affordable housing programs enacted in the last few decades, the National Housing Trust Fund has the potential to be large enough in scope to preserve a substantial portion of the federally funded affordable housing under threat and could actually produce enough new housing to address New York State's shortage of more than 625,000 affordable homes.
Unfortunately, in the wake of the 2008 financial crisis, contributions to the National Housing Trust Fund were suspended before they had even begun. And despite the GSEs' return to profitability, it has not been funded to this day.
Many of our low- to moderate-income regulated and subsidized tenants have faced a serious threat to the long-term affordability of their housing and had to wage intensive and protracted campaigns to keep their home in its affordability program. Through the Tenant Resource Network program, Tenants & Neighbors is working with five HUD-subsidized properties that are in danger of losing their affordability. For example, in Homestead Village in Suffolk County, one of the wealthiest counties in the U.S., residents are beginning a preservation campaign and will hold their tenants association elections in late October. Homestead Village's opts-out would result in a loss of 431 units in a community with minimal affordable rental housing.
Long-Term Priorities
In the past few months, Tenants & Neighbors has sought campaign endorsements from other organizations in New York State and received a letter of support from the Rochester City Council. We have met with legislators (frequently in conjunction with other housing advocates) in Rochester, Buffalo, New York City, and Washington, D.C. In July, Tenants & Neighbors and the Supportive Housing Network of New York, met with Sen. Schumer's and Sen. Gillibrand's staffs in New York City and Rochester. Since September, Tenants & Neighbors has focused on the House of Representatives, meeting with legislative staff to advocate for HR 1213, a bill officially endorsed by the United for Homes campaign. We have held a number of positive meetings and will be working on increasing the number of co-signers in the coming months.
Tenants & Neighbors' HUD leadership committee, a group of tenant leaders from a range of neighborhood types interested in developing city, state, and federal level policy recommendations for preventing the loss of affordable housing, was enthusiastic to learn about United for Homes, mostly because of its potential to generate revenue for affordable housing in New York state.
Each committee member is using the campaign as an opening to advance their local organizing goals. One East New York development is interested in using the campaign to develop their tenants association and raise tenant interest in organizing. Another development, in Midtown East, is interested in using the campaign to further develop relationships with elected officials and educate tenants about broader affordable housing issues. Tenants from developments in Tribeca and Crown Heights are linking the National Housing Trust Fund with the impact of the sequester on affordable housing in New York state.
Over the next few months Tenants & Neighbors will continue working closely with our tenant base and allies to advocate for United for Homes. The likelihood of the campaign's success is difficult to predict at this point at time. As Shelterforce editor Miriam Axel-Lute wrote in her article on March 18, the mortgage interest deduction may be in the process of losing its sacred-cow status, with calls for reform coming from a wide range of sources, from the Cato Institute to the Bipartisan Policy Center. It is likely that tax reform will occur in the near future. According to Sheila Crowley of the National Low Income Housing Coalition, campaign success will depend on the willingness of housing organizations to coalesce around mortgage interest deduction reform and keeping the revenue raised in housing. The magnitude of the housing crisis, where for every 100 extremely low-income renter households nationwide, there are only 30 affordable and available units, highlights that current housing policy has fallen short. This crisis cannot be addressed within the parameters of the current HUD budget. United for Homes is an innovative proposal that, if enacted, will radically reshape housing policy and provide a solution to our most pressing housing problems.