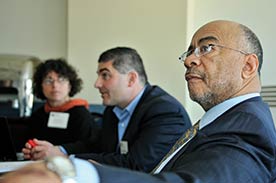 Connecticut is a state of old houses and rapidly rising energy costs. Though the state has actually done fairly well in pursing energy efficiency — it's ranked 8th in the nation by the American Council for an Energy-Efficient Economy (ACEEE) and shrunk its per capita energy use 10.3 percent from 2005 to 2009, compared to only 3.3 percent for the nation — it still uses more energy, and its residents pay significantly more for that energy, than is true for its neighbors in Massachusetts, New York, and Vermont.
Aiming for another level of efficiency improvements would have a significant effect on lowering Connecticut's contribution to climate change: 30 percent of the state's greenhouse gas releases come from residential use. And it would also be a chance to dramatically improve both the finances and comfort of Connecticut residents, especially many lower income and senior residents, for whom utility costs are a large portion of their budget (10.4 percent for those under 50 percent of AMI) and who are more likely to live in uncomfortable drafty or otherwise inefficient homes.
But how can all the people and sectors whose interests are involved get on the same page about what happens next?
Playing It Out
On March 6, 2012, 78 people filed into the long bright meeting space that runs along the top of the indoor seating at Hartford's Rentschler Field stadium for "Energy Smart Solutions," hosted by the Housing Development Fund (HDF), a CDFI based in Stamford, Conn. Rather than drifting toward tables with familiar faces as so often happens, they sought out the tables labeled with their "team" for the day. The setting was appropriate because they were there to play a game of sorts — also known as a "megacommunity simulation."
The topic for the day was how to increase the energy efficiency of Connecticut's existing housing stock. Rather than just talk about the problem though, we were going to attempt to live it — role playing, negotiating, and adapting in the form of teams representing various parties who have a role in energy efficiency: energy suppliers, vendors (of energy-efficiency audits and retrofits), state government, nonprofits, financiers, and residents. The idea was to make a series of "moves" that end with presentations from each team and begin by working off of the results of the decisions made in the last round. We were aiming for something that could ostensibly reduce Connecticut's energy use by another 25 percent by 2030.
Joan Carty, president of HDF, had encountered this model at a NeighborWorks America (NW) Achieving Excellence training, in a presentation by a consultant from Booz Allen Hamilton, a large consulting firm whose specialty is designing and conducting these "megacommunity simulations" for clients around the world.
Carty's class was excited by the prospect of applying this approach to some of the multiplayer, complex challenges in the community development world. Her classmates Ishbel Dickens, director of the Manufactured Home Owners Association of America, and Kevin O'Connor, director of the Rural Ulster Preservation Company, took the lead in working with NeighborWorks to sponsor a competition to fund one. Booz Allen offered their expertise in planning such games pro bono to the competition winner. HDF won that NW grant with their proposal to focus on energy efficiency.
Energy Smart Solutions was an experiment for HDF, trying out a new tool in a new field. They are very pleased with how it went, and there are lessons in what did and did not go well. Having people who don't usually sit down together interacting so intensely, and on a level playing field, not on one group's turf, where they were free to brainstorm rather than on the spot for a real-life promise or decision, was a very powerful thing, said several participants. The pieces of the larger puzzle are usually decontextualized — the simulation provided a safe environment for reality checks.
HDF was not an expert in energy conservation, though they work in the related field of affordable housing. This was actually a plus. "We're learners in this space," says Carty. "I think it was an advantage to be a learner because we had no preconceived notion about what the outcomes should be." Similarly, she says, "it helped as the organizer to be neutral," when inviting people.
Thinking through who to invite carefully is crucial. "You want people there who know something, are open minded, and able to put aside their own agenda. If you're an expert, it's hard to park your agenda at the door," says Gary Rahl, Booz Allen VP.
So is figuring out who should be represented. Though HDF and Booz Allen said that was perhaps the largest part of the planning process, participants indicated a couple ways in which they felt the megacommunity could have been better represented: First, landlords were not present, though their incentives and challenges are likely to be different than homeowners or renters.
Second, low-income residents were not themselves present. Booz Allen had recommended against involving individuals who may have difficulty seeing beyond their own particular situation, but some who were called on to represent them in the simulation felt ill equipped to do so. Annie Harper, a residents team member, says she has "worked in development overseas for many years and was really shocked that there is not yet a recognition in this country that low-income people are in fact more expert than anyone else in dealing with the problems of poverty. Overall, I found the set up of the event fantastic, but the absence of this group of people made it ultimately much, much less valuable than it would have been had they been included."
Coordinating the Megacommunity
There were two results of the event: A specific set of proposals and a new set of relationships — and beyond that new set of relationships, an understanding of the megacommunity of players that needs to work together to move the needle on energy efficiency in Connecticut.
However, the key to making such a simulation more than just an interesting exercise is follow through and coordination. As one participant said, these new connections are difficult to maintain. A coordinating organization from among the stakeholders, a first among equals, is important for holding a megacommunity together enough to make concrete progress after a game, says Rahl. That organization needs to have some resources to put into convening, communications, moving the agenda. Some continuing support from a third party organization like Booz Allen can also be helpful, but they can't drive the process.
HDF stepped up. It hired someone in July 2012 to focus on coordinating the various energy-efficiency stakeholders. On her first day, HDF held a follow up convening of the megacommunity in New Britain. Then, it established working groups on program design, marketing, and finance, all populated with tri-sector participants. Each group was open and allowed new participants to join.
The megacommunity worked together to submit input to the Governor's Comprehensive Energy Strategy, and continued to convene over the course of the following year when there were opportunities for raising a tri-sector voice, such as when there was a legislative request to the state's energy department (a megacommunity participant) for creative ideas to tackle the energy-efficiency problem. It has taken a significant amount of time, and HDF didn't get any new sources of ongoing funding to support that coordination work, but it's so well aligned with their mission, they feel it's well worth the effort.
CDFIs like HDF are uniquely positioned to play the role of convenor on community development issues, Carty says. Even though the topic was new, the group's prior experience as a convenor around bringing inclusionary zoning to Stamford helped staff understand what their role would need to be. "What it has meant for us is all the ups and downs that come with stretching your role, your goals, and your skill sets," says Carty.
Potential for the Field
Many topics in community development — abandoned/problem properties, managing neighborhood change, education reform, foreclosure prevention — are multiplayer issues that need more than just technical solutions, and would be well suited to the simulation and megacommunity approach. If the field develops some skill with using the approach inclusively and consistently, it could be a powerful tool for creating innovative solutions to some of our thorny problems, and for building the structures to carry them out.
A version of this article appeared in the Winter 2013 issue of Communities and Banking.