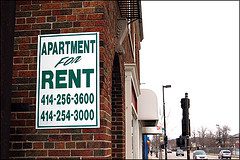 "The old formula of buying and dying in your house is no longer the formula for many…The stigma of renting is no longer the case. When it comes to living the American dream, the overwhelming response (is) renting is just as appealing," says Peter Hart.
The MacArthur Foundation quoted Hart, its emeritus chairman, in a recent press release discussing the results of new survey on the American Dream conducted by Hart Research Associates.
The survey asked this question: "Thinking more broadly and not for you personally, given our nation's current economic situation, generally speaking, do you think that buying a home has become more appealing, less appealing, or that our current economic situation has no impact on whether buying a home is appealing?"
According to the results, 54 percent of respondents said that renting has become more appealing, and 57 percent said that owning has become less appealing.
Does this mean that renting carries no stigma?
Not according to other responses found in the survey.
While it is clear that survey respondents are less confident in the ability of families to gain wealth through homeownership and are concerned about foreclosures, a large percentage of respondents have very negative views of rental housing. When asked what images "rental housing" conjures up, the top three responses were as follows:
Apartments/complexes/condos/trailers/one-story/family, place to live, renting (24 percent)
Low standards, run down, damaged, trashy, dirty, mediocre, unhealthy (17 percent)
Low income, Section 8, government, transients, uneducated, immigration (13 percent)
Another 9 percent stated that rental housing is "Unaffordable, expensive, waste of money." Furthermore, 22 percent of the respondents have never rented at all.
When asked the same question about homeownership, the responses are as follows:
Own piece of property, place to call home, nice house, belongs to you (16 percent)
Single family, children, older people, structure, foundation (16 percent)
Financial strain/stress, debt/taxes/insurance, bad economy, hard to get (15 percent)
According to the results, 72 percent of people currently renting, "aspire to homeownership".
Moreover, when asked how the government should approach subsidizing housing, only 30 percent of respondents believe that government spending on housing should fund programs and tax deductions primarily for individuals and families who are really struggling financially and only 8 percent feel that, "the focus of our housing policy should be more on ensuring people have access to decent and affordable rental housing."
So while Americans do seem more skeptical about homeownership's automatic ticket to the American Dream, they don't appear to be more welcoming of rental housing, renters, or government subsidies dedicated to non-owners.
It will be interesting to see whether and how such attitudes continue to evolve and whether that will signal any policies shifts in the future. I'm afraid I'm not as confident in the American public's embrace of renting and renters as those who conducted the survey.
(Photo by Brad Parbs CC BY-NC-SA)