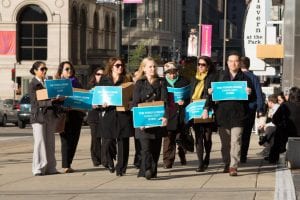 How do you convince somebody to fix a problem when they are seemingly blind to the overwhelming evidence that the problem even exists? Today, 11 million Americans owe more on their mortgage than their home is worth. Analysts predict that we will see an estimated two million foreclosure filings this year with millions more at risk of losing their homes. As a result, hundreds of thousands of senior citizens are losing their economic security, children and families are being uprooted, and neighborhoods are blighted with vacant properties.
The nation's housing market is in a precarious position, and despite millions of homeowners across the nation bearing the brunt of the housing crisis, too few of the decision-makers on Capitol Hill are championing the necessary solutions to protect the American Dream of homeownership. And in the midst of a presidential election, the onus falls on the two candidates to carve out serious proposals to navigate homeowners out of this colossal mess. But when political strategy dictates that its best for both candidates to avoid the issue altogether, it becomes incredibly challenging to push for the type of national conversation we need.
Recently the Home for Good campaign—a collaboration of more than 70 civil rights, community, and public interest groups—reached out to homeowners across the country for help. In the end, nearly 40,000 people signed on to our call, asking the presidential candidates to offer real solutions to:
Stop needless foreclosures
Expand affordable rental housing
Revive a sustainable path to homeownership
Along with signatures of tens of thousands of concerned voters and advocates, we have offered a blueprint for restoring home opportunity called the Compact for Home Opportunity. We have made it especially easy for them. The Presidential candidates have our signatures and a plan, now the ball is in their court.
It's important for both candidates to remember that while they may choose to skirt the issue until Election Day, there will be no hiding from the housing crisis over the next four years. Housing has traditionally led previous recession rebounds, so it is no wonder that our economic recovery has dragged alongside a weak housing market. We must address the crushing mortgage debt overhang, keep families in their homes, and bring new homeowners into the market.
Important housing policy questions are looming. Will the candidates lean on Fannie Mae and Freddie Mac to stop dual tracking, a practice that moves families through foreclosure before they know if they could qualify for a loan modification? Will they give away resources for housing counseling and low-income renters in the pending "Grand Bargain?" It's these kinds of details that have been completely absent from both candidates' platforms.
The financial crisis has decimated neighborhoods, wiped out family wealth, and ruined financial futures, but it has not changed the central role the home plays in our lives. We continue to seek shelter with a few basic amenities—safe streets, good schools, and access to quality jobs. It is time that candidates speak frankly with voters and explain what they plan to do to ensure that families who dream of owning a home can make that dream a reality.