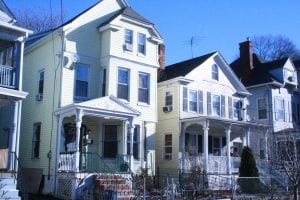 Last week's webinar, "Can Lease Purchase Save Us?," sponsored by NHI/Shelterforce and NeighborWorks America, provided an in-depth look at the lease purchase model that allows potential homebuyers to rent their intended home until they are ready to buy. The hour-and-a-half discussion also pointed to many of the challenges that can stand in the way of an organization that is not necessarily equipped with the proper planning and capacity.
Shelterforce editor Miriam Axel-Lute led the discussion and was joined by Bill Goldsmith of Mercy Housing Inc., in Chicago, Staci Horwitz of City of Lakes Community Land Trust (CCCLT) in Minneapolis, and John O'Callaghan of the Atlanta Neighborhood Development Partnership, Inc. (ANDP). All speakers were featured in Axel-Lute's Winter 2010 article on the subject and discussed critical elements in implementing a successful lease purchase program.
Horwitz, CCCLT's policy director, discussed "Project: Reclaim," a contract-for-deed program and collaborative effort with Urban Homeworks, BuildWealth MN, and Lutheran Social Service of Minnesota. Click here to download her presentation.
Mercy Housing's Goldsmith looked at a decade of doing a lease purchase program, as well as what to do and what not to do to ensure success. Click here to see his presentation.
Finally, O'Callaghan examined the ANDP program, one of the first organizations to use Self-Help's lease-purchase product, and placed an emphasis on front-end planning and program flexibility. Click here to see O'Callaghan's presentation.
Finally, click here to listen to a recording of the webinar.