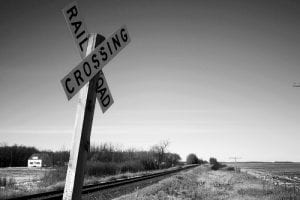 On a map of the rural county where I live, there are many place names that identify crossroads, significant in that many cars pass through them each day. When I go to these crossroads, I often find an abandoned general store, sometimes with a canopy out front where the gas pumps used to be. The store is usually placed close to the intersection of the two or three roads that meet there, so as not to be missed by travelers. Sometimes a few houses nearby are also located close by the right of way, and a handful of other old commercial structures.
Once upon a time these crossroads were the core of villages that served the surrounding districts — areas of perhaps a few thousand people, spread over a radius of a few miles. Many people used to do their shopping here, and some lived here, too, sometimes in the very buildings that also housed the general store.
I often wonder if the many old stores at these now-forlorn crossroads could be used again, for business and/or habitation. We talk a lot, in rural as well as urban areas, about organizing new development so that people can walk or bike to shops, civic activities, and so forth. Yet while we consider building new centers of growth out of virgin forest and farmland, we pay no attention to the historical centers where village life existed for generations. These old crossroads, with their still-standing storefronts, represent infrastructure ready to be expanded upon. Granted, the infrastructure is rather minimal. But situated as they often are on major traffic routes, these villages could serve their old purpose again. It would take just one business, really—a service-oriented or retail business that attracted customers throughout the day—to begin to recapture the identity these crossroads once had.
Photo courtesy of Ben Adamson via Creative Commons