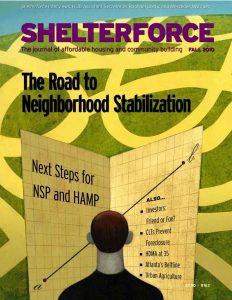 Marge Piercy's poem "To Be of Use" praises people who jump right in to whatever work needs to be done, passing buckets of water down the line to put out a fire or gathering the harvest.
Most of us who care about building healthy communities understand that ethic. We want to get those buildings rehabbed, the predatory mortgages modified, the deals closed, the tenants organized, the park cleaned up, the new library opened. Whether we are swinging the hammers or doing the people work behind the scenes, those concrete projects with tangible effects are what make our hearts sing. "Policy" often gets tacked on the end of our conference schedules, and can have a hard time drawing the attention of action-oriented practitioners.
But of course, everything we do happens in context, and the ways in which our laws, funding streams, and program models are constructed have a huge amount to do with how successful our individual projects are, as well as how well they move us toward our larger goals. Many of the articles in this issue remind us of this.
Sometimes a few well-placed rule changes can change incentives and possibilities in major ways. Alan Mallach describes some ways in which local governments can make their cities more welcoming to responsible distressed property investors — and less welcoming to irresponsible ones. Arionna Brasche notes in her article on urban agriculture that Cleveland is not only investing NSP money in urban farming, it's also undertaking a concerted effort to change zoning regulations to make sure that those efforts are legal and encouraged.
Information disclosure is often key to figuring out how to target and craft effective legislation, advocacy campaigns, and programs. In honor of the 35th anniversary of the Home Mortgage Disclosure Act, we have two articles looking at where HMDA has been, the battles that have been won or not quite sufficiently engaged based on its data, and where it can and should go next to better support fair housing and healthy neighborhoods.
In other cases, the rules and incentives within which community revitalization happens are much larger and more complex — as our cover package on the Neighborhood Stabilization Program discusses. As the third round of NSP is distributed to localities this fall, we step back and offer three perspectives on NSP's trajectory so far, asking why, despite some successes, the program hasn't yet delivered the quite the level of results we all hoped it would. Judy Jacobson of Massachusetts Housing Partnership explains the unintended consequences of NSP1's intricate and hastily written regulations, while Craig Nickerson and Annie Carvalho of the National Community Stabilization Trust describe the promise of the new NSP First Look program, and in an exclusive interview, Assistant Secretary Mercedes Márquez discusses the details of implementing NSP, comparing it to a startup business working in uneven market conditions, and describing how the experience has changed HUD's thinking about technical assistance. All three pieces in this section talk about the ways that federal investments in neighborhood stabilization can better set the stage for larger-scale success.
In our interview with Dr. Raphael Bostic, assistant secretary for HUD's Office of Policy Development and Research he touches on NSP as well, along with some of the unintended consequences of zealously promoting homeownership and how HUD is rethinking its approaches in many quarters to focus on results.
Shared equity homeownership is a clear example of how changing the assumed rules of the game — in this case about how the benefits and risks of homeownership are distributed — can have dramatic results. Emily Thaden and John E. Davis give us some wonderful stories about the stewardship work of community land trusts as they step in to prevent or cure mortgage defaults in their portfolios. These stories are behind some impressive numbers: Prime-rate MBA mortgage loans were 5.9 times more likely to be in the process of foreclosure than CLT mortgages at the end of 2009 — and the CLT homeowners are of a much lower average income.
So as Piercy says, let's "jump into work head first, without dallying in the shallows." But let's also remember that sometimes the work we need to do is put our collective shoulders to the wheels of forging new rules, new playbooks, new incentives, and new ways to make sure that we're not just treading water.