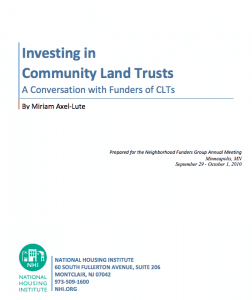 Over the past four decades, the community land trust movement has grown steadily in the US. Today there are approximately 240 CLTs in 45 states and DC. Their growth has accelerated in the past few years as CLTs have become embraced by community builders, organizers, advocates of affordable housing, asset building, smart growth and transit-oriented development, local governments and the philanthropic community.
Especially important has been the philanthropic community whose initial and ongoing support has made much of this growth possible. Why have funders embraced CLTs? To answer that question, NHI interviewed 15 funders from 13 foundations whose scope ranges from local, to state, to regional and national.
Their responses are detailed in our report, Investing in Community Land Trusts.