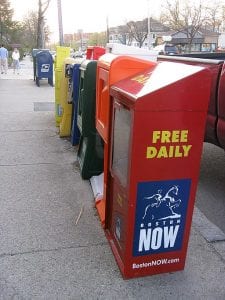 On a trip yesterday into Richmond, Va., I made sure to pick up some of the free media that clutter the doorways of bookshops and cafes and provide a reason for those ubiquitous multicolored news boxes on the sidewalks and corners. Ubiquitous in certain trendy neighborhoods, at least.
Indeed, these free media, such as the Village Voice or New Press alternative newsweeklies as well as smaller, scrappier competitors, can be very hard to find in many city neighborhoods. It isn't simply that lower-income neighborhoods off the path of the cultural creatives lack appropriate venues such as cafes and independent retailers where publishers can distribute their work, although that's a reasonable explanation. Nor is it that many of these neighborhoods have been hollowed out of much of their housing, commercial buildings, and population, although that too is a plausible reason.
Those neighborhoods have never ceased to exist, through all the decades of economic decline and depopulation. They are still there, and there are still inhabitants. But it's as if the media have written these places off the map, and will continue to do so until there's some hot new ethnic restaurant to write about. As I scanned the pages, I got the sense that the city's boundaries encircled a much smaller geographic area than I had thought Richmond included. Neighborhoods like Jackson's Ward, until recently a "slum" but now passing through a process of gentrification, earn significant coverage. Meanwhile, most every neighborhood on the still rough-and-tumble South side is ignored.
Why don't the alternative media recognize their role as trend-setters, and launch trends in these neighborhoods themselves by writing about them? Can't these media play a role in bringing the most woebegone parts of the city back to the mainstream's attention? Or am I asking too much of the alt-weeklies, consigned as they are to the advertisers' grip just like the daily press?
Just wondering.