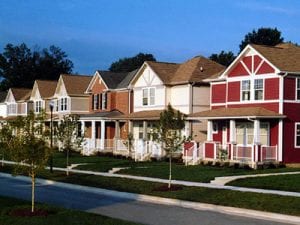 Wow. Last Monday, before heading out to toss the first pitch at Tuesday's baseball All Star Game, the president kicked off a White House forum on urban policy by criticizing past federal measures that have encouraged sprawl and promising a new look at ways, including support for public transit, to help metropolitan (in other words, not just traditionally "urban") areas become more sustainable.
From Robin Shulman in The Washington Post:
"Obama noted Denver, for its plans to build a public transit system to handle the city's anticipated growth; Philadelphia, for its urban agriculture; and Kansas City, which has weatherized homes and built a ecologically minded transit system in one low-income neighborhood . . .
"'For too long, federal policy has actually encouraged sprawl and congestion and pollution, rather than quality public transportation and smart, sustainable development,' said Obama."
Then, Tuesday morning, Transportation Secretary Ray LaHood put a little policy meat on the rhetorical bones in testimony before the Senate Committee on Environment and Public Works. His message was all about reducing transportation-related greenhouse gas emissions not just through more efficient vehicles but also through walkable, mixed-income communities near public transit.
By Tuesday afternoon, it was HUD Secretary Shaun Donovan's turn, who spoke along with his predecessor Henry Cisneros at an event hosted by the Brookings Institution. Donovan wants to expand on HOPE VI through a new program the Administration calls Choice Neighborhoods. The initiative is being designed to do what HOPE VI has done in sponsoring affordable housing in the context of real neighborhoods, but also to go further to make the local initiatives even more community-oriented with supplemental assistance for jobs and education to help break the cycle of poverty.
I find it utterly remarkable that the federal government finally gets it about the "triple bottom line" (equity, environment, economy) of sustainable development, and they get it about cities and metro areas, too. A lot needs to be done, but what a breath of fresh air on the issues we care about.
More of my writing on this topic is at https://kaidbenfieldarchive.com/