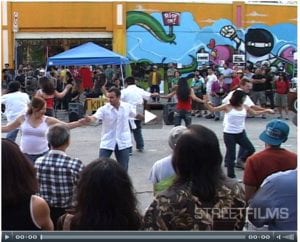 Through the combination of my insatiable curiosity and the wonders of the internet, I have stumbled upon a magic kingdom in Southern California. No, not that magic kingdom, but the vibrant, down-home, very web-savvy, it's-happening-here community of East Hollywood.
East Hollywood, or E-Ho, covers 1.8 square miles and hosts some 51,000 residents, about half Latino, the rest a mix of white, Asian, and a very diverse gumbo of "other." In the words of neighborhood council vice president Elson Trinidad on his community blog Hijo de E-Ho, "I'm just a Filipino kid who grew up listening to black music in an Armenian neighborhood where people spoke Spanish and ate Thai food."
Everything you need to know about this 'hood's positive energy is captured in a terrific little video from Streetfilms about ArtCycle, an event sponsored by the neighborhood council last month and combining, well, art and bicycling. Go here to view the three-minute video, and you'll be way impressed. There is also a video about the neighborhood's transportation vision, and another providing a community overview.
As I said in my title, these guys are giving community organizing a good name. I love what I see.