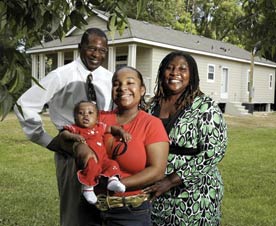 A group of former FEMA trailer residents has formed an organization to raise money to house Louisianans displaced by Hurricane Katrina. The nonprofit — Katrina Rebirth Promise Land — is reaching for a lofty $30 million goal.
The organization's board is made up of former residents of Renaissance Village, FEMA's trailer park outside Baker, Louisiana. Their plan is to donate roughly 200 modular houses to former Renaissance Village residents, who have since moved on to apartments or hotels, or are still looking for a permanent roof over their heads.
There's still a long way to go, however. The Dallas Morning News reported that while the group had raised money from various residents and groups, it's launching a campaign to attract donors to give $1 per month for a year — aiming for 2 million donors. The balance would be offset by larger donations, organizers said.
The Katrina Rebirth Promise Land campaign coincides with a state proposal to build so-called "Louisiana cottages" (bungalows raised on cinderblocks or stilts) at the former Renaissance Village site. The Louisiana Recovery Authority and a private contractor are seeking approval to build 85 houses on small lots. That project is part of an ongoing effort to build about 500 cottages at four sites around the state.