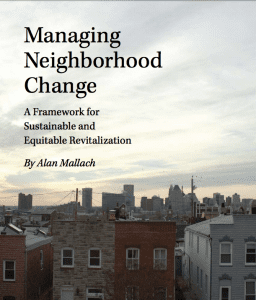 Tracking neighborhood change is hindered not only by lack of information and resources, but also by complicated data and measurements problems. Making connections between a neighborhood's market dynamics and tools that can most effectively build market strength is often a hit or miss process. Managing Neighborhood Change presents a strategic framework that can help practitioners and policy-makers foster sustainable and equitable neighborhood revitalization, building on solid market demand while ensuring that the neighborhood's lower-income households will benefit from the changes that have taken place.
This publication offers CDCs, local officials, and other stakeholders, including local institutional, business, and community leaders, a new way to look at how they can manage neighborhood change in order to bring about sustainable and equitable revitalization. It is based on a simple idea: The most powerful lever for neighborhood change is change in the demand for housing in the neighborhood. Change in the residential real-estate market can lead to a stronger, healthier neighborhood. At the same time, market change can take problematic forms, leading to undesirable outcomes. It can be driven by speculation, triggering little or no improvement in the community's quality of life, or it can disrupt established communities, displacing long-time low- and moderate-income residents.
Higher house prices without improvement to neighborhood vitality and quality of life is neither positive nor sustainable, while change that leads to displacement of an area's lower-income residents is not equitable. This proposition defines the central question for all those struggling with the task of revitalizing urban neighborhoods: how to build both a stronger housing market and a healthier neighborhood while ensuring that the community's lower-income residents benefit from the neighborhood's revitalization.
The discussion that follows is designed to help answer that question. It shows how community stakeholders can help unleash the power of housing-market demand, but also where necessary harness it in the interest of equitable revitalization. In particular, it addresses how to know when to pursue which strategy or combination of strategies, in order to bring about sustainable and equitable neighborhood revitalization.
The author acknowledges with gratitude the support of the Surdna Foundation and the guidance and insights of Vanitha Venugopal and Kim Burnett. The number of other individuals who have contributed to this publication through their comments, insights, and criticisms over the past year is far too numerous for them all to be mentioned here, but their contributions and assistance is also gratefully acknowledged.