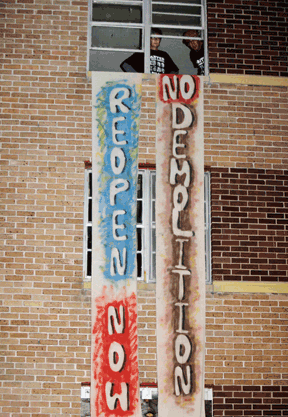 In New Orleans, a city already devastated by a natural disaster that wiped out a good percentage of its affordable rental housing, it seems counterintuitive that HUD would be on the verge of razing 4,500 units in New Orleans—effectively pushing more low-income residents out of the Crescent City. But that's the case. Three public-housing developments—B.W. Cooper, St. Bernard, and C.J. Peete—predominantly home to working poor New Orleanians, were slated for demolition in December 2007. Public outcry caused a 60-day postponement but it is now underway. HUD says that it will replace the lost units by 2010.
Doing his part to help New Orleans by replacing affordable housing, actor Brad Pitt has launched a nationwide fund-raising campaign in conjunction with his "Make it Right" project. The Lower Ninth Ward will be the site of 150 affordable and sustainable houses, designed by 13 internationally renowned architects. His web site Make It Right* offers virtual walk-throughs of the various house designs as well as footage from a helicopter fly-by tour of the proposed development, where building sites are populated by full-scale, pink fabric "Monopoly" houses to represent the dimensions of the envisioned development.
Too bad Pitt's fabric houses aren't habitable — Katrina survivors who've been languishing in FEMA's formaldehyde-laden trailers since 2005 and are now being evicted with nowhere else to call home might be ready to give them a try.
*Editor's note 2021: Link has been removed because the Make It Right website is defunct.