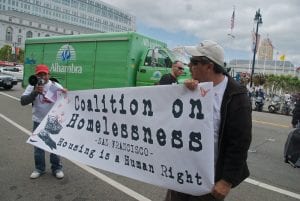 On May 11, 2004, homeless people in San Francisco scored a victory by convincing the city's Board of Supervisors to set aside 15 city-owned surplus properties for development into homes for people with extremely low incomes. This new legislation created a process for future surplus properties to be set aside also. The victory was the result of a coalition effort that united homeless, faith, labor and community groups.
The effort began two years prior when Homes Not Jails and the Coalition on Homelessness (COH) held a direct-action takeover of a vacant school building owned by the school district, which had sat empty for over five years. The two groups held the property for several days before being arrested on trespassing charges. The takeover prompted populist Supervisor Chris Daly to pass legislation requiring surplus city properties to be catalogued; the result of which produced a long list of viable sites and dozens of useless, miniscule tracts where housing for the poor could be built. Unfortunately, Daly's legislation provided no clear mechanism to convert the vacant lots into affordable housing and several plots were sold by the city for market-rate development, to make up for budget deficits.
In late 2003, frustrated by the city's lack of action in redeveloping its surplus properties, the COH and the faith-based San Francisco Organizing Project (SFOP) began work on a new piece of legislation that would enforce the intent of Daly's original legislation. The two groups convened The Surplus Property Campaign – made up of homeless and formerly homeless people, nonprofit developers and church groups. The campaign devised research teams to investigate every surplus site in the city and compiled a report of those sites. (This report ultimately became the nucleus of the new legislation.) The teams' research identified viable sites from those too small to develop. Through this process of collaboration, community members did the work that city officials failed to do. The teams provided a concrete opportunity for housed and un-housed people to work with each other and build alliances.
Every week, the campaign met to debate what mechanisms and requirements would go into the legislative proposal. Throughout the process, housing developers shared their expertise and knowledge of the mechanics and politics of affordable housing development with a broad community of activists. The group democratically decided what income limits the sites would carry as well as a host of other protections, such as income restrictions and types of developers allowed to access the land, to prevent market-rate developers from seizing the sites. Had only a small group of "experts" made these decisions they would have missed the hard-earned wisdom and insights of many who had been the victims of San Francisco's ongoing real estate wars. Had those with little technical experience gone it alone, they would have had a steep and time-consuming learning curve to get up to speed on housing policy.
Amy Beinhart, of Bernal Heights Neighborhood Center, notes the importance of combining technical expertise and street smarts. "Nonprofit housing developers bring experience and savvy on how a piece of legislation could work. However, it is extremely important for us to work in conjunction with the people we serve so their priorities inform the effort and form a collaboration that can win."
The result was a strong piece of legislation that won citywide support and endorsements from dozens of diverse organizations, such as the Service Employees International Union 790 and the Chinese Progressive Association. To win that support, organizers knew that they would have to reach outside of usual "progressive" strongholds. By extending dialogue to areas seen as more conservative, the campaign tapped into a large but unorganized number of residents who disagreed with their Not-In-My-Back-Yard neighbors and were willing to speak out.
In accordance with the legislation, surplus properties are now transferred to the Mayor's Office on Housing, and that office must collaborate with the Citizens' Advisory Council. Now convened, the 13-member panel seats two homeless people, organized labor, nonprofit developers and neighborhood interests. In the next few months, proposals from nonprofit developers and community agencies will be evaluated and sites awarded to those with viable proposals.
The Mechanics of Victory
The Surplus Property Campaign was a success for several reasons. The group never lost sight of the fact that urban organizing is a multilingual endeavor and used Chinese- and Spanish-language materials in order to reach out to as broad a base as possible. This kept community allies involved in the decision-making process and broadened support throughout several districts. By involving homeless and formerly homeless people in every step of the campaign, organizers directly challenged stereotypes of homeless people as helpless and/or criminal. The campaign consciously developed homeless people as spokespersons so that images of strong articulate voices replaced the down-and-out stereotypes popular with San Francisco media outlets.
The campaign victory came after several defeats in local homeless policy – defeats like those that occurred in the recent municipal elections, when voters approved propositions that slashed General Assistance payments and outlawed panhandling, both propositions championed by Mayor Gavin Newsom during his candidacy.
The campaign took advantage of the public's growing interest in homelessness and shifted the debate from one about punitive measures to one about long-term solutions. The campaign framed the issue as a simple "housing and jobs" debate. Organizers stressed that by developing affordable housing the city would also develop job opportunities. The National Low Income Housing Coalition estimates that affordable housing construction puts nine dollars into local economies for every dollar spent. "This legislation is important because it shifts the focus to the underlying issue of lack of housing for low-income people. It's a step away from the tendency to frame homelessness as an issue of personal pathology, the mistaken attempt to solve the crisis by fixing individuals, only to throw them back into the same ruthless urban housing market that is the ultimate cause of homelessness," says Susan Marsh, a Coalition on Homelessness volunteer.
Using multiple tactics was crucial to this campaign: It started with a housing takeover, then incorporated lobbying, street mobilizations and policy design. It didn't matter what the tactic was – the emphasis remained on giving poor people substantial decision-making power in the campaign.
The COH and SFOP harnessed the creative power of two community organizations with different organizing models. On the eve of the Board of Supervisors vote, the COH led 150 people in a demonstration that began with a rally at Saint Paulus Church and proceeded with a march to some of the identified surplus sites. The procession ended with a performance by Quimbanda, a Brazilian percussion group, and an open-mike speak-out that took over Lech Walesa Alley in front of the former Arts Commission building (also one of the surplus sites). SFOP held a meeting inside of Saint Paulus where members of the Board of Supervisors and its Local Homeless Coordinating Board were encouraged to support the legislation, through powerful testimony of homeless people.
The Next Steps
In a political climate of budget cuts, developing 15 sites will be no easy task. The Surplus Property Campaign is working to implement these gains so that groundbreaking can begin before the year's end. First, the campaign is committed to a neighborhood design process and will encourage community groups, homeless people and developers to partner in order to create visionary proposals. At the Saint Paulus Church rally, Lisa Cooper observed, "We're not just asking for housing, we're looking for ways to control our destiny. We could make space for a childcare cooperative, and make housing and jobs." Activists have proposed that the former Arts Commission building be developed into a mixed-use building of housing and a community arts center.
With so much of a city's development happening outside of the control of everyday people, this victory is also a chance to break down social barriers through collaboration, barriers that translate into anti-homeless political attitudes. For Joyce Calagos, a low-wage temp worker active with SFOP, it wasn't hard to feel solidarity with homeless people. Calagos was homeless for a short period of time, but now lives in subsidized housing. "I'm working for a day when no one will die on the streets of San Francisco," she says.
Other steps extend beyond additional units of housing. In the coming months, the group will study important international land-reform movements such as the Brazilian Landless Workers movement and South African Anti-Eviction campaign. In the context of the global economy, this victory is a small but significant one. It is an exercise in reclaiming public resources for social good in an era of rapid privatization.
A May 2004 survey by the National Association of Realtors yielded some surprising results: 76 percent of the respondents said they would support affordable housing in their neighborhoods. Although an out-of-control housing market is certainly at the heart of this shift, it is campaigns like this that can create the ability to change "hearts and minds" through careful alliance building.
And creating new sources of funding for housing development is also high on the list of priorities for a number of organizations. The San Francisco Organizing Project has made it a priority to win a local bond for affordable housing construction in November. Others are deepening their efforts to defeat Section 8 cuts. The Surplus Property Campaign has succeeded in creating a group of committed activists ready to fight for housing for the long haul.