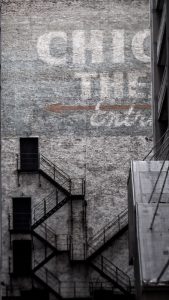 The 900 block of North Ridgeway Avenue is quiet, with little traffic. A welcome sign tells visitors that drugs, loud music, alcohol drinking and repairing cars are not allowed. Yard lights illuminate the street, and there are permit parking signs every few steps. The street corners are vacant.
Eight years ago, however, things were different, residents say. There were dice games being played in the middle of the block, and the street was congested with traffic as people double-parked their cars to buy drugs.
"We just got tired of it. You couldn't even go outside your door," says Willie Harvey, 70, president of the block club for the 900 block of North Ridgeway. "We were like, 'We have to do something.'"
Harvey's block is located in the 11th Police District, which is bordered by Lake Street and Kedzie, North and Cicero avenues on Chicago's West Side. The district, which includes the West Humboldt Park neighborhood, leads the city in narcotics arrests, according to police data.
But the drugs are rarely found on Harvey's block and many others nearby. The reason: Well-organized block clubs have discouraged drug dealers, suggests a Chicago Reporter analysis of crime data.
"There are certain blocks where you don't hear the calls of 'rocks and blows' [for crack cocaine and heroin] and those are the ones with strong block clubs," says Bill Howard, executive director of the West Humboldt Park Family and Community Development Council, which promotes economic development in the neighborhood. Howard and others are working to create more block clubs in the area.
Police received no reports of drug activity on Harvey's block during the six-month period from November 2002 to April 2003, according to a Reporter analysis of preliminary crime data found on the Chicago Police Department's Web site. In the 15-block area surrounding Harvey's block, those with block clubs averaged 6.3 reports of drug activity, while those without averaged more than three times as many, according to the data.
"Being concerned about your neighborhood, getting the people to clean up your neighborhood, will curb drug activity," says Dana V. Starks, commander of the 11th Police District. "A lot of times, drug dealers will look for areas that are unkempt."
The change was not immediate for Harvey's block. In 1995, when drug dealers often stood in front of their homes, Almeta Levy, 70, and about five other women started the block club.
When the women asked the dealers to leave, they just moved to the street corner and continued to sell drugs, Levy says. Once Harvey and a few other men joined the block club, they approached the dealers again.
They didn't demand that the dealers stop selling drugs. Instead, Harvey told them residents didn't want "that sort of thing" happening on their block. And some of the dealers left, he says. "Some of them I could talk to like I talk to my kids and some of them I couldn't."
To discourage the dealers who remained, about eight residents began to do "positive loitering." Every Saturday, for seven weeks in a row, they walked their block – sweeping the sidewalks and standing on the corners where drugs were sold. Levy says the drug dealers eventually stopped coming.
The club became more active as well. Residents started attending police beat meetings, crime and safety meetings, and other community organization gatherings. Block club members notified other residents of the changes they were making and posted their block club sign at one end of the block. Some residents installed wrought iron fencing around their property to keep dealers from running through their yards to get to the alleys. They also posted a "We Call Police" sign in a window of an unoccupied building where crowds would gather to sell drugs and hold dice games.
Block club members exchanged phone numbers and formed a phone tree. When someone spotted a drug dealer, every block club member would get a call about it. The block club also collected signatures from at least two-thirds of the block's residents to get permit parking, which stopped visitors from double-parking their cars. Harvey's block partnered with the 800 and 1000 blocks of North Ridgeway for meetings, parties and clean-ups.
For the last five years the block has not had a problem with drug dealers, but he notes that drugs are still being sold in the alley of a neighboring block. "Now you don't see anyone standing outside selling drugs," Harvey says. "I know it is because of the things that we have been doing and the people we have talked to."
Roslynn Phillips, 56, has tried for years to get rid of the drugs in the 700 block of North Monticello Avenue, where she lives and serves as block club president.
She has seen it all.
For months Phillips noticed a cab making a stop on her block each morning to buy drugs from men on the corner. There was once an abandoned van on one end of the block. The van's owner had moved and left it there, Phillips says. She believes dealers were using the van to hide their drugs. She says dealers used to sell drugs to a steady flow of customers in a vacant lot, which sat directly across the street from an elementary school. "It looked like people were buying groceries," Phillips says.
Lately, the cab has stopped coming and the city cleaned up the lot and had the van removed, Phillips says. But when one problem disappears another seems to take its place. Unlike Harvey, Phillips – known to many of her neighbors as "Roz" – has not had much success recruiting other block club members. She does all the planning for her block club.
"I have meetings every month. I only get one or two people, but I'm not giving up," says Phillips, who has lived alone since her husband died and her two adult children moved out. "I might not get anyone to come, but I'm going to keep going with it."
Some activists encounter fear when they try to organize residents into block clubs. Barbara Parks, a community organizer for the Chicago Alternative Policing Strategy (CAPS) in the 11th Police District, says residents tell her that "'we can't get it together because most of the people on the block are selling the drugs.'" Even on Harvey's block, residents were reluctant to call the police on drug dealers, he says.
"Sometimes calling the police doesn't help because the police will come right to the house where the call came from and ask 'Where did you say they were selling drugs?'" Levy says.
Starks says officers often rely on residents to tell them where the dealers have hidden their drugs. Dealers often don't hold the drugs, he says. They take money from customers and then tell them where they can find the drugs. "They put them by trees. … They put them around the edges where the sidewalk and the grass meet …[and] on the back of tires," Starks says. "They use people's gas tanks."
Still, Parks insists that all it takes is three dedicated people to start and run a successful block club. "We'll do a clean-up or a march or a prayer vigil," says Parks, who works with block clubs in the area. "We can do a street action where we'll do a smoke-out. You just stand out there with a grill going [and] barbeque some hot dogs. You just hang out on that corner and hold down that spot for three hours."
Phillips would like for her block club to hold parties and transform one of the block's vacant lots into a community garden. For more than 30 years, Phillips has lived on the block where her father was once the block club president. But her patience is growing thin."I want to get away," she says. "I'm so tired of over here."
Several agencies came together in 1996 to clear drug dealers from the corners and vacant lots in the 800 block of North Harding Avenue. The effort, dubbed the "Super Block Project," involved the city of Chicago, police officers from the 11th District, the West Humboldt Park Family and Community Development Council and Neighborhood Housing Services of Chicago, a nonprofit agency that helps poor families with home ownership.
But their first step was to involve the residents by forming a block club. Next, the city built new curbs and sidewalks. Neighborhood Housing Services provided loans for residents to buy and improve their homes. The police provided extra patrols. And Barbara Scott, the block club's president, organized block clean-ups.
Four vacant lots were converted into a park that was named after then-11th District Commander Douglass Bolling, who created the Super Block Project as a way to rid the area of drugs and violence a block at a time. When the vacant lots disappeared, so did the drug dealers, Scott says. "[Seven] years ago, this block was one of the worst ones. Drugs were sold on each corner. No one really took the initiative, until the 11th District [did]."
The block has been drug-free ever since, she says. "Everyone should have grass in front of their house, and everyone should be able to sit on their front porch if they choose to and not have to hear 'rocks and blows' all night," says Scott.
Howard is confident that a strong block club can curb neighborhood drug activity. In January, Howard and his staff, including Parks, started the West Humboldt Park Block Club Organizing Institute. Through the institute, they recruit residents to start block clubs and give them instructions. They also help the residents file paperwork to gain tax-exempt status and explain the roles of block club officers.
This year, the institute has established contact with more than 15 block clubs in the neighborhood, says Howard. Eventually, he would like for the block clubs to work with area businesses and publish a neighborhood newsletter. "The whole effort is much bigger than just block clubs," Howard says. "It's about people seeing themselves, trying to show people that you can make it. That's what it's all about."