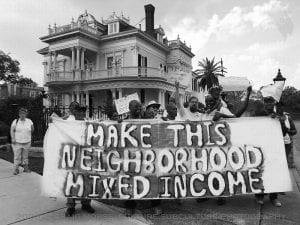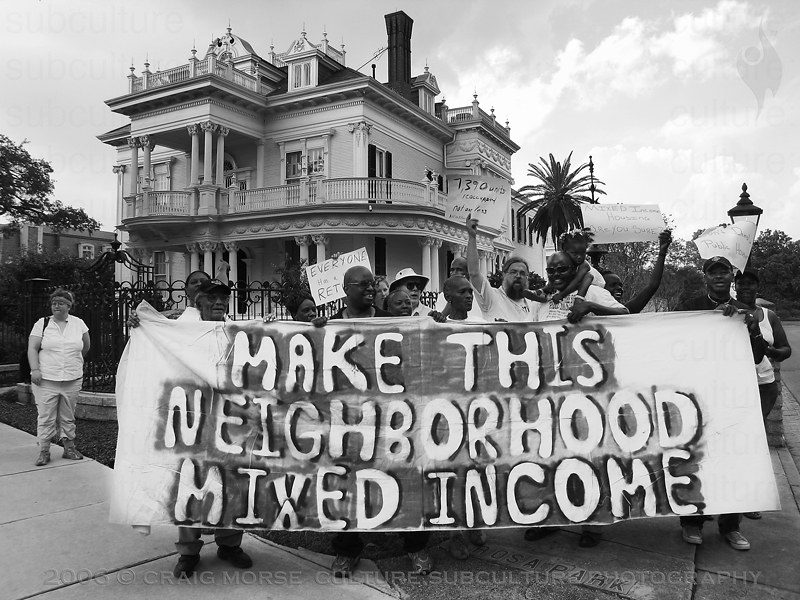 An old idea is becoming conventional wisdom as private and public affordable housing providers create mixed-income multifamily housing.
In a book-filled room at the New Settlement Apartments in the West Bronx, a group of children sit in a circle on the floor. They laugh and talk for a minute, but then the room falls quiet. With the encouragement of a supervisor, the children take turns telling each other about their activities for the day. This exercise is called "circle time" in the afterschool program held four days a week at New Settlement, a sprawling development of 893 apartments in 14 renovated buildings that house both working-class families and the formerly homeless.
After circle time, the children participate in group games and a physical education session designed to teach basic principles of physics. The children joke around during the session but also watch and listen to their instructors with interest. Supervising the session are Tom Gonzalez, the departing director of community services for New Settlement, and Adam Hall, who was enrolled in the program only a few years ago and is now an aspiring teacher. Work-study students from area colleges also instruct the children, regularly providing individualized tutoring and computer training.
The afterschool program and other social services for children, teens, and adults at New Settlement are part of an effort to revive inner-city communities through the concept of mixed-income housing.
This approach to housing involves mixing working-class families with the very poor in affordable developments. Some housing activists have argued that scarce resources should be extended first to those who need them most; but the devastating consequences of concentrating and isolating the poor have led others to adopt strategies in which working families play an integral role. Advocates of mixed-income housing seek to create viable communities by also providing increased maintenance and security, and the social services needed to sustain the mix.
In some cases, nonprofit organizations use both private and public money to finance mixed-income projects. One such organization is Settlement Housing Fund (SHF), which owns and operates the New Settlement Apartments and has developed thousands of affordable units throughout New York City. SHF bought New Settlement after it was renovated from 1988 to 1991 by the city's Department of Housing Preservation and Development. The renovation was paid for with bonds issued by the Housing New York Corporation, backed by excess income from Battery Park City (an arts, recreation, and financial center). SHF has also raised funds from corporations and foundations for the project. Although the proposal to transform the buildings into a mixed-income community originated with the housing department, SHF worked with the city on the plan.
Before and After
Before the renovation, the New Settlement Apartments were burnt-out, abandoned buildings that had fallen into city ownership. Though a mess, the solid and well-constructed brick structures, built in the 1920s and 30s for middle-income occupancy, were prime candidates for redevelopment.
New Settlement now houses tenants with annual incomes ranging from $11,500 to $53,000 in 70 percent of the units, which include studios and one, two and three bedroom apartments. Those tenants pay rents of $280 to just over $700, varying according to income, but still below market rate for New York City. Federal vouchers pay the rents of the formerly homeless who occupy units throughout the development. SHF staff say they don't think the tenants even know who among them was once homeless.
Along with the mix of incomes, New Settlement contains a mix of diverse ethnic backgrounds, although only one or two of the tenants so far have been white. Carol Lamberg, executive director of SHF, called the development a mini-United Nations. Many residents are from Latin America, Africa, and other parts of the world. Other tenants are African-Americans and Latinos born in the U.S..
"Most of the families have the same concerns – security, getting the best possible education for their kids, wanting a safe place to live," Lamberg said.
With security a major concern, the apartments have features that low-income housing often lacks, such as extra lighting and round-the-clock guards. Wrought iron fences and gates block each entranceway, and residents must use a key card to enter late at night. The buildings are kept virtually graffiti-free with a high power sprayer that the maintenance crew uses to remove all new graffiti within 24 hours.
Lamberg believes mixed-income developments like New Settlement help eradicate many of the problems that plague poor urban areas, such as rampant crime, drug dealing, and unemployment. Lamberg said SHF has seen a dramatic reduction in crime in the New Settlement neighborhood, and some of the previously unemployed tenants have started working since moving in. She attributes this new stability to both the income mix and the available support services, which are financed through rental income. By also offering these services to people who live in other buildings in the area, SHF aims to have a positive impact on the entire neighborhood.
According to Lamberg, mixed-income projects are generally accepted by communities when developers collaborate with local residents. Some area residents who wanted to move into the apartments but made too little money were initially resentful, according to Sarah Kolodny, SHF's director of social programs. But she said the antagonism died down when neighbors saw the positive effect the development had on the overall community.
Although not all SHF's projects are mixed-income, Lamberg said her organization has fought hard to promote the concept. SHF's other recent mixed-income projects include Baer Court, a new 76-unit building a few blocks from New Settlement with a slightly lower income ceiling, and buildings in the Two Bridges urban renewal area in lower Manhattan. An array of government programs was used to finance the various projects in that area, which include 1,356 low-and moderate-income apartments and a 24-hour Pathmark.
NYC's Mixed-Income Public Housing
SHF's approach to mixed-income housing takes a few steps beyond what is already old practice in New York City. While U.S. public housing was historically mixed-income, over the years the federal government shifted its policy to favor subsidizing the very poor. New York City, however, managed to retain a certain income mix. Contrary to popular opinion, many of those living in New York City's public housing are working people, and affordable housing advocates generally regard the city's public housing as among the best in the nation.
"By and large, New York City has maintained a level of income integration, which most experts agree is the key to public housing success," HUD Secretary Henry Cisneros told attendees of a recent conference at New York University.
Cisneros said residents of New York City's public housing have an average income much higher than that of public housing residents nationally. It's not unusual, he said, to find public housing developments in other areas without a single working family. He attributed this to federal rules that said public housing should prefer the poorest of the poor. In New York, however, the turnover in public housing is so low that the federal changes never fully took effect, according to Cisneros.
Yet even New York has seen a decline in the number of working families in public housing. In 1984, working families occupied 50 percent of New York City's public housing units. By 1994, the number of working families had dropped to 31 percent.
To counter that downward trend, the New York City Housing Authority (NYCHA) is trying to fill half of its approximately 8,000 annual vacancies with working families. The income ceiling in New York public housing ranges from $23,500 for a single person to $41,350 for a family of seven. While the working families in the city's public housing obviously have higher incomes than those who are unemployed, the authority points out that these families are still defined as low-income by the federal government.
NYCHA wants to maintain a mix of one-third working people, one third retirees, and one-third people on welfare. The task involves both attracting more working families and encouraging those already living there to stay. As part of its efforts, NYCHA is creating a survey to gain a better understanding of how working families make their housing choices. In addition, the authority offers economic development programs aimed at helping unemployed tenants find work.
Only 7.1 percent of those now on the public housing waiting list in New York are working families. NYCHA attributes this to the perception that its developments are unsafe, and it has begun a multi-million dollar capital improvement project to help allay that fear. Besides general repairs, the authority has begun updating security in its buildings, installing new locks, key card systems, intercoms, and lighting.
In order to attract more working families, the authority has to have buildings and systems that are comparable to those on the private market, said Mike Meyers, NYCHA's deputy for policy and program development. Rescissions to the HUD budget, however, could significantly affect improvement plans. Meyers said NYCHA's 335 developments carry a $9 billion modernization backlog, and while the authority doesn't expect to receive the whole $9 billion, it wants to level the playing field enough to compete for working families.
Meyers acknowledged that there's a tension between wanting to provide housing for those in need and, on the other hand, wanting the stability that working families bring. But that stability is essential to the survival of communities, he said and the lessons from Newark, Chicago, Philadelphia, and New Orleans show that public housing can be lost altogether without a sound economic mix.
"So, ultimately, you'll serve nobody," he said.
MINCS in Chicago
Mixed-income housing is also being tested in the troubled public housing projects of Chicago. The Chicago Housing Authority (CHA) and the nonprofit Chicago Dwellings Association (CDA) are rehabilitating some of the city's public housing under a plan dubbed Mixed-Income New Communities Strategy (MINCS).
"We have a history of isolating and concentrating the poor outside the social mainstream," said CDA President and Chief Executive Officer Christine Oliver. "Mixed-income housing provides an opportunity to embrace them and bring them back into the social mainstream." She called mixed-income housing "the responsible policy of the future."
In 1990, Congress passed a MINCS demonstration program (which Oliver wrote). The demonstration was originally open to four cities, but only Chicago has had its application for the program approved by HUD. Oliver said MINCS is the first housing program in the country of its kind, coordinating the use of existing public housing with the construction of new, privately developed housing.
The first component of MINCS moves eligible working families, with incomes up to 80 percent of the participating area's median, into participating public housing developments. Working families may occupy 25 to 50 percent of those units, depending on the approval of the HUD secretary. A ceiling rent is established, eliminating the requirement that public housing tenants pay 30 percent of their incomes for rent regardless of how high their incomes rise. Even without this requirement, the housing authority will receive increased rental income from working families.
Under MINCS' second component, the participating housing authority uses money that previously subsidized the units of public housing residents to lease 25 percent of the units in new, privately-owned housing next to public housing projects. The participating housing authority leases those units on a long term basis for low-income families. Residents of those units would pay 30 percent of their income towards rent, subject to the ceiling rent limitation. The remaining 75 percent of the units would be market-rate housing, affordable to families earning 80 to 120 percent of the area median income.
Lake Parc Place is able to attract working families, according to Oliver, by providing a stable, safe environment, along with many of the amenities people expect to find on the private market. These include wooden cabinets and vanities, ceramic tile in the bathrooms, and even more basic items previously considered too extravagant for public housing, such as showers and closet doors. While some of the improvements sound expensive, they required no additional federal money, according to Oliver, who worked for CHA when the renovations were underway. The modernization money for public housing is already in place, she said, adding that renovating an existing unit is still much less costly than building a new one.
Of course, working families also have an economic incentive to move into the public housing renovated under MINCS. A two-bedroom apartment at Lake Parc costs $371 a month. Some of the apartments have among the city's best views of Lake Michigan, according to Oliver, and would cost about $1,100 elsewhere in the city.
Despite its apparent success, Lake Parc Place has raised controversy among local community organizers, partly because CHA failed to provide replacement housing for all the families it moved from the buildings during redevelopment. Lake Parc now consists of two of six high-rises that were vacated for redevelopment in the mid-1980s, well before MINCS was established. Because of the long delay in the renovation, CHA at one point risked losing the rehabilitation money. Although two buildings were finally rehabilitated, the remaining sit vacant.
Oliver said plans to establish the second component of MINCS (privately owned mixed-income housing) at Lake Parc were bypassed due to a lengthy community planning process. She said redevelopment of the Kenwood-Oakland neighborhood in which Lake Parc Place is located is a volatile issue because the area has seen a great deal of gentrification. Upscale townhouses sit just a few blocks from run-down public housing developments, without much affordable housing for moderate-income people in between. Plots of vacant land are also scattered throughout the area, and Oliver said conflicts have arisen over how that land will be used and what income level redevelopment will target.
In its effort to demonstrate the sort of replacement housing that could be built for public housing eligible families, CDA is constructing Orchard Park Townhomes, a mixed-income development, on the grounds of the notorious Cabrini Green public housing project. A larger Hope VI redevelopment plan is underway for Cabrini Green, but no Hope VI funds are being used for Orchard Park. Orchard Park will sit beside Flannery Homes, one of CHA's senior housing projects. Construction of Orchard Park is expected to be completed by the end of this year. The Chicago Metropolitan Housing Development Corporation, CHA's development arm, has been collaborating with CDA on an improvement project for Flannery Homes and the surrounding area. CHA is also building a community center to be used by both Orchard Park and Flannery Homes residents.
As with MINCS, 25 percent of Orchard Park's units will be permanently leased to CHA for very low-income residents. The other 75 percent will be market rate units, affordable to moderate- and middle-income families. Rents for those units will be $975 for two bedroom and $1,150 for three bedroom apartments.
CDA's Orchard Park plan differs from MINCS in the way it will subsidize very low-income families. Rather than using federal public housing subsidies, CDA has applied to the city for low-income housing tax credits. The low-income housing tax credit is enough to significantly lower the project's costs, according to Oliver.
Lingering Questions
Although developers of mixed-income housing face lingering questions about their priorities, affordable housing groups that have traditionally championed the very poor are increasingly willing to consider mixed-income plans.
"We have always stood for the proposition that when you have scarce resources, you want to get the money out to those with the greatest need," said Deborah Austin, legislative and policy director for the National Low-Income Housing Coalition. On the other hand, Austin continued, the poorest communities often have the most difficult problems, and the NLIHC is not opposed to looking at mixed-income housing as one way to address some of those problems. But she added that mixed-income housing should not be seen as a panacea. She's also concerned that moderate-income families may receive preferential treatment over very poor families in mixed-income developments.
Doug Gills, special assistant to the executive director of the Kenwood-Oakland Neighborhood Association, said that while no one in the community opposes MINCS in theory, the issue is whether the resources are available to wage a true war on poverty.
"MINCS is another isolated demonstration of what's possible, at best," Gills said, "But there's no national commitment to a mixed-income strategy. We can't talk about rebuilding communities without sufficient resources – without someone recognizing that there's a social cost."
Gills is skeptical of whether MINCS will be able to meet the needs of the poor. He worries that it will instead lead to further gentrification, and he said a comprehensive plan is needed for redeveloping entire communities.
Yet according to Oliver, CDA does work with the overall community. She said CDA has met several times with residents of its projects, along with neighborhood residents, the school advisory council, and the small business community.
In his criticism of MINCS, Gills also questioned whether the criteria for selecting the participating families doesn't preclude the program's ability to help the very poor. The criteria explores a family's employment history, the existence and seriousness of any criminal record, the enrollment of children in school, and the history of substance abuse, among other areas. Oliver acknowledged that these questions are used to determine which candidates have the best chances for success, which she said is important in the initial stages of any program. Once the program has been successful, she said, it can then move on to deal with people with deeper problems.
Under MINCS, CHA provides support services through contracts with social service agencies. Case workers help families identify and find needed services. Oliver said a committee is working through the mayor's office to identify and coordinate the services already available. Funds for contracts with various service agencies are already in place, she continued, and many services, such as local, state, and federal job training programs, are free of cost. Oliver believes many services have the capacity to take on the additional work because they're now under-used. She also noted that Chicago is home to many corporations that are willing to invest in job training programs targeted to the poor.
Even with the social services, Oliver said MINCS won't be able to work with that segment of the population that's continually engaged in anti-social behavior, such as gang activity, drug dealing, and other crime. But she added that these individuals constitute a small percentage of the population and don't necessarily represent the poorest individuals.
The Bottom Line for Mixed-Income Housing

New mixed-income housing projects can be found across the country, in San Francisco, Boston, Newark, and other cities. While plans may vary, mixed-income developers face a common problem: financing those plans.
Settlement Housing Fund's Carol Lamberg worries about what future government budget cuts could mean for mixed-income housing, and affordable housing in general. She believes mixed-income housing can succeed on a larger scale, but it needs government funding in order to do so.
Oliver said a challenge for her program has been getting the federal government to view the use of public lands creatively. The reinvention of HUD may also create problems, in that it channels funds for federal housing programs into a certificate and voucher system. Oliver said it can be difficult to make projections that banks will accept based on certificates and vouchers. Still, she said she's an optimist, and she believes there are bankers and financial institutions that are willing to take risks on new approaches.
Along with financial difficulties, various mixed-income projects share the theme of upward mobility, for low- to moderate-income working families as well as the very poor. Both Oliver and Lamberg said mixed-income housing provides very poor residents, and particularly children, with working-class role models. They both also noted that it gives working families living in areas where affordable housing is scarce the opportunity to save towards that ultimate American goal – home ownership.
The upward mobility motif is also reflected in a phrase Oliver calls the basic premise of MINCS: "The cost of opportunity is responsibility." She said this means those involved in the program will have to take responsibility for improving their lives and making sure their children actively participate in school.
Many of the terms surrounding mixed-income housing – personal responsibility, private ownership, role models – are used frequently by Republicans. Yet the current national obsession with reducing government spending for social programs overrides these other themes. Some plans may work without additional federal funding, but the bottom line is that cuts in federal funding decrease the chances for mixed-income housing success stories to be widely replicated. While these successes testify to the change mixed-income housing could bring, that change won't come easily or without a national commitment.