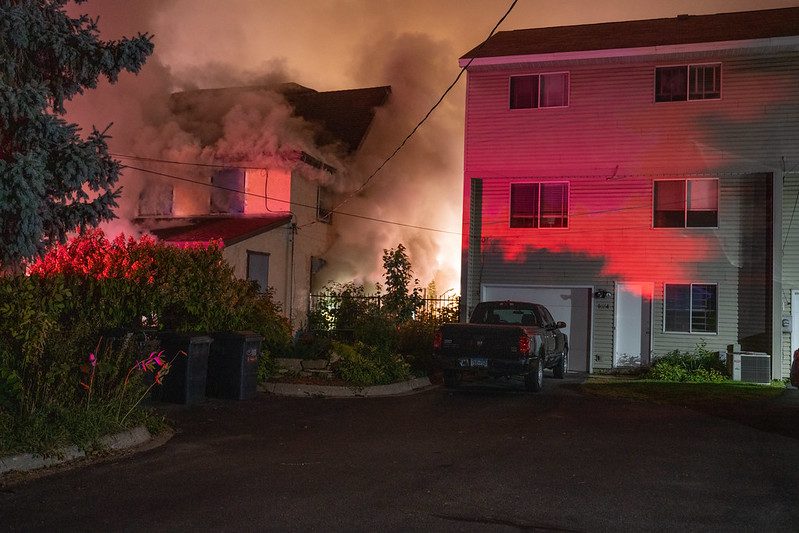 While the rate of arson in America's cities seems to be  holding stable, it remains a major cause of urban decline and personal injury. Over 100,000 incidents of arson per year account for more than $2 billion in losses. In larger cities, over twenty-five percent of fires are set intentionally. Arson was responsible for 770 deaths in 1990. One of every three fire fighters who died on duty and one of four fire service injuries was due to intentionally set fires.
Revenge, boredom, and greed are the most common reasons that arson is committed. In neighborhoods with a shortage of decent housing, poor housing code enforcement and a high rate of abandonment and vacancy, the arson rates are highest.
Greed is often the most important motivation for the arsonist. Landlords have burnt their own buildings for insurance settlements, to scare tenants out of rent-controlled apartments, or to empty the apartments and gentrify the building.
What Can Be Done To Prevent Arson?
In 1984, The Federal Emergency Management Agency (FEMA) established the United States Fire Administration (USFA). Its mission is to reduce deaths, injuries, and property losses due to arson. USFA developed a grant program to support Community Based Organizations (CBOs) in their anti-arson efforts. The program, now in its ninth year, has funded more than 150 Community Based Organizations, with an average of $12,000 per grant. The USFA provided, overall, more than $2.3 million for nonprofit, voluntary organizations made up of community representatives helping residents deal with local problems.
These local programs help insure the safety and livability of a building and act as a "stabilizing influence in the community," according to John Marshall, the USFA's Fire Program Specialist. CBOs that receive grants are engaged in a variety of anti-arson activities. "Some groups provide juvenile counseling while others rehabilitate housing," says Marshall. In all cases, they help make buildings safer and keep them at maximum occupancy, which reduces the profit from intentionally burning buildings.
The Role of Community Organizing
The USFA grant application provides a list of objectives to be met by CBOs. These include encouraging neighborhood involvement in reducing arson, making arson prevention information easily available to neighborhood residents and maintaining relationships with local police, fire and code enforcement departments. Marshall stresses the important link between a recipient organization and its community. He feels that "a well received organizer can make or break a program." By keeping a community involved and informed, arson is reduced.
A community group can perform many different arson prevention activities. Of special importance is education. By having fire prevention programs in local schools, young people learn the dangers of fire, reducing the likelihood of children starting fires out of boredom or curiosity. The USFA also suggests starting block watch programs to create heightened public awareness of the arson problem and act as a deterrent.
One community group funded by the FEMA program is the Fall River Firefighters Memorial Museum, formed in 1983 after fire destroyed landmark buildings important to the community. The museum has been funded by the USFA for the last six years. Irene Pinsonneault, the Executive Director, explained that most fires in the city of  Fall River were dumpster and brush fires set by kids who didn't know the dangers of fire. Because of this, the organizers at Fall River felt their funds would be put to best use by setting up juvenile fire intervention programs and in-school fire prevention programs.
"Few families around here have fireplaces, or wood burning stoves," explains Ms. Pinsonneault. "They simply don't know what fire is all about. The importance of [the program] is in raising fire consciousness and awareness of uses and dangers of fire with an emphasis on the positive." She feels that in Fall River it is necessary to "focus on kids" as part of a "comprehensive strategy" rather than on saving a specific building.
Rebuilding and Organizing Neighborhoods
Saving buildings is precisely what Bob Biagi, executive director of Nueva Esperanza, focuses on. His organization, located in the arson-prone city of Holyoke, Massachusetts, is a community organizing group and a community development corporation. Their efforts are focused on rebuilding and rehabbing neighborhoods that are deteriorating. "Making the neighborhood pleasant to live in," Biagi says, "acts as arson prevention." Nueva Esperanza built and rehabbed over 180 units in Holyoke.
As an organizing agency, Nueva Esperanza provides a hotline to field calls, mostly in Spanish, from citizens concerned about arson. Biagi tells of one incident typical of the success of the hotline. In the summer of 1993 a fight occurred near a building where one of the boys involved lives. Seeking revenge, several boys tracked him down to his building. When residents refused to reveal the young man's whereabouts, the other boys threatened to burn the building down. Several residents then called the hotline. Operators at the hotline immediately translated the call and alerted the local police. The boys were never caught, but the fire was never set, either. "Community organizing works," Biagi says. "Organized residents feel stronger. Before we organized, nobody would have made the call, and lives may have been lost."
Nueva Esperanza has been funded by FEMA's grant program for nine years. With the funds, Nueva Esperanza has been able to hire a full-time housing assistant who educates the community about housing safety, helps find housing for those in need and stays involved in the safety of the community as a whole. This all helps the community become an environment where drug use, arson and crime are not tolerated.
Keeping Buildings Safe
Another CBO that combats arson with the support of FEMA funds is HART, Hartford Areas Rally Together Inc. Rather than focusing on education, like Fall River, or on development, like Nueva Esperanza, HART concentrates its efforts on ensuring that fire-prone buildings are up to legal fire code standards.
HART accomplishes this by holding meetings almost every week with tenants and landlords as well as representatives from local fire departments and code departments. These meetings, according to HART Executive Director, Jim Boucher, serve to keep everyone involved aware of local fire and safety codes, and to discover what buildings need repair. Each year, HART helps between 800 and 1200 units get back to code specifications. The effectiveness of this strategy, though difficult to measure, is unmistakable. "Building deterioration is the leading cause of arson," Boucher says, "and a trend toward neighborhood deterioration results in spiraling disinvestment," which also leads to arson for profit. By keeping the area up to code, HART fights against such deterioration.
Enforcing code violations and keeping residents informed also prevents accidental fire. Faulty wiring and non-approved appliances such as space- and kerosene-heaters cause many residential fires. HART ensures that landlords repair wires and provide adequate heating in apartment buildings.
FEMA's program of funding Community Based Organizations has helped reduce arson and provided a focus for communities seeking to organize. Jim Boucher credits this funding with the success of many groups like HART. "Without FEMA, we couldn't survive. Federal funding has a huge impact on neighborhood revitalization," he says. As long as CBOs struggle to stay organized, and groups like FEMA support them financially, this revitalization will continue to grow and prosper.