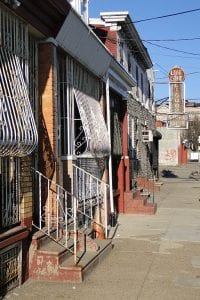 Last January, The New York Times Magazine published "The Myth of Community Development" by Nicholas Lemann. The article painted a gloomy picture of urban community development, citing failed programs and ever increasing neighborhood dissolution.  At the end, Lemann acknowledged the positive impact of community development corporations and urged that their social activities – affordable housing, health services, job training – be supported, but that we disabuse ourselves of the notion that "ghettos" can ever truly be "revitalized."
Shelterforce asked for responses from Vice President Al Gore; columnist Jim Sleeper of the New York Daily News; Marc Alan Hughes, vice president for policy development at Public/Private Ventures; and Robert O. Zdenek (below), senior program associate of the Annie E. Casey Foundation.
Nicholas Lemann's recent article in The New York Times on "The Myth of Community Development" probably ends up creating more inaccurate myths about community development than shedding insight into the process and performance of community regeneration efforts. The myths that Lemann perpetuates include: the mistaken notion that economic development can be separated from community development; that there has been a coherent federal government policy and response to community development; that community development is a top philanthropic priority; and that empowerment zones are purely a community development strategy. These inaccuracies draw attention away from recent community building initiatives such as the Comprehensive Community Revitalization Program in the South Bronx, The Annie E. Casey Foundation's Rebuilding Communities Initiative, and the potential represented by the federal empowerment zone and enterprise community initiatives. These approaches are comprehensive, coordinated, and integrated responses to development in low-income communities.
Economic and Community Development Are Not Separate Agendas
Economic development is a process and approach used to create jobs, assets, and an investment climate in distressed neighborhoods and cannot be separated from community development. Economic development impacts and is impacted by key social and political factors in a community ranging from access to quality education and social services to the availability of decent and affordable housing. When economic development is viewed as an important element of a larger community development strategy, significant progress can occur.
The successful community development organization that Lemann heralds in his article, New Community Corporation of Newark, is a wonderful example of visionary and comprehensive approach to community building that incorporates economic development. The raison d'être of New Community Corporation is not economic development, but creating a new community (as the name implies) that provides the services, supports and opportunities needed for its residents to thrive. Economic development is a central component of the strategy in place at New Community Corporation evidenced by its creation of 1,266 jobs, its extensive business ownership and its having amassed a $95 million operating budget. The goal is to create a healthy sustainable community. Economic development is simply one of the means to that end. Lemann does not appear to grasp this.
Incoherent Federal Policy
The Lemann article implies that there is both a coherent federal response to community development and a significant investment of federal resources in community development. The evidence does not support this. Federal response to community development has been paltry since the late 1960s. There has never been a major federal program that has directly provided more than $50 million a year for community development corporations (CDCs). The Office of Economic Opportunity (OEO) CDC program never exceeded $45 million a year in the 1960s and 1970s and there were virtually no direct federal resources during the Reagan and Bush era. Community development practitioners have been working with a half empty tool box building houses with hand saws when power tools are needed. In addition, no major federal policy pronouncement has been made about the significance of community development. While the Clinton Administration is the first to acknowledge the achievements of community development organizations, its initiatives that promote community development are modest in terms of resources and capacity, with the exception of empowerment zones, which will provide a unique federal opportunity to link planning and implementation from a continuum of development to services.
Lemann further implies that there exists some organized foundation and government conspiracy to support community development, and that foundations and governments are operating on assumptions from the 1960s. Foundation support for community development, not unlike government support, has been episodic at best. While foundations have played an essential role in supporting innovative community development activities, particularly during the Reagan and Bush era, an examination of aggregate foundation and corporate data would reveal to Mr. Lemann that support to community development has never exceeded five percent of aggregate giving. This pales by comparison to other areas of support, such as arts and culture and health.
Over time, the relationship between foundations and community development has grown with significant learning for both. Foundation and corporate support to community development in the 1980s was largely around housing development, and housing organizations were able to achieve impressive results, as Lemann's article attests. Housing can be viewed as a corner of community development, but community groups have always recognized that community development has to strengthen the broader social and economic fabric of a community. Funders are starting to recognize this as our approach shifts from a narrow focus on low-income housing development toward more comprehensive approaches for strengthening whole communities.
EZs Are More Than Community Development
Lemann's attempt to view empowerment zones solely as a community development strategy is faulty. Enterprise zones, which were the policy precursor to empowerment zones, were developed as a private sector approach through tax incentives to create jobs and businesses, not as a community development strategy. The metamorphic process in Congress that led to empowerment zones was at best a patchwork effort to link tax incentives to a series of useful social services ranging from child care to employment training to community-based health approaches. Most community development practitioners are not strong advocates of the enterprise zone concept, given the tenuous nature of tax benefits in low-income communities.
Despite Lemann's unbridled criticism of empowerment zones, they offer important opportunities for comprehensive approaches to community revitalization. In a recent issue of Focus, a publication of the Annie E. Casey Foundation, Douglas Nelson, the Foundation's Executive Director, points out that the empowerment zone and enterprise community legislation "is aimed at stimulating employment and economic growth as well as encouraging more comprehensive, coordinated, and integrated approaches to serving low-income communities."  He goes on to say that "the intent of the empowerment zone/enterprise community legislation is clearly worthy, and the targeting of new resources to low-income communities is overdue. But there is also an opportunity in this legislation that goes beyond merely distributing needed dollars to distressed neighborhoods.  This initiative represents an extraordinary chance to develop new and more local systems of human services – ones that are more flexible, family focused, and community based."
Neighborhood Capacity Is Key
The key to a comprehensive, coordinated, and integrated approach to community development is building long-term neighborhood capacity and strengthening decision making institutions that are in and of the communities they serve. The Annie E. Casey Foundation's new national initiative, Rebuilding Communities, is an example of one that seeks fundamental change through addressing five neighborhood revitalization strategies. As was stated earlier, Rebuilding Communities is not the only initiative engaging in a comprehensive approach to community building. The five key strategies are:
l. maximizing the commitment, capacity, and efforts of neighborhood residents and institutions;
2. developing capable and effective neighborhood governance collaboratives to which authority for some public functions could gradually be devolved;
3. increasing public and private capital investments in the neighborhoods;
4. promoting housing and infrastructure development and maintenance; and
5. creating good-quality, neighborhood-based human service delivery systems for children and families.
Rebuilding Communities is about building the capacity of neighborhoods to take on systems and change agendas. The experience of the five Rebuilding Communities sites over the next seven years as well as that of numerous other community building approaches hold promise for communities. We encourage Mr. Lemann to visit and learn from these sites as well as other comprehensive sites from the South Bronx to Chicago to Phoenix. He will see that community development is a vital force for restoring the American dream.