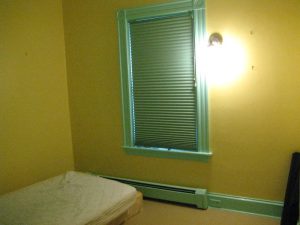 For decades the Department of Housing and Urban Development has offered a special type of housing voucher called a Tenant Protection Voucher, or TPV. The vouchers are primarily used to help people relocate when the status of their federally subsidized housing is changing. But in an environment in which displacement is common and funding scarce, there are disputes about who TPVs should cover and how they are allocated.
Conversions
Housing authorities have for decades struggled to maintain and repair their public housing in the face of chronic underfunding by Congress. Lacking other options, they sometimes  "convert"—demolish or sell off to a private developer—public housing units under a program called Section 18 and give tenants vouchers instead, which have a much more reliable federal funding stream.
(TPVs are not used in Rental Assistance Demonstration projects, though they can be made available to tenants when their units are part of a project that blends RAD and Section 18 funding. Even in a blended project, however, RAD funds cannot be used for a unit whose tenant has been given a TPV.)
A public housing unit being "converted" is a classic use for a TPV. The residents of the converted unit receive TPVs relatively quickly, rather than being placed on a yearslong waiting list for a standard Housing Choice Voucher. In theory—as long as they can find a landlord who accepts vouchers—this should help them find a new home promptly.
TPVs may also be given to people who are renting HUD-subsidized (or in some cases USDA-subsidized) private homes or apartments, but whose landlord's voucher contract with the local housing authority is expiring or being terminated. These residents often face having to move out or absorb a significant rent increase. In some cases, an "enhanced" TPV is even available, which pays a higher rent amount than the previous subsidy, allowing residents to stay in their original homes.
"Tenant Protection Vouchers were created in order to protect tenants whose buildings are facing conversions and [who] would otherwise be displaced and in many cases become homeless, because of the lack of affordable housing available in most communities," says Deborah Thrope, deputy director of the National Housing Law Project (NHLP). "It's a critical resource for HUD residents."
On the other hand, public housing conversions would often be impossible to implement without TPVs to give affected tenants a chance to find new homes. As a result, critics of public housing conversion sometimes take aim at TPVs themselves. They argue that the vouchers use scarce affordable-housing dollars to facilitate a process in which private developers gain control of land in low-income neighborhoods and build homes the former residents could never afford.
"The ugly underbelly of how Tenant Protection Vouchers are being used now is to dislodge or to empty poor people from neighborhoods," argues Ruth White, executive director of the National Center for Housing and Child Welfare. "It's so easy—you just order up 100 vouchers from HUD and you're done. That's the end of it. They're out."
Sunia Zaterman, executive director of the Council of Large Public Housing Authorities or CLPHA, acknowledges concerns about the effects of some of HUD's programs on rents. But she says criticisms of conversion projects miss the point that these HUD programs are the only source of funding available to rehabilitate scarce affordable units that have been starved of resources for decades.
"We have not found any solutions to the recapitalization of public housing outside of these strategies. If someone has another way to do it that actually results in resources coming to these developments, we're open to it. We've seen a lot of promises, but nothing has happened," Zaterman says.
Other Tenants Who Need Protection
The Tenant Protection program does have a few specific other uses—it funds vouchers for plaintiffs in certain housing lawsuits and for people in HUD's Witness Relocation Program, for example.
Another eligible use for TPVs from the beginning was for homeless parents whose children were in foster care or at risk of being placed there, known as the Family Unification Program (FUP).
"If a situation emerges where a parent is going to lose their children to foster care primarily due to housing, they get a voucher to solve that housing problem," says White, whose organization's mission focuses on this issue. "Mom's done everything the court asked her to do, but she's living in her car. She can get a voucher and lease up, so she can get her kids back."
FUP has been an eligible use for Tenant Protection funds from its inception in 1996, and White says that in the late 1990s, HUD would regularly dispense Tenant Protection funds to housing authorities to use for family unification vouchers. In 2000, in response to an alarming number of young people aging out of foster care and becoming homeless, HUD added those youth as another population eligible for FUP.
Spending on FUP has fluctuated. Starting in 2009, the program got its own separate budget line for a number of years, reducing its dependence on HUD's whims, although the agency still could fund FUP vouchers from the Tenant Protection account if needed.
In response to activism by former foster youth, in 2020 HUD secretary Ben Carson created the Foster Youth to Independence Initiative or FYI. In 2022 FYI had a $30 million budget, mostly dedicated to foster youth aging out, though a small portion—$5 million—went to family unification. (The Tenant Protection account received a $100 million appropriation in 2022.)
As soon as FYI was receiving its own separate funding, however, some housing authorities and their supporters began lobbying to permanently remove families and youth from regular TPV eligibility, White says. "As soon as these kids got this win, [those groups] went right to the Democrats and they said, 'Take the words Family Unification Program out of this,'" she says.
Although White and others were able to convince Congress to retain families and youth as an eligible use for TPVs in 2020, by 2022 the lobbying was successful and the Family Unification Program was removed from the list of TPV uses. As a result, now only the dedicated $5 million from FYI remains available for vouchers specifically to reunify homeless families. And unlike the vouchers for foster youth, which are available on demand, the vouchers for family reunification must be requested by housing authorities.
White continues to hope that HUD Secretary Marcia Fudge will use her discretionary authority to draw on the Tenant Protection account to fund on-demand FUP vouchers.
"There are a lot of demands for TPVs," Zaterman acknowledges, but she also says family unification is not the Tenant Protection account's mission. "Making sure that [a resident's] housing assistance continues if their public housing unit is being rehabbed or redeveloped—that's what the Tenant Protection Voucher does."
Nonetheless, Zaterman says she understands that this is at base a matter of not enough to go around: "There are not enough resources."