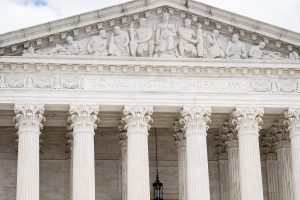 Although the Supreme Court's June decision in West Virginia v. EPA squarely focused on the federal government's powers to combat climate change, the ruling sent a tremor though the lawyers and advocates who fight to make sure communities provide fair access to housing and work to desegregate their neighborhoods.
In a 6-3 vote, the court's conservative majority struck down the Environmental Protection Agency's Clean Power Plan, saying Congress had never given the EPA clear authority to limit greenhouse gas emissions. While the ruling was not unexpected, its dependence on a judicial theory called the "major questions doctrine" raised concerns that the conservative justices could use it to knock out other parts of the administrative state they disagree with.
The question of how much authority Congress can delegate to government agencies like the FDA and OSHA has come up in previous cases, but the EPA suit is the first where a majority decision explicitly cited the major questions doctrine.
In a dissenting opinion, Justice Elena Kagan argued that the Clean Air Act gives the EPA ample authority to regulate any air pollutants, including greenhouse gases, and cited the concept of Chevron deference, in which courts honor agency interpretations of ambiguous laws. But Chief Justice John Roberts rejected her take on the case, writing in the majority decision that "it is not plausible" that legislators gave the agency carte blanche to extend the law in a way that would have huge social and economic impacts.
"A decision of such magnitude and consequence rests with Congress itself, or an agency acting pursuant to a clear delegation from that representative body," Roberts wrote. President Joe Biden responded by calling the ruling a "devastating decision that aims to take our country backwards."
Experts on housing law are still digesting the decision, and those who have begun to think out the implications have widely varying levels of concern.
'We depend a lot on agencies to interpret open-ended language in statutes. Almost anything that isn't absolutely clearly spelled out in the statutes is vulnerable.'
Some say there is little threat to fair housing and anti-discrimination rules because HUD's authority or obligation to enforce the regulations is clear in federal law and has been repeatedly endorsed by courts. They also argue that, both by Roberts' own definition of a major question and as a political reality, housing regulations are not considered so socially or economically consequential that the Supreme Court would require Congress to spell them out explicitly in legislation.
"The takeaway for me from the EPA case is not that Congress can't delegate authority. It's just, on huge issues, it has to do so somewhat more emphatically or somewhat more granularly," says Michael Allen, a civil rights lawyer with the firm Relman Colfax. His cases include Anti-Discrimination Center v. Westchester County, which helped establish that jurisdictions are required to satisfy their Affirmatively Furthering Fair Housing (AFFH) obligations.
"I'm taking the Chief Justice at his word when he says it's an extraordinary case with extraordinary facts where we will engage in this kind of inquiry," Allen says. "As to the work that we do, generally on civil rights issues and more particularly on Affirmatively Furthering, I thought this case won't have much impact on our work. It's not a threat to what we're doing. If you assume the intellectual honesty of the EPA case analysis, that case isn't our case."
But Allen acknowledges that some litigants are certain to start citing West Virginia v. EPA in their arguments, perhaps including some "outlier jurisdictions" where officials are adamantly opposed to taking steps to improve equitable access to housing and reduce segregation. And other experts go further, saying the court's embrace of the major questions doctrine is downright alarming, especially if it follows the interpretation most hostile to agency authority.
"It is sort of frightening for the whole regulatory environment. It suggests that you have to have a much tighter nexus with statutory language to create rules," says Myron Orfield, a civil rights attorney and director of the Institute on Metropolitan Opportunity at the University of Minnesota. Orfield served as a consultant to HUD during the Obama administration and helped develop regulations on AFFH and the Fair Housing Act's disparate impact rule.
"I think the majority of the court is not going to wipe out the administrative state, but it certainly feels like [justices Neil] Gorsuch and [Clarence] Thomas think the whole administrative state is a bad thing. If these guys are in charge, there's a potential to really restructure the country. We depend a lot on agencies to interpret open-ended language in statutes. Almost anything that isn't absolutely clearly spelled out in the statutes is vulnerable," Orfield says.
AFFH in the Crosshairs
The attorneys emphasize that it is unclear how the Supreme Court will use the major questions doctrine in the future. Orfield says it is important not to act as though housing regulations are being undermined. "This is one of the things that you have to dance around when you're an advocate. It's devastating, but if the advocates start saying it's deadly, that's a fait accompli," he says. "They haven't pulled the trigger yet."
If anyone does try to use the doctrine in a housing lawsuit, it would most likely be an AFFH case, they say. The AFFH concept has its roots in the Fair Housing Act (FHA) of 1968, which says agencies that receive federal funds must "affirmatively further the purposes of this act" and requires HUD to administer its programs accordingly. The law does not contain the words "affirmatively furthering fair housing," but that phrase does appear in other statutes, and courts have repeatedly ruled that HUD and its grantees must proactively work to reduce or prevent housing segregation.
Allen notes that the FHA specifically authorizes the HUD secretary to make federal regulations to carry out the law's affirmatively furthering requirements. "To the extent that there's anything in the EPA decision that supports the vitality of Affirmatively Furthering, it just says the agency must point to clear congressional authority for the power it claims to regulate, and I think it's right there. It's been there since 1968," he says.
In addition to the statutory requirements, since 1994 a separate AFFH regulation has obligated communities that receive HUD funding to undertake a fair housing planning process. In 2015 the Obama administration strengthened the rule, which the Trump administration then suspended and tried to replace with a greatly weakened version. The Biden administration last year reinstated the Obama regulation and proposed a new AFFH rule that could come into effect soon. Allen described it as "a pretty modest rule" that would not qualify as a "major question."
Could Disparate Impact Be at Risk?
Another potential target for a legal challenge is disparate impact, a legal theory that prohibits practices in housing and other areas that have discriminatory effects despite being neutral on their face. The theory has been cited by the Supreme Court in several cases over the past half-century, and in 2015 was upheld as applying to the FHA in the court's Texas Department of Housing and Community Affairs v. Inclusive Communities Project decision.
The Inclusive Communities plaintiffs argued that in denying tax credits to low-income housing developments in white neighborhoods, the Texas agency concentrated the housing in neighborhoods of color and perpetuated segregation, which constituted disparate impact. The court's five-member liberal majority agreed. In their dissents, justices Thomas and Samuel Alito argued that the disparate impact theory on which the decision was based depended on incorrect judicial or agency interpretations of laws that never explicitly allowed disparate-impact lawsuits.
With conservatives now in the majority, a housing agency or provider could argue in court that the applicability of disparate impact is a question that Congress cannot defer to regulatory agencies. As with AFFH, it's far from certain that courts would agree, but there are certainly attorneys who would be interested in trying out that argument, says Morgan Williams, general counsel of the National Fair Housing Alliance, which has been extensively involved in Fair Housing Act rule-making and litigation.
"Disparate impact is a piping hot issue. It is under great scrutiny by members of the conservative legal movement, who feel that it is a challenge for industry operators," Williams says.
He and others point to a more recent case, Inclusive Communities v. Lincoln Properties. It concerned a property management company in the Dallas area that allegedly refused to accept voucher tenants in white neighborhoods. The U.S. Court of Appeals for the Fifth Circuit rejected a disparate impact argument, saying the plaintiffs had failed to show that the company's actions had affected the area's voucher population. Several Fifth Circuit judges who disagreed said that ruling created an impossible standard for FHA disparate impact claims.
The Supreme Court declined to take the case, allowing that difficult standard of proof for FHA disparate impact claims to prevail in the Fifth Circuit, which encompasses Louisiana, Mississippi, and Texas. The decision demonstrates the way that declining respect for agency autonomy and federal rule-making could lead to a patchwork of legal standards across the country, with fair housing and other rules applying in some regions and not others, the attorneys say. Orfield says district courts have been surprisingly amenable to civil rights claims but in the appellate courts, "it gets hairy."
Other areas of housing-related law could potentially be affected by reduced deference to agency regulations. One concerns a landlord's liability when they are aware of one tenant committing sexual or racial harassment of another tenant and have a way to mitigate that behavior, for example if the lease prohibits it. HUD has issued regulations on harassment, including a new rule in 2016, but last year the Second Circuit declined to defer to the agency and ruled against a racial harassment victim in Long Island who had sued his former landlord.
Given the uncertainty about how the Supreme Court will use the major questions doctrine in the future, legal experts offer varying strategies for protecting fair housing rules. Tim Iglesias, a University of San Francisco law professor who serves on the California Fair Employment and Housing Council, says attorneys should use state-specific statutes and regulations when available, such as his state's version of AFFH and its fair housing law. Allen mentioned New York City's Human Rights Law and New Jersey's fair share housing obligations as other helpful models.
Adding clarifying language to federal fair housing and civil rights laws could also help prevent court nullification of agency regulations, but a polarized and closely divided Congress is unlikely to act. Allen says he will continue depending on the long history of favorable civil rights rulings rather than look for help from an unpredictable and potentially counterproductive legislative process.
"I live in the real world. The [likelihood] that under current political circumstances the Fair Housing Act would come up for debate, even for improvement, is so small, and it may also become a vehicle for mischief," he says. "The law is pretty well established. To the extent that there are parts of the law that are vague or uncertain in any way, there's been 50 years of court decisions that have helped to clarify it."