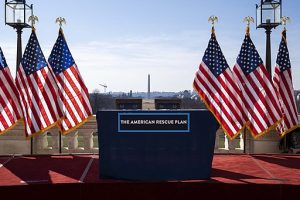 UPDATED June 9, 2022 | The $1.9 trillion COVID relief bill passed in March 2021 provided funding for a huge range of payments and programs. Under that bill, the federal government sent stimulus checks directly to individuals, provided increased and accelerated child tax credits, gave grants to struggling restaurants and other businesses, and funded public schools. The measure's housing elements included billions for rental assistance, foreclosure prevention, vouchers, and homelessness prevention.
The bill, called the American Rescue Plan Act, or ARPA, also provided $350 billion to state and local governments to spend on almost any public service. City and counties were permitted to use the money to erase budget deficits, vaccinate their residents, build sewers, expand broadband access, or boost pay for essential workers, among many other options.
As the money has flowed out across the country, 55 state and local governments have so far allotted at least $13.8 billion of their discretionary dollars to housing efforts that go beyond the housing programs specified in the law, according to a recently released report by the National Low Income Housing Coalition. Officials across the country say the funds are allowing them to sustain shelter and encampment programs they started during the pandemic, start building transitional and supportive housing facilities, and set more ambitious goals for property acquisition and the creation of new affordable housing.
In Kansas City, Missouri, the resources have been a shot in the arm for the city's new Department of Housing and Community Development, which was created last year after the pandemic made homelessness a more urgent issue in the region. City officials are putting $25 million into a housing trust fund to create more affordable units, and they plan to spend additional ARPA funds on a tiny house community using shelters from the company Pallet to serve as transitional housing.
"The ARPA funding does help us address numerous affordable housing matters that otherwise we wouldn't have had the funding for, or where we would need to look in other places for the funding," says Jane Pansing Brown, a former judge who is the department's first permanent director. "We would have done them anyway, but not in the same way. Now we plan to go forward with larger projects because of the ARPA funding."
ARPA's local relief fund has come in for criticism from Republicans in Congress, who uniformly voted against the bill. They continue to argue that many cities do not need help balancing their budgets, the spending is aggravating inflation, and it is unclear how the money is being used. In March they responded to President Biden's call for new legislation to fight COVID-19 by demanding he claw back billions in undisbursed ARPA funds meant for states.
Others criticize local officials for not spending even more ARPA money on housing and social services rather than law enforcement and prisons, in light of the national movement against excessive policing. For example, despite California's housing crisis, some of the state's big cities have reportedly spent large portions of their COVID relief funds on police, frustrating community activists.
Biden himself has encouraged cities to use ARPA funding to hire and pay police or purchase surveillance technology. At the same time, Deputy Secretary of the Treasury Wally Adeyemo recently urged cities and states to put a greater portion of their allotments into housing, particularly for low-income renters and communities of color. ARPA funds must be committed to projects by December 2024 and spent by the end of 2026.
For local governments that have made housing a priority, the disputes over ARPA are beside the point. They see the temporary windfall of flexible funds as a rare and very welcome opportunity to step up their commitments to their communities' increasingly urgent housing needs. Putting COVID relief funds toward those programs was not a difficult choice.
"I certainly wouldn't want to criticize decisions that other communities have made. This pandemic has affected everybody differently. In this case, I think our decisions were fairly clear and fairly easy," says James O'Keefe, community development director in Madison, Wisconsin. "There was an acute need for help with people who were facing instability in housing. I can't say strongly enough that very little of what we have done would have been possible without these funds."
A Sudden Influx of Money
Madison is receiving $47.2 million in ARPA local recovery funds, with about $8.7 million budgeted for activities related to homelessness and $6.7 million for affordable housing projects. Another $24.4 million is replacing lost revenue, including some revenues that pay for ongoing housing activities.
O'Keefe says the city has had a severe housing shortage at least since the 2008 recession, especially for low-income people. When the pandemic hit, Madison coped with a surge of homelessness by relocating the two shelters it supports to larger sites and moving hundreds of people into hotels, in part with funds from the federal CARES Act and more recently from ARPA.
Costs soared; for example, the city had previously contributed $50,000 a year to a volunteer-run men's shelter, but the current facility has a paid staff and costs $2.3 million per year to operate, O'Keefe says. That shelter will close in June, and the city and county are planning to build a permanent facility for $9 million, including $2 million from ARPA.
Madison temporarily allowed two homeless encampments, supporting them with portable toilets and outreach services. It created a 30-person Pallet shelter community, and is considering using some ARPA funds to aid the longstanding Occupy Madison tiny home community. The city has been housing and supporting 40 formerly unhoused people in a hotel, with costs now being covered by ARPA, and O'Keefe says he'd like to use relief money to purchase a hotel and convert it to very-low-income housing.
"We have, for as long as we can remember, worked in an environment of deprivation, where there's never been enough money to do what we all know needs to be done. Suddenly there's this influx of very significant amounts of money," he says. "We've been forced to use it very quickly, and in some instances in ways that are not sustainable. So here we've tried to use some of the money for solutions that will be a little bit more enduring."
In addition to the hotel conversion, the city wants to put $2 million from ARPA toward a low-cost rental development for young people aging out of foster care, and $2.5 million to help the Salvation Army replace its shelter for single women and families with a new facility.
A Renewed Focus on Shelter
Boston has also been spending some of its ARPA dollars on new shelters, despite already having a comprehensive shelter system before the pandemic, says Sheila Dillon, the city's chief of housing and director of the mayor's Office of Housing.
Encampments were previously uncommon in the city, but last year more than 150 people lived in the Mass/Cass tent city in the South End, many of them opioid users, she says. With the camp now shut down, the city is spending $16 million in ARPA funds to operate "low-threshold" shelters and another $20 million to create permanent supportive housing with services specifically for people with substance use disorders.
"A lot of the folks that were homeless and that had substance use disorders were unable to go into more typical residential shelter because of their medical needs, so we set up six sites that have a much lower threshold [for admission]," Dillon says. "Some of that money is to keep the sites going until we have more permanent solutions."
Boston is receiving $560 million from ARPA and spending $206 million of it on housing programs. That includes $60 million for affordable homeownership development and financial assistance to first-generation homebuyers; $57 million for property purchases to prevent displacement and to build deeply affordable homes on city-owned land; $33 million for badly needed public housing upgrades; and $20 million for energy retrofits of affordable multifamily homes.
Dillon notes that the city has focused on improving transit and transit corridors for years, and Mayor Michelle Wu has made it a priority since taking office last year. But those improvements lead to higher home values and potential displacement of low-income residents, so officials will put ARPA dollars toward a program that helps developers and nonprofits acquire buildings and make them permanently affordable.
"We have a very hot real estate market, and we have for a long period of time. When buildings change hands, they're changing hands for a very high amount. Oftentimes we've got long-term residents that are living in the units," she says. She described the property acquisition effort as a "twofer": "We get long-term affordability and we make sure there's no displacements in the transfer. So we love this program."
Boston officials view the ARPA money as a one-time opportunity to not just bolster existing programs but also fill emerging gaps in housing-related services. "We're not just doing more of the same. We're also trying to find solutions for the problems that we have today," Dillon says.
Compassion, Action, Equity
San Jose stands out among California cities for pouring much of its COVID relief funding into emergency rental assistance, particularly for households of color in extremely low-income neighborhoods, says Ragan Henninger, deputy director of the housing department. The city is receiving $212 million from ARPA and spending $54 million of it on housing, including $36 million that went to help residents catch up on unpaid rent.
"San Jose is different from other cities who use their ARPA funding predominantly to cover budgetary gaps," Henninger says. "We centered our decision-making around ARPA funding on a model of 'compassion and action,' and really centering race equity. How do we take care of and protect some of the most vulnerable people in our city?"
The city has also worked to help its substantial population of people living outdoors. Henninger says it has about 230 encampments of various sizes and 5,000 unsheltered residents, including a disproportionately high number of Black, Latinx, and Native American people. During the pandemic the city shifted from shutting down camps to managing them, providing trash pickup, mobile toilets, and other services as needed, as well as case management in the biggest encampments.
The city is spending more than $6 million of its ARPA funds on emergency shelters and encampment services, $4 million on hotel rooms, $1.2 million to expand homeless outreach, and $3 million to keep its Eviction Help Center open and mediate rent settlement agreements.
Another $4 million is going toward building tiny homes for use as emergency interim housing. San Jose had previously built one tiny home community, and after COVID hit it built three more with help from a state program, placing hundreds of modular structures on city- and state-owned properties. A fourth community, a $7.7 million site with 76 beds, is currently under construction using $2.5 million from ARPA along with donated modular units and funds from other sources.
The federal dollars enabled the city to continue innovating and responding during a time of unprecedented need, Henninger says.
"ARPA money definitely allowed us to start programs and keep programs that were started during COVID. I mean, I don't know any other city in the country that's providing a citywide trash service for people who are living outside, just like any other housed residents receive. We've also done a lot of best-practice work in terms of eviction prevention and keeping people housed over the course of the pandemic," she says.
Bridging the Affordability Gap
In Miami, Florida, tackling the high cost of housing is a priority for George Mensah,
director of the Department of Housing and Community Development. Early in the pandemic, prices in downtown Miami seemed to be falling as some homeowners decamped to the suburbs, but an influx of tech firm workers and foreign real estate investors subsequently pushed costs back up again, he says.
Rents in Miami-Dade County have rocketed up 30 percent in the last year, making it one of the least affordable places to live in the country. Thus a major focus of the city's ARPA spending plan is subsidizing construction of affordable housing and helping lower-income residents get into homes, both of which are expensive propositions given the scarcity of buildable land, Mensah says.
"In Miami, our incomes are very low and our construction costs are very high. To be able to reach 80 percent of median income we have to put in a lot more money to be able to subsidize construction," he says. ARPA "helps us to do more homes than we normally would have done at the same time, and also helps us to get to much lower income levels."
The city is receiving $138 million from ARPA and will spend at least $14.5 million on housing programs, Mensah says. So far that includes $3 million for property acquisition, $2.75 million to subsidize construction of homeownership units, and $2.75 million to build rental homes. The city also allocated some ARPA funding to its five districts, with city commissioners having discretion over how the money is spent. Two commissioners are using their allocations for housing: $2 million for a tax-credit development and $2 million to help a nonprofit build homes for young women aging out of foster care.
Separately, at least $3 million is going to agencies that run homeless shelters and provide job training and mental health care.
Miami will in many cases combine the new COVID relief money with other funding sources. For example, a project to build 16 single-family infill units for homeownership will use federal HOME, ARPA, and Neighborhood Stabilization Program dollars to bridge the gap between construction costs and the mortgages buyers can qualify for, with ARPA covering the amount needed beyond HOME subsidy limits, Mensah says.
A Transformative Moment
Kansas City is receiving $195 million and spending about $29 million from ARPA on housing and homelessness-related programs. Brown, the Department of Housing and Community Development director, says the biggest portion is the $25 million for its Housing Trust Fund, which was created several years ago but never funded until now. The city is currently reviewing subsidy applications from developers and aims to build hundreds of affordable homes over several years. Another $150,000 from ARPA will go to a nonprofit that rehabilitates older homes for use as affordable housing.
Putting money in the trust fund is one of a few major steps Kansas City has made recently on the housing front. In addition to creating the housing department and hiring Brown, last fall the mayor signed a right-to-counsel law that guarantees free representation in court to tenants fighting eviction. The city is spending $150,000 from ARPA for nonprofit legal aid services.
With homelessness increasing and more people living in encampments, the city also became an emergency shelter provider for the first time. When outdoor temperatures fell dangerously low in early 2021, it turned part of the Kansas City Convention Center into a large shelter, and later set up a temporary program to house hundreds of people in area hotels.
The city also contributed to a project that converted a hotel into a shelter and housing navigation center, funded outreach to encampment residents, and hired its first homeless prevention coordinator. Officials are looking for a site for a Pallet development with up to 60 units and have proposed converting another hotel into affordable apartments for people experiencing homelessness. ARPA has been key to those efforts, with $3 million set aside to cover the temporary hotel program, the Pallet project, and other services.
"This is something that has moved up in what we feel is important here as Kansas Citians—to make sure that people do have affordable housing and they're not going to be out on the streets at night when it's cold," Brown says. "In the future you'll see a lot more from us."
Editor's Note: This article has been updated to include a more recent estimate of how much ARPA discretionary funding states and localities have dedicated to housing efforts.