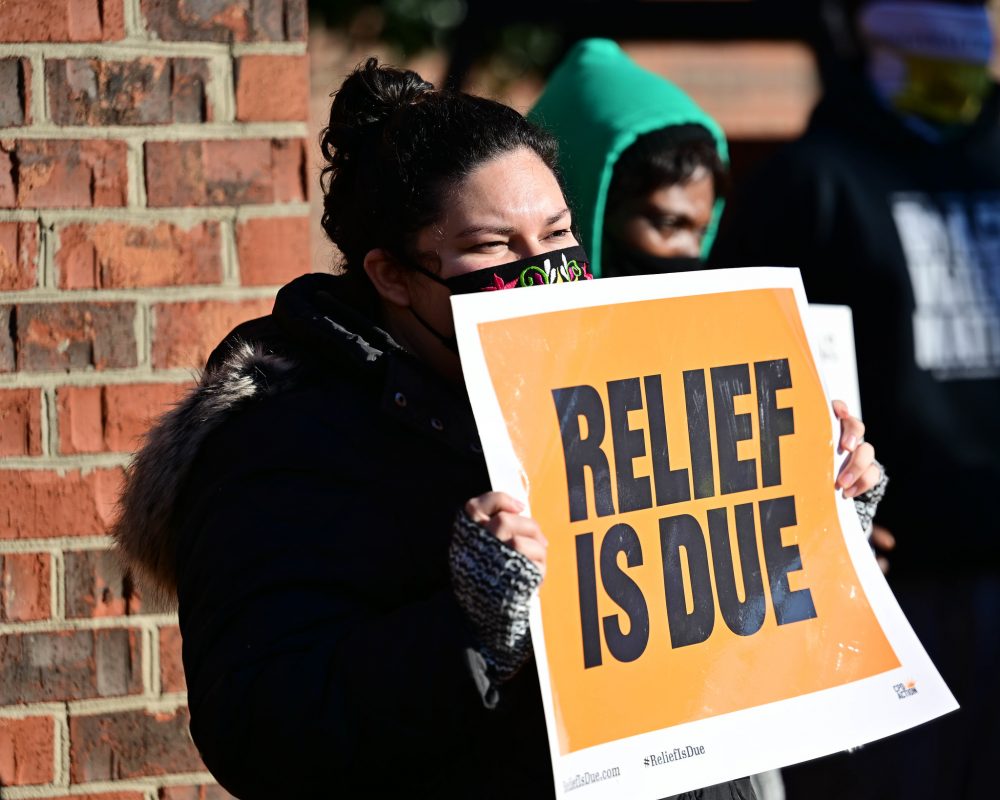 It's been nearly a year since Congress passed $25 billion for the first round of Emergency Rental Assistance (ERA1) and seven months since it allocated another $21.6 billion in the American Rescue Plan Act (ERA2). In the eyes of the Department of the Treasury, that's plenty of time for states and cities to get successful emergency rent relief programs up and running. But come November, the Treasury department is planning on taking that money back from localities that haven't done a good job getting rent relief out.
The federal rent relief effort has been much maligned for its painfully slow pace getting money into the hands of desperate renters. By July, only 11 percent of the $46.7 billion in available rental relief had been spent, because state and local officials struggled to create new rent relief programs from scratch, hire staff to process applications, get landlords to participate, among other snags. In the months since, distribution has accelerated, thanks in part to a push from Treasury for adjustments that reduce barriers—things like allowing renters to self-attest that they need the funds, reducing the amount of paperwork in applications, and partnering with community-based organizations to get the word out.
Still, as of late-October, states have spent or committed to spending only about 48 percent of the $25 billion available in ERA1 funds.
But that 48 percent belies the wildly disparate performance of the best and worst state and local rent relief programs around the country. The New York State rent relief program has paid out and approved payment of 100 percent of its ERA1 funds. Connecticut has spent and promised 95 percent of its ERA1 funds. Texas and Illinois are at 83 percent and 79 percent, respectively. On the other side of the coin, the Dakotas, Arkansas, Tennessee, and Nebraska are among the worst performers, having spent and obligated single-digit percentages of their ERA money. There are similar gaps between the best and worst city and state rent relief programs.
With some $15 billion left to distribute from the first round of ERA and another $21.6 billion in ERA2 available, the feds are now working to ensure that money isn't languishing in states and cities that have shown they're unable or unwilling to quickly help renters. On Oct. 15, Treasury began requiring low-performing programs to submit improvement plans that show how they'll speed up distribution. For the truly dismal programs, Treasury will start recapturing and redistributing rent relief funds in November.
"This is not about reward and punishment," said White House American Rescue Plan Coordinator Gene Sperling during a September webinar put on by the National Low Income Housing Coalition (NLIHC). "It's about speeding up effective relief for families in need of housing security and eviction protection."
Improvement for Some; Lost Funds for Others
For the purposes of ERA recapture and redistribution, Treasury divides rent relief programs into three buckets: those that have spent or committed more than 65 percent of their ERA1 funds as of Sept. 30; those who have spent or committed less than 65 percent of funds but can demonstrate they're making an effort; and those that have spent or committed less than 65 percent but have been spending too much on administrative costs and not enough on rent relief.
Programs that spent or committed at least 65 percent of their funds by Sept. 30 aren't at risk of losing funds. Grantees under the 65 percent threshold must submit a program improvement plan to Treasury that outlines how they'll adopt best practices to speed up distribution of their ERA funds.
One key practice that advocates and Treasury have pushed for is allowing renters to self-attest their eligibility instead of requiring them to supply all the documentation up front. The self-attestation form is a sworn statement and acknowledgment that lying about eligibility is a crime. But by allowing people to self-attest first and provide documentation later, programs can get money out sooner, rather than waiting for the sometimes-lengthy process of gathering all the necessary documents from employers, landlords, and other institutions. In late April only 27 percent of programs allowed self-attestation. By October, that number was over 50 percent.
[RELATED: Anti-Eviction Advocates Want the DOJ to Support the Right to Counsel Movement]
Other best practices include creating partnerships between eviction courts and ERA programs to help renters who face eviction get rent relief funds before the eviction is finalized; streamlining application processes; partnering with community-based nonprofits offering, in Treasury's words, "culturally and linguistically relevant housing stability services"; proactively reaching out to landlords; collaborating with utility companies; and more.
"Requiring program improvement plans is really important," says Sarah Gallagher, a NLIHC senior director leading the organization's emergency rental relief work. "We've seen that programs that really do make efforts to improve their programs and utilize the flexibility of ERA programs are able to increase the rate at which they're able to spend. New York is a great example of that. Connecticut and Texas as well."
For underperforming programs—those that have obligated less than 65 percent of funds and whose ratio of rent relief to administrative spending doesn't meet Treasury's guidelines—Treasury will begin to take back ERA funds after Nov. 15 and redistribute them to high performing programs. Where possible, Treasury will distribute those funds to rent relief programs within the same state.
Some systemic issues keep the worst performers from getting the money out the door. Gallagher says some programs received more money than they actually need, which skews the numbers. There are also instances of programs taking a long time to create and staff up because there had been no rent relief infrastructure there previously.
But it's also the case that some landlords simply refuse to participate, in some instances citing too many strings attached and a reluctance to hand over financial information to the government. Some programs allow tenants to apply for funding without landlord participation. But in places that don't, landlords can be a real barrier. This is especially the case now that the federal eviction moratorium has been overturned and many state moratoriums have expired.
"We needed the eviction moratorium to allow ERA to catch up and to pay landlords," says Mariel Block, a National Housing Law Project staff attorney. "It provided the incentive to landlords to take the money because they wouldn't have another option. It was either keep the tenants and get paid or keep the tenants and not get paid. That was a real crucial piece of the puzzle to put these funds to use and keep tenants housed."
Speed Isn't Everything
Treasury's reallocation plan rewards programs for getting funds out quickly. And it makes sense. According to the most recent Census Pulse survey, there are still 3.5 million renters facing eviction who need money now to pay back rental debt and avoid eviction. But advocates say speed can't be the only measure of success.
"Speed is a very important metric since there are spending deadlines," says Block. "But there's also metrics like how much did they target the lowest-income people? How many immigrants and BIPOC tenants? People with limited English proficiency? Different programs have been better at different aspects of that and sometimes the ones that are slower are way better at targeting."
Congress provided a long timeline for ERA spending. States and localities can use ERA1 funds until September 2022 and ERA2 funds don't expire until September 2025.
That long timeline will help address the years of potential impacts low-income renters could face, both as the pandemic drags on and as the country slowly returns to normal once it's finally over.
"As we roll out of pandemic, having those funds available will be extremely helpful," says Gallagher. "Our hope is that states and localities will use this to not just deal with emergencies now, but deal with emergencies as they move forward. Having that time will allow them to use model programs that will be long lasting."
Gallagher and Block both hope the states, counties, and cities that created emergency rent relief programs to address the pandemic will keep the infrastructure in place permanently.
"The truth is there has always been a need for rental assistance and always will be," says Block. "The next step for tenant advocacy is how do we make this permanent? You're going to have billions of dollars poured into this new program, economic impacts are going to last for years, and suddenly you're just going to shut the door on that? That's a bad idea."