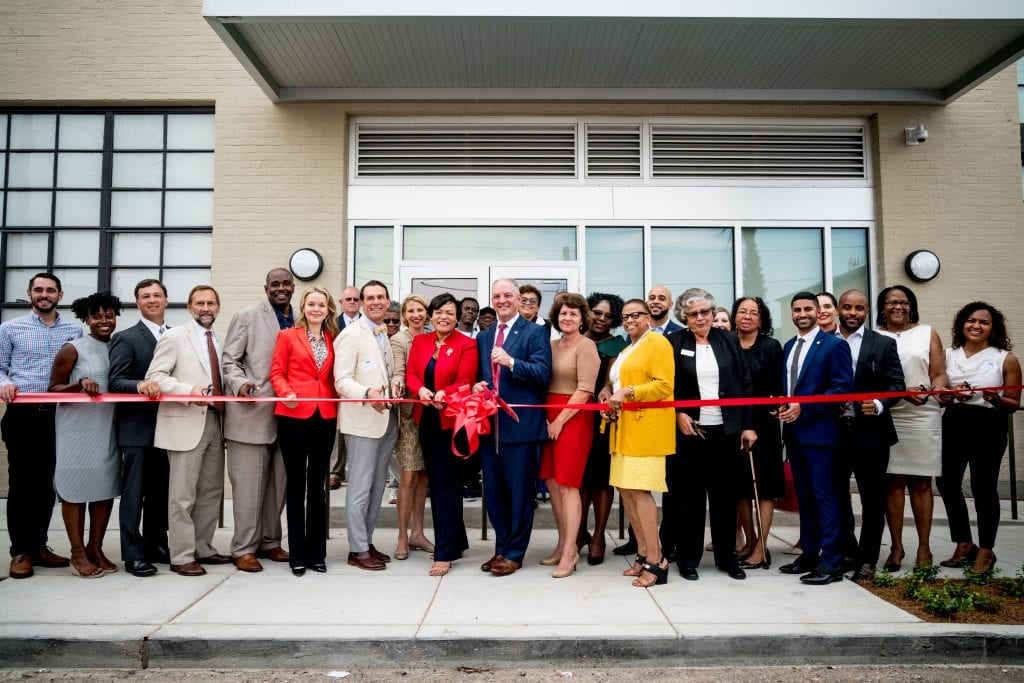 When it comes to socioeconomic rankings, health outcomes, and access to health care, the Gulf Coast region tends to end up "in the bottom of the barrel," notes Kathy Laborde, president of the Gulf Coast Housing Partnership (GCHP), a New Orleans-based nonprofit that develops affordable housing across the region.
Seeing the connection between housing and health was "a no-brainer" for GCHP, Laborde says, given the region's dire health outcomes, low-income levels, and shortage of affordable housing. GCHP estimates that the Gulf states will need more than 220,000 additional affordable homes to meet demand. Yet despite the obvious need, finding the right mix of financing for affordable housing development in the region is a persistent challenge.
"Three of the states we work in—Mississippi, Louisiana, and Alabama—are really constrained with regard to capital available locally, or through the state, or even through philanthropy," she says. "Because incomes are low, and it costs what it costs to build, if we're trying to deliver a quality product, there's a big gap." To close the gap—the difference between the cost to build and operate an affordable property and the revenue generated through affordable rents—her team looks to state and philanthropy sources, but those local coffers tend to be less full than in other regions, she says.
The standard source of affordable housing financing—Low-Income Housing Tax Credits (LIHTC)—is reliable, but limited, Laborde says, referring especially to the coveted 9 percent tax credits that are allotted on a competitive basis. On the other hand, 4 percent tax credits are easier to obtain but provide less equity, leaving a larger gap to fill.
"So our question was, 'Can we create some reliable sources?' And as we looked about for who else we could approach, it seemed logical to approach the health care industry itself," she says. "They, too, are trying to serve the population we are trying to serve, but they have a different rubric—so are there some areas of connectivity that could make this partnership benefit everybody?"
GCHP has begun to solve this puzzle. Laborde and her team have crafted new partnerships with national Medicaid managed care organizations—health providers that aim to provide cost-effective medical treatment—to provide below-market gap financing (i.e., financing at a lower rate than banks would charge) for projects that blend affordable housing and onsite health centers.
In September 2020, this "Health + Housing" initiative won $2.5 million in the Housing Affordability Breakthrough Challenge, a nationwide competition sponsored by Wells Fargo and Enterprise Community Partners to reward "innovative and scalable solutions" on housing affordability. (Editor's Note: Wells Fargo provides financial support for some of Shelterforce's work.) Of 900 applicants, GCHP was among just six awardees. The award paves the way for GCHP to break ground on two projects that combine new affordable housing, onsite health care, and data collection systems to measure health outcomes and health care cost savings.
Connie Wright, Wells Fargo senior vice president and social impact lead for housing stability, says GCHP's Health + Housing project stood out in three key ways: It addresses a historic lack of sound health care access in communities of color, it shows a new approach to pooling together financing, and it prioritizes scalability.
"There are many innovative and transformational ideas, but they lack the obvious opportunity for scalability," Wright says. She notes that this project succeeds by using the easier-to-obtain 4 percent LIHTC credits—which often go untapped—and filling the resulting capital gap with low-interest loans from health payer organizations, lenders that can reap returns in health care savings and other benefits. This funding partnership not only makes GCHP's two proposed projects viable in themselves, but sets the organization on a path to plan more such projects with similar payers.
Three Years Ago—The Beginning of an Idea
In Jackson, Mississippi, the Health + Housing initiative promises to breathe life into a long-vacant, fire-damaged former Holiday Inn site purchased by the Pearl Street AME Church in 2014. The church and the Jackson Medical Mall Foundation (JMMF), a nonprofit that manages a complex of medical offices and businesses in a former shopping mall in central Jackson, had devised an innovative plan to transform the old hotel into much-needed affordable senior housing with a clinic and community health workers onsite—but they had been unable to piece together funding.
"The church had been working on this for many years. They were very disillusioned," says JMMF Executive Director Primus Wheeler. "When they approached us for help about three years ago, all they had was a building and a vision [for senior housing]."
JMMF had partnered previously with a church on housing development, and the organization has deep expertise in training community health workers, thanks to its founder, Dr. Aaron Shirley. A noted pioneer in Mississippi health care, Shirley created a network of community health workers modeled after an Iranian rural health care delivery system. And so the goal emerged to integrate housing with not only a clinic, but also onsite community health workers.
JMMF began interviewing area developers who could help make the vision a reality, and Wheeler found what he was looking for in GCHP.
"When we started talking with the folks at Gulf Coast Housing Partnership," Wheeler says, "we felt they might not understand, because they're not in the health care business—but they caught it right away. So we started talking about the funding. We went through a lot of scenarios."
Kevin Krejci, GCHP's chief capitalization officer, says he and Laborde were excited about the vision for senior housing with onsite health care, but it took time for the right funding plan to emerge. "We had to progress through a year and a half, two years of conversations to really find the right people to talk to," says Krejci.
GCHP began to talk with managed care organizations (MCOs) competing for state Medicaid contracts in the Gulf states about helping to fund affordable housing integrated with onsite health care. They targeted these insurance companies because of their growing interest in improving the health of Medicaid patients by tackling some of the social determinants of health, and also because of their large size and national and state reach. "It would be slightly harder to have these conversations with a more regional hospital, says Krejci. "Part of it was potentially deeper pockets, but also potential scalability."
GCHP was seeking more than just a one-time grant, Krejci notes. The goal was to start something scalable and sustainable over the long run. If they could make a deal such that the MCOs would reap benefits from their investment to offset the lower rate of return on a below-market loan, he says, it would be a clear win-win situation and an easier sell for future projects and similar partnerships with additional health organizations.
The conversations have led them to their first two MCO partners: UnitedHealthcare, which is now their partner for the Jackson project, and Humana, the partner for a similar project in New Orleans. Both are expected to break ground later this year.
[RELATED: Setting Aside Housing for Frequent Health Care Users]
Wheeler brims with enthusiasm about the Jackson project. He says it will include 80 to 100 apartments and provide "any amenities a senior would want to have," from transportation options to barber shops and beauty salons—and perhaps most importantly, culturally competent health workers to help residents navigate the health system.
"They'll have folks onsite who look like them, talk like them, know them, live in the community, and will be able to help them get a better outcome because we've improved the communication between the providers and the patients," he says. "It's really one of a kind."
Challenges and Solutions
Krejci has been the key negotiator with the health payers. One of the barriers he has to contend with is differences in focus among internal MCO departments.
"There are folks within an insurance company who understand the social determinants of health side and the impact they can make. They get really excited," he says. "And then you transition to talking to a treasury person about how the loan will be structured. That person is less inclined to be excited about an idea without understanding the implications from a treasury standpoint."
He explains, "The treasury department is used to putting their money in the best possible investments—so we have to talk through the fact that this may be, say, a 2 percent return instead of 6 percent, but there are other cost savings they can factor in." For example, since improved access to health care for low-income residents is built into the planned projects, the health care payers could see cost savings from fewer unnecessary emergency room visits and better management of chronic conditions.
GCHP began with the assumption that such health care cost savings, along with at least a modest return on the loan investment, would be the main attractions for MCOs. Krejci has been pleased to learn that while those are indeed key considerations, it's more nuanced, with MCOs also seeing some less tangible benefits from the partnership. For instance, having supported local affordable housing can make MCOs more competitive for state Medicaid contracts and enhance corporate marketing opportunities.
Another challenge is a time-frame mismatch. Health payers often have five-year state Medicaid contracts, while LIHTC transactions operate on a much longer cycle. Investors who are receiving tax credits over a 15-year period may balk if they see that some of the loan funding could have to be repaid in five years, if, for instance, an MCO were to pull out because its state Medicaid contract ended.
"These are 15-year minimum transactions for investors," Laborde says. "That's a long duration. So that was the nut we were trying to crack. The MCOs want five-year investments. We understood that—so we had to figure that out."
Final loan structure details are still being hammered out, but Laborde believes the nut is close to being cracked. Meanwhile, the Breakthrough Challenge grant money enables GCHP to move forward on the Jackson and New Orleans projects, which will serve as pilots for the health payer partnership model. The award money creates a financial "backstop," Krejci says, a capital pool that helps to reassure investors that the financing package will be stable over the long run even if some of the loan money has to be repaid early.
During the grant period, GCHP plans to continue seeking additional MCO partners, aiming to increase the Health + Housing pipeline by at least three new projects and two new health care payers.
Words to the Wise
With the COVID-19 pandemic waking people up to the link between housing and health and laying longtime racial disparities ever barer, successful health payer partnerships are sure to attract increasing attention. Are there lessons being learned that could inform other housers hoping to partner with health payers?
[RELATED: A Health Insurer and a CDC Collaborate to Move the Needle on Housing and Health]
One crucial understanding to have at the outset is the need to make relationships mutually beneficial.
"It's easy to see an insurance company as this massive conglomerate that has billions of dollars and say, 'Why don't they just give us some?'" Krejci says. "[But] you have to find ways where your activity can benefit them while their investment benefits the activity you're trying to do. So you do a lot of listening."
Another is to have an eye on crafting a successful enough process so that the next deal is easier. For MCOs new to this type of investment, the decision-making process is complex and often needs a champion to shepherd the process through many layers of hierarchy. Krejci envisions getting to the point where a health organization CEO doesn't have to be involved anew each time.
"Scalability comes from not needing those one-off non-standard approval processes," he says, "when it becomes a routine process, and decision-making is pushed down the corporate ladder."
And finally, success can breed success. If these first MCO partners find that investing in integrated affordable housing and health care pays real returns, then it will be easier to make the case to other health payers. "It's easier to get folks to jump on the bandwagon rather than lead it," Laborde says. "If we demonstrate how this can work, and the MCOs themselves are evidencing it's something they can and want to do, it makes it easier for it to have legs when you're talking to other folks."
Editor's Note: This article was updated to correct an error in a comment by Kathy Laborde.