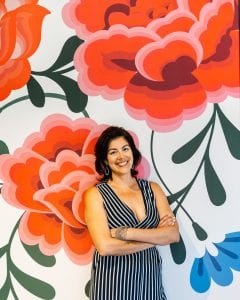 Irma and Morgan Robinson's Napa, California, catering company was growing so fast they needed a loan to expand. But traditional banks wouldn't bite—the Robinsons didn't have enough collateral to qualify, and their business was relatively new. A restaurant industry friend told Morgan about Pacific Community Ventures (PCV), an Oakland-based community development financial institution (CDFI). PCV underwriters looked past the Robinsons' relative low net worth and new arrival in the business world (traditional banks require at least three years in operation) and approved a six-figure loan. Today the Robinsons run three brick-and-mortar locations in addition to their catering business, now called Southside.
That might be a typical CDFI-funded small-business success story. But profit and growth are only part of the story. Jobs at many small businesses—including businesses in the food service industry—are not always high quality. But the Robinsons provide living wages, a shared tip pool, and meal discounts to all hourly employees. Their 14 full-time employees also have access to medical, dental, and vision benefits, as well as a 401(k) plan. 
"We offer training opportunities so employees can grow with the company," says Irma Robinson. "Our goal is to create a strong culture with a clear vision in order to provide growth opportunities for our staff."
Small and micro-businesses like Southside often turn to CDFIs, whose mission is to fund loans for low-income, low-wealth borrowers. But the jobs that many businesses of that size create are often temporary, seasonal, low-paying, or otherwise poor-quality. CDFIs like PCV are trying to change that by helping borrowers identify achievable job quality goals, providing free coaching, and even financially incentivizing job quality improvements.
In Southside's case, PCV provided mentorship and business advising after funding their loan. "Our business took off so dramatically that we had to really get savvy in a hurry. We really utilized the PCV mentorship the first year and a half or two years," says Morgan Robinson. That mentorship included guidance on how to make sure the jobs they created were good jobs. And it worked. "When we opened the first café, one cook took me outside and told me he was able to quit his second job, and that this [job] had made a difference for his family, like a significant difference."
Defining CDFIs and Good Jobs
CDFIs were created to fund loans to folks just like Morgan and Irma—a first-generation American whose family is from Mexico. The federal government in 1994 created the CDFI Fund to provide affordable credit to low-income applicants in low-wealth or otherwise disadvantaged areas. In addition to funding microenterprises and small businesses, CDFIs provide community development and housing loans, focusing on racial equity and underserved populations. 
"Small-business lending by big banks has been declining, and a lot of community banks are closing. CDFIs can fill a lot of that need, a lot of that gap." says Stephen Michael, executive director of Main Street Alliance, a small-business advocacy association.
Community-minded lenders have been around since the 1970s, expanding financial opportunities in underserved communities.
"The businesses that CDFIs are working with tend to be in the most underserved places with the least resources," says Donna Fabiani, executive vice president for knowledge sharing at Opportunity Finance Network (OFN). "So, creating the business in the first place is a challenge, and being profitable is second. Then they can think about making the jobs they offer better, or higher quality."
According to OFN data, 84 percent of CDFI borrowers are low income, 60 percent are people of color, 50 percent are women, and 28 percent live in rural areas. Between 1996 and 2019, CDFI-funded businesses created at least 1.8 million jobs at nearly 450,000 companies.
Pre-pandemic, the U.S. was flush with rotten jobs. Although unemployment was at a 50-year low of 3.5 percent, average worker wages had dropped 23 percent since the end of the Great Recession. By 2019, the country's largest labor sector, leisure and hospitality, employed 14.7 million nonmanagement workers earning an average of $428 per week (the U.S. living wage in 2019 was $1,323 per week for a family of four). Most of those jobs offered no health benefits or predictable schedules.
As of 2019, almost half of Americans held low-wage jobs, and nearly 60 percent of U.S. workers felt their jobs were "mediocre" or "bad." And a new economic index released the same year labeled U.S. job quality much worse than it was in the 1990s and 2000s. 
"Anyone who works full time shouldn't be poor, but job quality involves a lot more than just wages," says Jill Rizika, executive director of Towards Employment, a job advocacy association based in Ohio. "It's also about benefits, culture, opportunities for advancement and learning, and the ability to be able to still meet your obligations to your family." 
Some CDFIs, PCV included, in the mid-2010s began looking to support their borrowers in ways that improve profits and job quality. PCV's research and interviews with labor leaders helped the company identify five key aspects of a good job: a living wage; basic benefits like health insurance, paid leave, and retirement plans; career-building opportunities; wealth-building opportunities; and a fair and engaging workplace. To determine what's considered a "living wage" for a particular city or county, PCV uses the Massachusetts Institute of Technology's Living Wage Calculator.
"If you want to tell business owners that you want them to create good jobs with the dollars you're investing in them, you have to be able to tell them what a good job is," Duggan says. "For a long time, CDFIs have been really invested in creating jobs. Whether or not those jobs have health benefits, or they pay well, or they are able to give folks their schedules weeks in advance, well, that's been kind of beside the point."
After conducting the research necessary in 2016 to define good jobs, PCV used that information to develop the "Good Jobs, Good Business" program over the next two years. In 2019, PCV introduced the program and began recruiting business participants, who get access to a toolkit, business resources, and free advisory services from PCV. 
"The COVID pandemic was a real hit to small businesses and made the 'good jobs' work harder to deepen," Duggan said. "We began this work with our clients in 2019, and started working with other CDFIs in late 2019 [and] early 2020, but COVID shifted the work from job quality to keeping people employed."
Despite the pandemic, in 2020, 17 percent of PCV clients were designated as "Quality Job Providers," which means those businesses provide at least three of the five aspects of a quality job. Duggan said PCV has about 200 participating businesses. According to PCV's numbers, 31 percent of its 2020 business borrowers offer a living wage, 43 percent offer career-building opportunities, 16 percent offer basic benefits, 18 percent offer wealth-building opportunities, and 29 percent meet the fair and engaging workplace standards.
Starting Easy
PCV was an early adopter of a "good jobs" framework. Several other community development organizations, worker advocacy programs, and CDFIs offer resources for business owners who want to improve existing job quality, but that doesn't always mean increasing wages or offering benefits, at least not right away.
"Small-business owners can get nervous when you start talking about increasing wages and they're not in a financial position to pay better wages," says Jenny Weissbourd, associate director of the Workforce Strategies Initiative at the Aspen Institute Economic Opportunities Program (EOP). She says that "light-lift improvements" such as "creating an onboarding manual, standardizing training procedures, providing job training for frontline managers" can help employers "build their comfort levels so they can take bolder steps."    
EOP's Job Quality Tools Library is an interactive online toolkit similar to PCV's. It outlines and describes actions company owners and managers can take to strengthen job quality, and includes those light-lift options.
CDFIs can only do so much, though, says Annie Donovan, chief operating officer at Local Initiatives Support Corporation.
"It's a lot to ask for a CDFI who's doing small-business lending to insist on a certain quality of job, depending on what that business is," Donovan says. "So first we need to look at wealth building for business owners, and look at what that community needs to be served. We can't let the perfect be the enemy of the good. We have to try and use our tools with the maximum leverage, but not to the extent that we're rigid about it."
CDFIs like PCV that have internal programs to incentivize good job creation don't refuse to work with business applicants whose business model doesn't support "good" jobs. Both Donovan and Weissbourd point out that not all employers should be expected to create great jobs, and that not all jobs need to provide opportunities for advancement or wealth building.
"No one opens a business thinking 'I'm going to be a bad employer,'" Duggan says. "But when they start creating and adding jobs, they're often figuring stuff out as they go. It's our opinion that the role of CDFIs is to figure out how to make it as easy as possible for small-business owners to create good jobs as they grow, and help them grow."
Win-Win Solutions
Sometimes incentivizing good job creation means showing an employer how to reallocate a pot of existing money in a way that both improves job quality and that company's bottom line, says Cynthia Murphy, senior program director of workforce solutions at Coastal Enterprises Inc. (CEI), a CDFI in Maine that's been lending money and providing business mentorship and advice to small, mostly rural businesses for 43 years. Otherwise, owners aren't motivated to spend scarce resources, time, and money on job quality.
"Everything that we do really needs to be mutually beneficial. We have to be able to create a high-quality job in a way that benefits the business," Murphy says. "We can't just tell a business to add health insurance if doing so would bankrupt the company. So, when we're working with the business and making recommendations, our starting point is to make recommendations that are good for the business, as well as good for the employees." Nonetheless, the CDFI has implemented a "good jobs" framework into its underwriting process, according to Murphy. 
In CEI's 40-plus years, the company has funded 3,039 businesses with $1.46 billion, creating more than 42,000 full-time jobs. In 2020, CEI disbursed more than $44 million to business borrowers, and estimates those funds helped create and preserve 632 jobs in 117 businesses.
One CEI client, a thriving aquaculture business that seeds and harvests mussels, was struggling to retain boat workers. The work is grueling: Employees spend all day on a boat, hauling heavy ropes weighted with growing mussels, cleaning, and inspecting them, and harvesting the 2-year-old mussels that are ready for market. It's cold, wet, and dangerous work, and employees are expected to deliver about 7,000 pounds of mussels every day.
CEI worked with the owners to enhance job quality, first encouraging them to ask the employees what they wanted.
"They learned health care was important, as was the ability to earn wage increases," Murphy said. "We worked with the company to institute a health care stipend where each worker receives a set amount of money each month for health care, and the employee selects a health care plan from HealthCare.gov. It's a win-win because there is a shared sense of responsibility for health care, and the company can budget for the expense. In addition, it's tax advantaged for both the workers and the business."
Since yield is the company's top profit driver, as a first step toward pay increases CEI helped the owners create harvesting targets and institute a bonus system when those targets are hit. Monthly and daily targets are posted so the workers know what they're shooting for. Next the owners want to find a way to allow workers to earn base wage increases. They're also trying to add a retirement program as the company continues to grow. Murphy says that the job quality improvements both helped the company retain workers and attract new ones.  
"In fancy terms, this is the beginning of a performance management system where goals are established and communicated, feedback is provided, and workers earn when they achieve," Murphy says. "It's performance management that meets the business and workers where they are."
Making Good Jobs Possible
Sometimes just the fact of having a CDFI loan on good terms, coupled with business advice, enables business owners to create better jobs.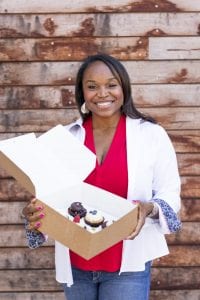 The loan that Lila Owens, a Good Jobs program participant, got from PCV allowed her to expand Cupcakin' Bake Shop, her already-successful Berkeley, California, home bakery. After she opened her first shop, PCV worked with Owens to revamp her whole business plan. She'd envisioned multiple bakeries, each with its own kitchen.
"Now we've switched to a model where there's a centralized commissary kitchen or hub that has satellite locations that don't require kitchens," Owens says. The kitchen can support six satellite locations.
"Financially that's just a much, much better position for us. They have been such pillars in assisting with risk management and strategy, and with our growth to now four locations," Owens says. "And because our loan is at such a reasonable rate, it freed up capital for other things like benefits and perks for the staff … so it really has completely positively impacted our business as a whole."
When her fourth Cupcakin' location opens in July, Owens will have about 40 employees. She pays what are considered living wages under Berkeley's Living Wage Ordinance, provides health benefits, and offers career-building opportunities. Owens says she's working toward implementing a profit-sharing program for employees. In the meantime, she's come up with a few nontraditional perks for her workers, like paying for parking and providing free uniforms.
[RELATED ARTICLE: When a Person's Character Trumps Their Credit Score]
Micro Enterprise Services of Oregon (MESO) is a Portland-based CDFI that makes loans only to unbanked people. Nita Shah, MESO's director, says that the small-business borrowers who started with the least are often the most concerned with creating good jobs. "Our borrowers come to us with an idea, and they're highly motivated, very hard working," Shah says. "I see over and over again with our entrepreneurs who have businesses that have really substantially grown, they make sure that the people on their teams have better insurance, they make sure they pay their workers."
A big bank wouldn't consider a sushi chef with no business management experience who's running a fledgling catering operation out of a 500-square-foot space and living in his car to be an acceptable credit risk. But in 2010, MESO lent Casey Bonsi $10,000 so he could expand Origami Catering. MESO connected Bonsi with management classes and free business advising services, which over the years have included helping him transition staff to salaried positions and figure out how to set up retirement accounts. Within six years, he'd created 45 living-wage jobs offering health benefits.   
For some borrowers, PCV may even write checks for hitting "good jobs" benchmarks—such as adding employee profit-sharing or providing management training opportunities. Some PCV clients have a portion of their loan forgiven for reaching good jobs goals that were written into their initial loan agreement. Other programs, such as the Bay Area's ICA Fund Good Jobs, reduce loan interest rates for businesses that improve job quality.
"We learned along the way that some of this 'good jobs' stuff needed some incentives, so we've integrated them into our loan underwriting process," says Patrick Duggan, communications director at PCV. "We're showing our business owners that if they're able to show they're committed, then we're going to show them we're committed, too, because we know this stuff takes time." 
More Than a Lender
Advice can be key to a new company's success. About 20 percent of small businesses fail in their first year, and less than half make it to their fifth birthday. But add mentoring, and one survey found 70 percent of new small businesses survived more than five years. Additionally, 88 percent of respondents to the survey said having a mentor was "invaluable."  Since these CDFIs are often already providing mentoring, including job quality as well as business survival in the topics makes sense.
Around the same time PCV began its project, CEI in Maine had also begun increasing its focus on helping its borrower clients improve job quality. And not just its clients.
CEI offers free advice to any Maine small-business owner who asks for it—even non-clients—to the tune of about 2,000 inquiries per year. In 2020, CEI business advisers worked with 2,315 Maine business owners, including 89 immigrant and refugee entrepreneurs. A staff of 10 financial advisers work with businesses statewide, asking questions about finances, employment, goals, etc., to create a company scorecard. CEI's "good jobs" framework echoes PCV's, assessing job quality based on living wages, basic benefits, and a company's ability to provide a fair and engaging workplace. CEI considers things like employees receiving regular performance reviews and advanced scheduling notice when scoring how fair and engaging a workplace is. The completed scorecard provides a snapshot of the company and helps CEI advisers identify improvement opportunities. 
[RELATED ARTICLE: Do Economic Development Incentives Support Small Businesses?]
"We figured we could really multiply our effect by equipping our business advisers to work with businesses for free in alignment with our good jobs framework," Murphy says. Building relationships with borrowers allows her team to tailor services to a company's needs. Sometimes small changes can really improve things for workers. For a client who employs a lot of unbanked people, Murphy suggested the company partner with a local bank to cash workers' paychecks for free—saving them each $20-plus in check-cashing fees every pay period, for example.
Helping their borrowers improve their job quality requires CDFIs to expand their own capacities as well, says Duggan. "They might have advisers who can help small-business owners fill out loan applications and build a profit and loss statement, but when a business owner asks, 'How do I structure my jobs so we have schedules available sooner?' they don't have someone who can answer that," he says. PCV's toolkit is one resource for other CDFIs, and PCV has gotten some funding to provide consulting to their colleagues as well, but Duggan says getting the kind of good jobs support they are doing really scaled up across the CDFI industry will require specific capacity-building support for CDFIs.
For the CDFIs that have taken that step, the formula of support plus capital with a patient, incremental approach seems to be working. According to Duggan, six years after their working relationship with PCV began, Southside has grown into a "bankable, good-sized small business that instills good jobs into the way they operate."
"Morgan and Irma wanted to be good employers from the start," Duggan says. "Now that they're big enough to not need advising services from PCV anymore, they're still creating good jobs and good wages. Now if we can do that 20,000 times over, then we've created a lot of companies that are creating a lot of good jobs for working people."
[Correction: The article originally misstated the amount of Southside's expansion loan; PCV makes loans of up to $200,000.]