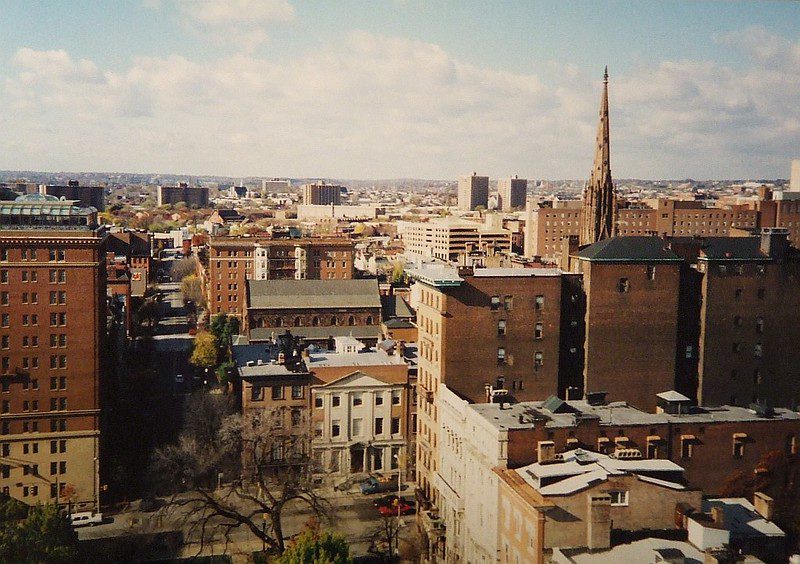 Beginning early last year, city and state governments across the country began passing "Renter's Choice" laws, which require landlords to accept financial products called "security-deposit alternatives" in lieu of traditional deposits. Cincinnati, Atlanta, and New York state have passed versions of the law, without much pushback from local advocates, or much apparent scrutiny about how deposit alternatives could affect renters.

Security Deposits
Are a Barrier to
Affordable Housing
There are many new approaches to the security deposit problem—some have been lauded by affordable housing advocates, and others have been met with skepticism and mistrust—often with good reason. In this piece, we take a look at a few commercial, charitable, and legislative solutions being explored.

Rhino, a startup that sells one such product called "security deposit insurance," is behind the lobbying campaign for these laws. In its 2019 Renter's Choice policy proposal, the company cast the legislation as a win-win solution for renters and landlords that could inject up to $45 billion into the American economy by unlocking security deposits.That pattern held until yesterday, Monday, May 17, when Mayor Brandon Scott of Baltimore vetoed a "Renter's Choice" law that had passed the city council 12-2. The veto comes after a broad coalition of housing advocates warned of the predatory potential of selling deposit alternatives to struggling tenants.
Rhino's product, while called "insurance," is in fact a surety bond, which unlike insurance does not provide renters with any coverage from claims in exchange for their fees. When a landlord makes a claim that the surety bond provider deems valid, the company will pay the claim and then try to collect payment from the tenant. The company has pointed out that there are instances when it may pay a landlord and not seek reimbursement from the renter, but this is not the structure of a surety bond, and Rhino's contract allows it to seek repayment up to the value of the bond whenever a payment to the landlord is made.
[RELATED: Security Deposit Alternatives: The Misleading Marketing of 'Renter's Choice']
Renters can use a surety bond-based deposit replacement—also offered by companies like The Guarantors, Jetty, or SureDeposit—to move into a new apartment without putting down the full cost of a deposit upfront. Renters remain on the hook for any claims of damage or nonpayment their landlords may make (provided the surety company accepts the claim). Renters may also lose their ability to take their landlords or the surety bond provider to court to dispute wrongful charges, if the company includes an arbitration clause in their contract, as Rhino does. Former Rhino customers have said their landlords used the product to charge them large, unexpected claims of as much as $6,000, Shelterforce reported in December.
A video leaked in late April raises another potential problem with surety bonds: they could give landlords a way to collect back rent from tenants mid-lease without taking them to court, particularly during the national eviction moratorium. During a "summer leasing season" webinar for property owners and managers on April 29, Rhino's director of sales and partnerships, Eric Krauss, explained how, unlike a traditional cash deposit, Rhino could help attendees collect unpaid rent mid-lease.
"So, a normal cash deposit … you have to wait until the renter moves out to file a claim, or to retain from their cash deposit," Krauss said. "With Rhino, we actually don't have to play by those same rules. So if a renter doesn't pay May rent, you can file a claim 10 days into the month for that amount. Now, if you have a $500 policy with Rhino, it's not going to make a ton of sense. But if you did have a larger policy, say it was a riskier renter and you guys required a two- or three-month policy, you could absolutely use Rhino in that scenario."
Krauss also told attendees that Rhino was a great way for them to "push deposits higher," that landlords only need one piece of proof to file a claim with Rhino, and that they'll receive confirmation of the claim's approval "within two days."
Video of the info session, titled "Rhino: In Their Own Words," was posted anonymously to Vimeo April 30, and drew widespread alarm and condemnation on Twitter from housing advocates. Vimeo removed the footage May 2, citing a copyright complaint from Rhino Labs Inc.
A Rhino spokesperson said that Krauss's comments were taken out of context, and that when he said landlords could use Rhino to "push deposits higher," he was not referring to deposits, but to Rhino's "lease guarantee" product, which is only supposed to be sold to tenants who are "approved with conditions" or otherwise would have been rejected by the property owner.
The spokesperson said that the security deposit product was always equal in value to the would-be deposit (a recent blog post on Rhino's website emphasizes that deposit coverage can be "adjusted to the dollar"). Previously, Shelterforce spoke with Rhino customer Peter Steininger, who was sold a Rhino bond to replace his security deposit that was more than twice the value of the original deposit, which the spokesperson said was against Rhino's policies. Shortly after Shelterforce reported on Steininger's claim, Rhino agreed to cancel the charges.
"As for the video, it was removed in accordance with our general practices to protect our copyright materials from competitors or improper use," said the spokesperson.
The video raised new concerns for tenant advocates in Baltimore, where the highly contentious "Renter's Choice" bill was sold as a way to make housing more affordable for Baltimore renters. At the time, the bill was sitting on the mayor's desk after it sailed through the city council with only two dissenting votes, despite loud objections from a long list of local advocacy groups. The Fair Housing Action Center of Maryland, Baltimore Teachers Union, Jews United for Justice, Organizing Black, Right to Housing Alliance, Maryland Consumer Rights Coalition, and many others signed a letter asking Scott to veto the bill. Kobi Little, president of the Baltimore City NAACP, tweeted that the bill would put renters "at risk for more harm than good," and called on the mayor to veto it.
However well intentioned, the security deposit bill passed by the Baltimore City Council puts renters at risk for more harm than good. @naacpbaltimore calls on @MayorBMScott to veto this bad bill. @lrhesq @mdconsumers @jufj @b_renters @PublJusticeCntrhttps://t.co/WxqRBizZMl

— Kobi Little (@KobiLittle) April 22, 2021
The Public Justice Center, which initially testified "favorable with amendments" at a hearing for the legislation, released a statement after the video came out, urging the mayor to veto the bill in light of "this new information on Rhino's clear intent to circumvent laws that safeguard safe, fair, affordable housing in the middle of the tenancy." It pointed out that surety bonds could be used to collect rent from tenants withholding it for valid reasons, such as when a landlord refuses to repair unsafe conditions.
Under the bill, landlords with more than 10 properties would have been required to offer tenants who don't wish to pay a regular deposit either the option to pay their deposit in three monthly installments, or to purchase a deposit alternative like Rhino. Caitlin Goldblatt of the Baltimore Chapter of the Democratic Socialists of America says landlords would most likely choose to offer the latter option, since it gives them full protection immediately, and all they have to do is make a claim through the company to get reimbursed within a matter of days.
"Once [the renter] signs that contract, a company like Rhino becomes their debt collector, and the landlord would only have to interact with Rhino to make a claim," says Goldblatt. And once the landlord receives payment, "it becomes much harder for the renter to get that money back, because they've entered into a debt collection process."
Next Steps?
So, what would Baltimore housing advocates like to see their elected officials do to help renters afford their security deposits, if not offer them the option to purchase surety bonds? A tighter cap on the amount that landlords can charge for deposits in the first place would be a good place to start, according to Marceline White, executive director of the Maryland Consumer Rights Coalition. (Currently, Maryland landlords can charge up to two months' rent).
And simply allowing renters to pay their deposits in installments—the bill's other option—is another widely favored solution, White said, a few weeks before Scott's veto.
"If they struck the Rhino section of the bill, and just allowed the three-month installment plan, all the advocates would be happy," she said. "They could do something that actually benefits renters who are having trouble coming up with a deposit, and we could all be holding hands and singing 'Kumbaya.'"
After months of rallies to protest the bill, dropping anti-Rhino banners near City Hall, assembling a diverse coalition of community advocates to speak out against the legislation, and mounting email and phone campaigns to urge the mayor's veto, advocates were pleasantly surprised when Scott announced just minutes after the 5 p.m. deadline Monday that he had done so.
After careful consideration, I issued a veto of City Council Bill 21-0022 – Security Deposit Alternatives. You can read my veto letter of City Council Bill 21-0022 here: https://t.co/wf5WI0rObk pic.twitter.com/2JNomOCLMw

— Brandon M. Scott (@MayorBMScott) May 17, 2021
"I simply cannot ignore the significant concerns over the security deposit insurance option in the legislation. This provision could potentially hurt the very people this bill seeks to help. In this case, the benefits for the installment plan for security deposits do not outweigh the potential costs of the security deposit insurance provision to already vulnerable residents," Scott said in a statement.
It remains to be seen whether the Baltimore City Council will override the veto at its meeting June 8. Ten out of 12 counselors would have to vote to override the mayor's decision, meaning that to sustain the veto, at least one of the 10 counselors who voted to pass the bill would have to decline to override its veto.
Goldblatt is optimistic that the mayor's decision will hold, and that this signals the end of the Renter's Choice campaign in Baltimore.
"Right now, we have the votes to sustain [the veto]," says Goldblatt. "There's work ahead of us, but I think we can make it happen."