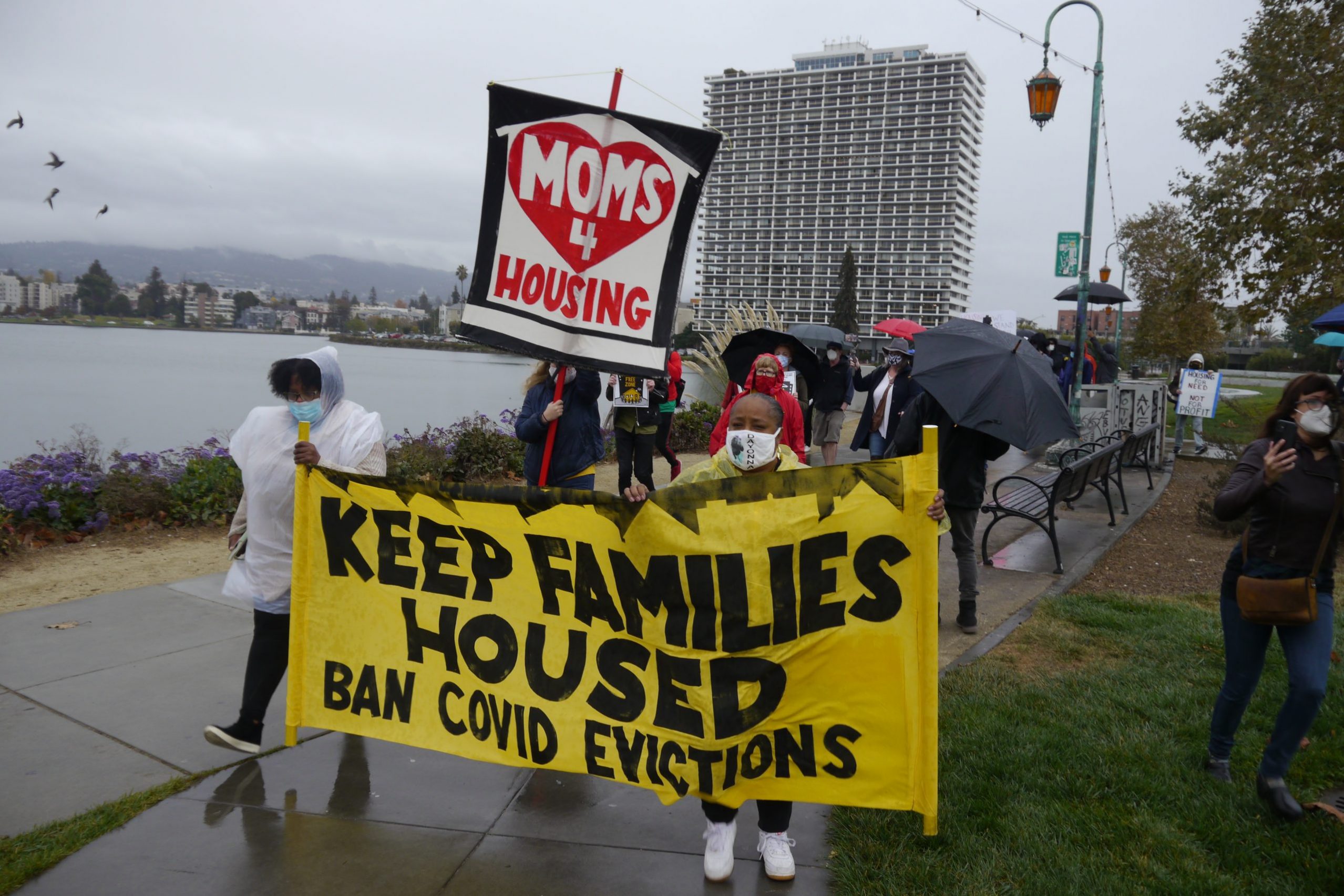 When Martha Escudero recalls the 18 months she and her two daughters spent homeless and unstably housed, it brings her to tears. Burnt out from her job as a social worker and unable to keep up with the ballooning cost of rent for a two-bedroom apartment in Los Angeles—at the time average rent for a two-bedroom was north of $2,200 per month—her family ended up couch surfing with friends for short stints. She and her daughters eventually landed at a friend's one-bedroom apartment where they shared space on the living room floor with little more than the belongings they could carry on their backs.   
"We were having a really hard time," says Escudero. "I was home-schooling my daughters and one has behavioral and learning disabilities. All three of us were emotional wrecks and my daughter was having a really hard time learning and focusing. I became really impatient . . . I was becoming a bad mom."
In November 2019, a group of homeless mothers—calling themselves Moms 4 Housing—took over a vacant house in west Oakland that was owned by a large home-flipping company. The bold action grabbed headlines around the country and left Escudero wondering if she could do something similar in Los Angeles. "I thought it was so cool what the Moms 4 Housing did. And it got me thinking about how the government really isn't doing a lot for us and it isn't working fast enough."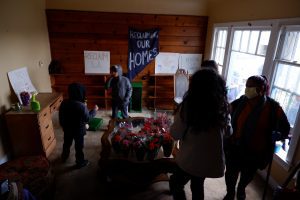 Escudero started talking to friends about what it would take to do a home occupation and learned that a coalition of activists and community groups calling themselves the LA Reclaimers was already planning just such a takeover. The Reclaimers had set their sights on East LA's El Sereno neighborhood. The California Department of Transportation (Caltrans) had purchased nearly 500 homes there and in nearby Pasadena in the 1950s and 1960s as part of a planned expansion of Interstate 710 that never came to fruition and many of the homes had sat vacant for years and even decades. 
"I was disgusted and outraged about how it was possible to have all these empty homes while the state of California is turning into skid row right now with tents in every city," says Escudero. "Governments are holding these houses and it forces people to break laws to get justice."
In March, just as the pandemic started shutting California down, Escudero and her daughters, along with another homeless mother and her family, and a homeless senior, entered a vacant home in El Sereno, kicking off a series of successes that would ultimately lead to 22 homeless families and individuals legally renting vacant Caltrans homes as part of a new experimental transitional housing program run by the city.
[RELATED: History Shows that in Times of Crisis, Housing Activists Get Radical]
It has now been more than a year since the Moms 4 Housing collective entered that home on Magnolia Street in Oakland. On a blustery, rainy day in mid-November, a crowd of 30 or so people gathered in downtown Oakland for a rally to celebrate the first anniversary. Though Dominique Walker, Sameerah Karim, Tolani King, and Misty Cross had been evicted from the home along with their children two months after their occupation began, the formerly homeless mothers had a lot to celebrate.
Not only had their occupation made national headlines and called attention to the severity of Oakland's homelessness crisis, Moms 4 Housing had partnered with the Oakland Community Land Trust to purchase the occupation house from Wedgewood Property Management to serve as transitional housing for more homeless families. Their movement also led to the passage of a new state law meant to limit speculative homebuying by corporate investors, a proposal by the Oakland and Berkeley city councils to give renters the first chance to buy their homes, and, of course, inspiration for similar actions around the U.S.
In fitting timing, the first Reclaimers moved into their renovated, legal rental homes just a few days before Moms 4 Housing celebrated its anniversary. Though the Reclaimers are now living in transitional housing legally and Moms 4 Housing has a laundry list of wins to claim, neither group considers their victories to be anything but a small step in a much larger fight for affordable housing. Understanding the work necessary for these activists to turn their splashy, headline-grabbing actions into viable long-term solutions helps illustrate what it would take to scale that work into larger, systemic change.
How the Moms Won
The Moms' movement was born of and nurtured by longstanding, experienced Oakland community activists. Moms 4 Housing co-founder Dominique Walker works as an organizer for the Oakland Chapter of the Alliance of Californians for Community Empowerment (ACCE), a statewide grassroots nonprofit that fights for social and political change and trains community members to organize their own campaigns and movements. ACCE was created in 2010 after the international community organizing collective ACORN—which also had a long history of occupying vacant buildings—was shut down.
Drawing on their experience and the networks forged over decades of organizing, Moms 4 Housing and ACCE laid the groundwork for their successful occupation long before walking through the door on Magnolia Street in November 2019. The idea to occupy a vacant home came to Walker while she and her two children were struggling to find stable housing of their own in Oakland. She had returned to her hometown after fleeing domestic violence in Mississippi and was staying with relatives around the Bay Area and moving frequently. The long commutes to work and day care were taking their toll on Walker and her children, but she could not find a place with affordable rents and ran into long waitlists for assistance from city programs.
In her search for affordable housing, Walker came across many vacant homes, some of which had sat empty for years. She, like every Oaklander, also came across the encampments and shantytowns in which so many of the city's more than 4,000 homeless residents live. When she found the small, rundown three-bedroom house on Magnolia Street in West Oakland and learned that it had sat empty for two years and was owned by corporate home flipper Wedgewood Property Management, the idea gelled to occupy the vacant home and use it to call attention to Oakland's homelessness crisis.
To prepare for the occupation, Walker and the other moms drew on their connections at ACCE and other community organizations to build support for their action. They spoke to neighbors on Magnolia Street. They recruited volunteers to stand guard outside the home once the moms moved in.
"Everything was in place before the occupation. We had some deep groundwork to be as organized as possible," says Carroll Fife, who leads ACCE's Oakland chapter and was elected this fall to the Oakland City Council. "You have to have people who are really committed and not doing this for spectacle or whatever . . . the folks who are invested because their lives depend on it."
When it came time to enter the home, the group had already garnered significant support in the community. People donated furniture and helped with repairs to make the rundown house livable. Rather than try to stay there undetected, Moms 4 Housing held a press conference announcing their intentions and linking their personal struggles to the broader housing crisis, a move that garnered significant press coverage and more support in turn.
When the Alameda County Sherriff finally came to evict the women in January, hundreds of community members filled the street outside the home to attempt an eviction blockade.
"People can see themselves in this," says Fife. "Because the conditions [with housing affordability] are getting so stark, they are an equalizer. Things are just tightening like a vice grip."
Because Moms 4 Housing and ACCE had built community support and because the story had become national news, they created space for local and state politicians to publicly support the work in a way that they might have hesitated to do had it been a quiet, illegal occupation of a vacant home. Oakland Mayor Libby Schaff intervened by calling Wedgewood's CEO and getting him to commit to good-faith negotiations to sell the property to the Oakland Community Land Trust (OakCLT). Early on in the occupation, the Moms had asked Wedgewood to sell to OakCLT because of the nonprofit's decade-long relationship with ACCE. That demand was amplified by Oakland Councilmembers Nikki Bas and Rebecca Kaplan, and subsequently, by the mayor.
What Winning Looks Like
OakCLT's negotiations with Wedgewood began shortly after the families were evicted. As a nonprofit with limited funds and a necessity to stretch them as far as possible, negotiating with a large for-profit entity was a challenge.
"It went as we probably should've expected it," says OakCLT Executive Director Steve King. "Wedgewood makes their bottom line off flipping homes and they negotiated from that perspective. It was a bit challenging since we have different sets of values."
After about a month of negotiations, OakCLT and Wedgewood agreed to a $587,500 sale price. They closed on the purchase on May 19 and the groups announced their victory in October. "From Wedgewood's perspective, where they're seeing houses in West Oakland selling for $800,000 to 900,000, they felt like they were essentially giving it away. But the house is also uninhabitable at this point. It will take several hundred thousand dollars more to get it there," says King.
He continues, "The whole process highlights all the flaws in our current market-based system, where 'market value' is a pretty fungible concept."
The details of the house's ownership and management are still being worked out. King says it's likely OakCLT will retain ownership and lease it to whoever operates the house. Fife says Moms 4 Housing is in talks with a local nonprofit to run the home as transitional housing for homeless mothers, but the arrangement has not yet been finalized.
The Moms' movement has also radiated far beyond Magnolia Street. City councilmembers in Oakland and neighboring Berkeley have proposed right-to-purchase laws that would give tenants the right of first refusal for their buildings should they be put up for sale. In Washington, D.C., a similar law called the Tenant Opportunity to Purchase Act helped preserve 1,400 units of affordable housing from 2003 to 2013 and led to the creation of 4,400 limited-equity co-op units.
California state Sen. Nancy Skinner spearheaded a bill to limit the ability of corporate homebuyers to purchase foreclosed properties in bulk. Signed into law in September, the Homes for Homeowners, Not Corporations Act bans the practice of bundling foreclosed homes at auction. In the wake of the Great Recession, large Wall Street firms like Blackstone gobbled up tens of thousands of foreclosed homes, often buying many at once when they were bundled into a single sale at auction. The new law requires that foreclosed homes be sold one at a time and gives tenants, families, affordable housing nonprofits, and community land trusts 45 days post auction to offer a higher counterbid.
King is excited about the possibility of a more-level playing field. But, as with so many things in the housing world, cash will ultimately be the deciding factor. King hopes the federal government might come through with resources for CLTs that help them preserve housing. During the Great Recession, there was a federal Neighborhood Stabilization Program, but nonprofits that wanted to purchase properties were capped at 99 percent of appraised value, meaning deep-pocketed corporations could easily outbid them.
A Parallel Fight in Los Angeles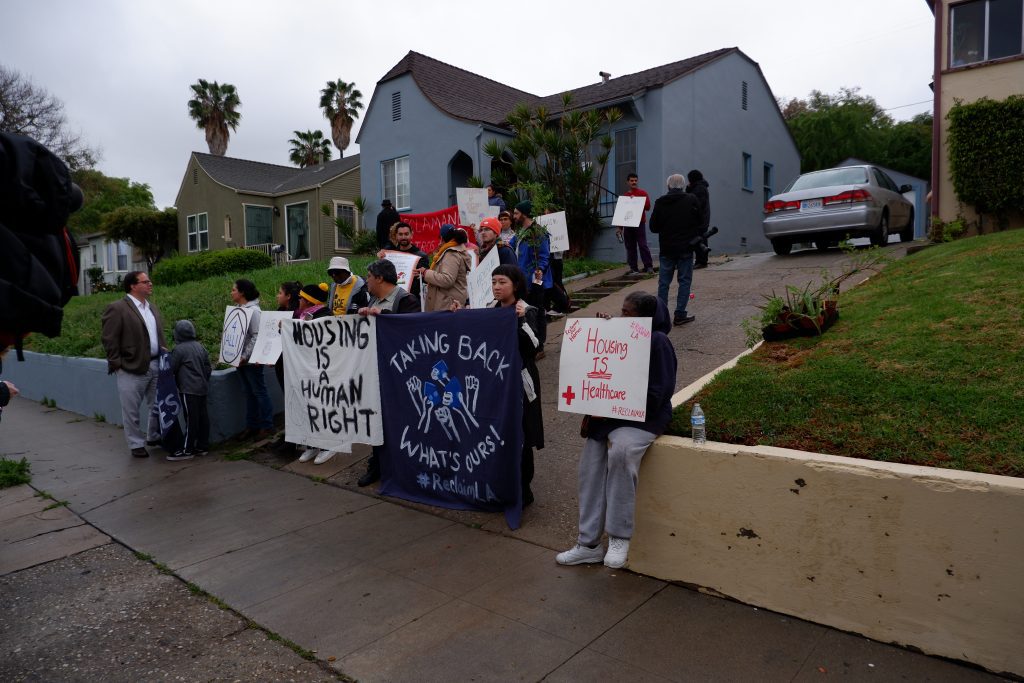 The LA Reclaimers occupation wasn't a copycat of the Moms 4 Housing action—organizing for it began in October 2019 before the Moms collective had gone public—but it did follow a similar blueprint and its organizers drew inspiration from the Moms' success.
Ruby Gordillo is a 34-year-old activist who struggled with homelessness and housing instability for several years with her husband and three children. The problems began in 2013 when her husband was laid off. Their landlord was understanding and tried to make it work, but it was impossible for them to catch up on rent and bills and keep food on the table. They ended up moving in with Gordillo's mother and brother, who at the time was dealing with undiagnosed schizophrenia. After a few incidents, that landlord gave them an ultimatum and the whole family ended up moving out.
Gordillo, her husband, and the kids found a small one-bedroom apartment that just barely worked for them. She said there was hardly space to walk between the kids' triple bunkbed and her and her husband's bed. There were incidents of violence by other tenants in the building that left Gordillo afraid to use the laundry room alone or let her children take out the trash unaccompanied.
Gordillo's own experience with housing insecurity and the struggle to find sufficient space that she and her husband could afford got her thinking about how to remedy the affordable housing crisis in Los Angeles. She was an ACCE member by this point, had gone through the nonprofit's trainings, and wanted to organize a housing campaign of her own. She originally considered trying to get a vacancy tax passed, but ultimately settled on occupying a vacant home.
Gordillo built a coalition around the idea of homeless or housing insecure people taking over a vacant, publicly owned house. The coalition includes Los Angeles Center for Community Law and Action (LACCLA), the LA Tenants Union, LA Community Action Network (LACAN), and more. In their search for an ideal occupation site, they settled on the Caltrans-owned homes in El Sereno. Not only were there hundreds of vacant, government-owned homes in the 710 corridor, it was also a mixed-income neighborhood that had nearby homeless encampments. It was potent symbolism.
Once they settled on El Sereno, Gordillo connected with the Eastside Café, a radical community and cultural center in the neighborhood that had already been organizing around the issue of the vacant Caltrans homes. Gordillo and other coalition members started knocking on doors in the neighborhood to meet people and try to garner support for their planned occupation.
"I had the opportunity to say, 'Hey my name is Ruby. I'm a housing activist. We are a family of five and we've been through different struggles. This is my story.' It made an impact to how the community reacted to the reclaiming."
They also started talking with city officials and the Housing Authority of the City of Los Angeles (HACLA) to explain their plans and see if they could work with each other to do something with the El Sereno houses in the long-term.
While the Reclaimers were laying the groundwork for the occupation, Moms 4 Housing did its occupation in Oakland, which inspired more Angelenos to get involved, including Martha Escudero.
Gordillo, Escudero, and their families moved into the first El Sereno houses in March along with Benito Flores, a homeless senior who had been living in his van for years. Troopers with the California Highway Patrol (CHP) soon came to evict them, but according to Gordillo, the coalition had reached out to Gov. Gavin Newsom's office beforehand and asked him to intervene on their behalf to stop the eviction. Newsom's office did not respond to Shelterforce's request for confirmation.
Whether Newsom did intervene or the Reclaimers were bluffing their way out of eviction, they were able to talk down the CHP officers by telling them to talk to their superiors before carrying out the eviction and it worked. It gave the Reclaimers time to work out a deal with HACLA and Caltrans to be able to stay in the houses while all parties figured out a longer-term solution.
Eight months later, Gordillo, Escudero, Flores, and their families have moved into rehabbed homes that they're legally renting as transitional housing from HACLA. An additional 6 families have moved into homes in El Sereno, and eventually the program will provide space for 22 families in total as Caltrans finishes rehabbing the homes. HACLA is leasing 22 homes from Caltrans under a 24-month agreement, with the possibility to extend it an additional 12 months.
The houses are all being operated through HACLA's transitional housing program, which typically uses multifamily apartment buildings. By state regulation, HACLA cannot have a household in transitional housing for more than 24 months, but HACLA development officer Jenny Scanlin says the hope is to move the Reclaimers into permanent homes much faster than that.
Small Victories in a Large Fight
For the Reclaimers, the ability to stay on as legal renters in the homes they occupied is unquestionably a victory. But in the long run, it is not enough.
"For now, I'm really happy with this outcome," says Escudero. "I feel blessed and I appreciate it. But it can't stop at transitional housing. We want to build community here. A lot of us are from this neighborhood."
Gordillo says anything short of Caltrans selling the homes to the recently created El Sereno Community Land Trust and putting the homes back into community ownership is insufficient.
"This is a battle that has been won," Gordillo says. "But this is not something we're going to settle for. We want to push for more. Housing 22 families in a pandemic is not doing us a favor. We have thousands and thousands of people in the streets, in cars, couch surfing."
She continues, "At the end of the day I would like to see all of these houses be part of the community land trust. Just to see the amount of fire . . .  people have to really manage the community, I would love to see that happen."
In response to a request for interview, Caltrans provided a statement by email. "As Caltrans continues to sell the remaining homes on the corridor, it is committed to working with local entities and other stakeholders to ensure the sales comply with the Roberti Law."
The Roberti Law requires Caltrans to give existing Caltrans renters in the 710 corridor first dibs at buying their home when it's sold and offers those tenants the chance to buy the home below market rate if they are income-qualified. If the existing tenant doesn't purchase the home, it is sold on the open market, which would likely make it difficult for a nonprofit like the El Sereno CLT to compete.
Like the Reclaimers, Moms 4 Housing sees its victory on Magnolia Street as one step forward in an ongoing fight.
"We sought to highlight homelessness, highlight speculation, highlight the new face of homelessness, and the self-determination of mothers doing whatever is necessary to protect ourselves and our children," said Walker at the Nov. 17 rally in Oakland. "There are foreclosures happening, eviction court is happening, and we need to come together and stand with families and keep them housed. We made a commitment to fight until housing is a human right and we're still doing that through politics, through direct action, through elections."
With more than 151,000 homeless residents living in California, the scale of the problem dwarfs the outcomes that Moms 4 Housing and the LA Reclaimers have won. With the pandemic raging and the threat of mass evictions building, Moms 4 Housing and ACCE have been campaigning for rent and mortgage cancellations and eviction protections. At the local and state level, they're lobbying for elected officials to take any action possible to deal with people's ballooning rent and mortgage debt. At the federal level, they're hoping officials listen to the ever-growing chorus of advocates and activists calling for federal stimulus and the passage of a second relief bill. 
"I really want our elected officials to have the courage to do the hard move right now for our people that are struggling," says Fife. "It's not happening fast enough and it's not happening strongly enough to really protect people."
Though she is discouraged by the insufficient leadership she's seen from elected officials, Fife does draw hope from the snowballing effects of the movement Moms 4 Housing kicked off when they walked into that vacant home on Magnolia Street. A group in San Francisco occupied a vacant home for several hours in May before being evicted by police. In El Sereno, a group not affiliated with the LA Reclaimers occupied another vacant Caltrans home, but were evicted after a tense standoff with California Highway Patrol officers.
"We have people calling us from everywhere, especially right now," says Fife. "We weren't the first to do this, but we were definitely pivotal at a very critical time in this country that has inspired other copycat actions and I'm excited about it. I think this is what can lead to mass movement and that is definitely our intention."