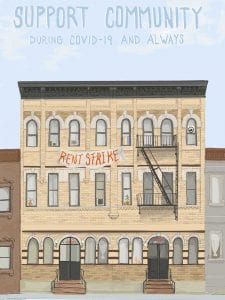 Tenant groups across the U.S. and beyond are working on pulling off a wave of autonomous rent strikes beginning Friday, May 1. Organizers calling for the cancellation of rent are taking to digital platforms to get the word out about the actions, where tenants will withhold some or all of their rent until their conditions are met. National organizations that are calling for rent cancellation are supporting tenants who have decided to strike, however, a rent strike is a tactic, not the demand, they say, and the action won't make sense everywhere. [We'll be writing more about this soon. Stay tuned.]
We've been seeing the video below make the rounds on Twitter and elsewhere. And it's well done, but we do have to point out that the GSEs have not required that mortgage payments be moved to the end of a loan. Under the CARES Act, most homeowners are able to defer their mortgage payments for up to 12 months. At the end of the deferment period, property owners will owe their lender all those deferred payments in one lump sum unless the loan is modified, which is why Joseph Sant is calling for a large-scale, proactive modification in this Shelterforce piece.)
Millions of people can't pay their rent this month. But instead of going it alone, many of them are getting organized to go on rent strike: pic.twitter.com/bDRAek8Jxe

— 5 Demands & #RENTSTRIKE Hotline (@5demandsglobal) April 29, 2020
Calls for the May 1 rent strikes are getting some media play—on NBC, Philadelphia Inquirer, The Huffington Post, Politico, Seattle Times, The New Republic, and many others. This piece from Vice, shared by Tara Raghuveer, focuses on New York.
Friday is May 1. Millions won't (be able to) pay rent. We can and should politicize the inability to pay and leverage the economic disruption as a new kind of rent strike. The target: Congress. The choice: #CancelRent or #RentStrike https://t.co/WOuEFPLCm2

— Tara #RentZero Raghuveer (@taraghuveer) April 28, 2020
The piece below by It's Going Down is extremely detailed and definitely worth a read. 
With unemployment rising to the highest levels since the Great Depression + calls growing for a #rentstrike on #MayDay, we sat down with a dozen autonomous tenant groups + rent strikers across the US + Canada to see where the movement is going. A thread. https://t.co/TbIYjUU1qY

— It's Going Down (@IGD_News) April 24, 2020
"It's not that I don't want to pay rent. It's simply that I can't pay rent," a person tells the New York Daily News.
Days before rent is due, the #RentStrike movement is growing to historic, never before seen levels.https://t.co/lp57wqCZN3

— CPD Action (@CPDAction) April 29, 2020
We're seeing activity in major cities like Portland, Oregon:
Banner drop in Portland for #MayDayStrike ✊🏴
MAY FIRST – RENT STRIKE! pic.twitter.com/0DRTMCPywC

— PNW Youth Liberation Front (@PNWYLF) April 28, 2020
New York City (of course):
On May 1, millions of New Yorkers won't be able to pay the rent. We're standing together. Join us! https://t.co/M8ZE1rVnFa pic.twitter.com/AzxJFWFZD3

— Housing Justice For All (@housing4allNY) April 24, 2020
Rent strikes are a New York tradition. From Jewish immigrants on the LES to middle class black tenants in Harlem to farmers in the Hudson Valley, New Yorkers have been doing this for over 180 years. Be a part of the tradition – join #RentStrikeNY. More at: https://t.co/pWhUUeBWEu

— Right to Counsel NYC Coalition #CancelRent (@RTCNYC) April 29, 2020
Philadelphia:
seen around town #RentStrike pic.twitter.com/oGhKdzg4Cp

— Philly Socialists ✪ (@phillysocialist) April 26, 2020
Minneapolis:
spotted in uptown ✊🏾 #RENTSTRIKE pic.twitter.com/LcWJIyGlnz

— stay emo 🤘🏾 (@kouturexkupcake) April 25, 2020
Los Angeles:
May 1st budget:

✔️ Food
✔️ Medicine
✔️ Basic Necessities
❌ Rent

Feed yourself not your landlord. Join LATU and the citywide rent strike. #FoodNotRent

— LA Tenants Union (@LATenantsUnion) April 27, 2020
@LATenantsUnion @ city hall earlier today. we had folks share their experience and why they're joining the #RentStrike and choosing #FoodNotRent 🔥❤️❤️ pic.twitter.com/2cJvmVeiq0

— L00PZ⚡️ (@96_loopz) April 30, 2020
And in states like New Jersey:
To New Jersey:

Rent is due tomorrow for thousands of NJ families, yet the state has done nothing to assist them. Instead, @GovMurphy is relying on the benevolence of landlords to give relief to their tenants.

Anyone who's had a landlord knows that's not gonna happen.#CancelRentNJ #RentStrike

— South Jersey DSA (@dsasouthjersey) April 30, 2020
And like the COVID-19 pandemic, the movement extends far beyond the U.S.'s borders. We're seeing activity in Canada:
May 1 is a few days away. Tenants everywhere, including Herongate, are left to hang dry. But we can choose to act together in our interests. We won't accept going further into debt, nor evictions, while landlords pretend like nothing has changed. Day or night, #KeepYourRent pic.twitter.com/Q9J3O4gblc

— Herongate Tenant Coalition (@herongatetc) April 29, 2020
Thread: Things to do before May 1

1. Put up a banner on your balcony:

"Keep Your Rent May 1" pic.twitter.com/TFxzccgDhZ

— Keep Your Rent Toronto (@KeepYourRent) April 22, 2020
And overseas in London:
🚨 London show your support for this Friday's May Day #RentStrike! 🚨

Let your neighbours know that you support the strike by hanging a white sheet or banner from your window!

(Oh, & don't forget *not* to pay your rent ✊)

We're not asking, we're not repaying, #RentStrike NOW! https://t.co/toLKjx7NcU

— Rent Strike London (@RentStrikeLDN) April 29, 2020
We're asking renters across London to do 2 things this coming May Day:

1) Stop paying your rent!

2) Hang a banner or white sheet out of your window to let your neighbours know you support the strike

(a white sheet = intl rent strike symbol) pic.twitter.com/yldP5jhhVq

— Rent Strike London (@RentStrikeLDN) April 17, 2020
And we're seeing great pieces of art coming out of this movement.
Support Community for #mayday2020 by Blanco Tsagaan #rentstrike #cancelrent Graphic available for download at https://t.co/bbk7IXmbOC pic.twitter.com/O3m5K4U7Zo

— Justseeds (@Justseeds) April 30, 2020
May 1st is this Friday-International Workers Day and the time of month many of us have to hand over the coming months rent. We've got a package of graphics in support of a Rent Strike available for free on our graphics page #rentstrike #mayday2020 https://t.co/bbk7IXmbOC pic.twitter.com/1JC9C4X4od

— Justseeds (@Justseeds) April 29, 2020
#CancelRent #rentstrike art by @shanishih https://t.co/H8GxsuujMC pic.twitter.com/SIko5Jt4JL

— Rent Strike 2020 (@RentStrike2020) April 29, 2020
Stand up fight back! #RentStrike pic.twitter.com/M9dL8TBrLb

— WeHo #RentStrike #WeHo (@OccupyWeho) April 29, 2020
Yes, it worked:
Looking more sexy than ever #rentstrike #diditwork pic.twitter.com/0aJ6MDIKnN

— Violeta Ayala (@violetajaguar) April 29, 2020
We're seeing tenants reach out for help:
Hi! I'm trying to organize a #rentstrike in my building but have no idea what I'm doing. Please drop all your most helpful resources/tips here, for me and anyone else who might need them! pic.twitter.com/ZJbdEGJ4Bg

— Levi Vonk (@VonkLevi) April 29, 2020
And organizers getting tenants the information they need. 
more than 75 tenants tonight on my Rent Strike legal assistance meeting. Thank you to Lino and Shatti attorneys from Queens @LegalAidNYC for answering all the questions coming from my members. Getting legally ready for #CancelRent@housing4allNY pic.twitter.com/GAaCw5XOze

— Iván Contreras (@ivanr_contreras) April 30, 2020
People are sharing examples of what other countries are doing, hoping that something similar can be done in the U.S.
In France, the public housing organisation office of the city of Bobigny (outside Paris) has fully cancelled April rent payments for its 4000 households.#rentstrike2020 https://t.co/jfp6UR98tR

— Daniel☘(🕯️Victor Jara)🔻🎶 (@rememvictorjara) April 23, 2020
And, as expected, there have been increased calls to pass Rep. Ilhan Omar's proposed bill, which Shelterforce breaks down here. The bill would release tenants and homeowners from housing payments until the national emergency is lifted, and would make up the losses to landlords and lenders through a federal fund. 
┏┓
┃┃╱╲ In this
┃╱╱╲╲ house
╱╱╭╮╲╲ we believe
▔▏┗┛▕▔
╱▔▔▔▔▔▔▔▔▔▔╲
either Congress will #CancelRent
or we'll do it ourselves
╱╱┏┳┓╭╮┏┳┓ ╲╲
▔▏┗┻┛┃┃┗┻┛▕▔
Congress, pass #HR6515 or face rent strikes: https://t.co/fd4deKIOku pic.twitter.com/kPVVqVjH45

— Alliance for Housing Justice (@aforhj) April 30, 2020
We'll continue to follow this story as it develops, and bring you other voices in the movement to cancel rent. See all our COVID-19-related articles here.