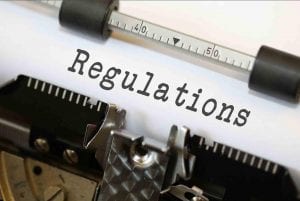 Everything non-essential is being canceled right now (as well as quite a few things that have felt pretty essential to many, such as school). Most of those are canceled because unnecessary in-person gatherings are a public health danger.
However, there's also the matter of prioritizing scarce resources, including time and attention, for the most urgent needs at hand. As the nation shifts into crisis-response mode, some things that are very important but not immediately involved in responding to the COVID-19 pandemic are going to be, or should be, put on pause.  For example, being able to thoroughly vet and collect comments on federal rulemaking changes such as the reforms to the Community Reinvestment Act currently proposed by the Office of the Comptroller of the Currency and the FDIC for which there is an April 8 comment deadline, as well as others.
That's not to say that advocates are not still submitting comments, because many are, but advocates and Congressional leaders are making the point that everyone—bankers and community organizations alike—are going to increasingly have other priorities, which means the agencies shouldn't proceed with the rulemaking as if nothing has changed.
U.S. Sen. Sherrod Brown (D-OH), ranking member of the U.S. Senate Committee on Banking, Housing, and Urban Affairs, sent letters yesterday to the Department of Housing and Urban Development (HUD) and independent financial regulators such as the OCC and FDIC demanding that they suspend non-essential rulemaking that is not furthering the federal response to the COVID-19 pandemic.
"The COVID-19 virus threatens both the health of the public and the economy. It presents immediate challenges to real households and every entity in the housing market, from frontline homelessness providers to homeowners.  In light of this crisis, we urge you to implement an immediate moratorium on rulemakings not related to the virus response or other imminent health and safety concerns," wrote Sen. Brown, according to a press release from his office.
"Expanding or strengthening [the Community Reinvestment Act] is part of the long-term solution to stabilizing communities and making sure that a large percentage of our population is not so vulnerable economically and health-wise," says Jesse Van Tol, CEO of the National Community Reinvestment Coalition. "But it's not in the short-term critical to move forward on rulemaking right now in a declared national emergency.  There was already a lot of data and information we didn't have about the impact of the proposed changes [to CRA], and in this moment the ability of both community groups and banks to comment will be compromised."
Van Tol noted that the FDIC had previously indicated a willingness to extend the April 8 deadline again if it didn't feel it had sufficient information as the period drew to a close, so he was hopeful that the agency would see the clear need to do so at this time.
"In light of the Coronavirus / COVID-19 crisis, leading to the shutdown of some courts, shelter in place orders and regulatory extensions even by the SEC," the OCC and FDIC comment period be extended for months, wrote Matthew Lee of Fair Finance Watch in a formal comment to the OCC.
The FDIC declined to comment on Sen. Brown's correspondence, or whether they would extend comment periods or suspend non-essential rulemaking.

An OCC spokesperson said today, "The OCC continues to conduct ordinary business and will consider rulemakings and other regulatory [sic] in due course to maintain the safe, sound, fair operation of the federal banking system."
A spokesperson for HUD, which just concluded a comment period on the Affirmatively Furthering Fair Housing regulations last Monday (March 16), today said, "Sen. Brown should spend less time playing politics with the coronavirus, and instead focus his energies on quickly approving the economic stimulus the president has called for."
For those who want to make sure rule changes don't get pushed through while the nation is distracted by a pandemic, these are not likely to be encouraging responses.