"Hi y'all! Welcome to the first of our learning sessions together." With this greeting, the inaugural meeting of our pilot initiative began. Six Dallas-based artist-entrepreneurs made up the first of several cohorts planned in a place-based initiative called CultureBank, which invests in social impact artists in order to steward community assets that promote the health and well-being of residents. CultureBank launched the pilot initiative in Dallas during late 2018.
CultureBank, which began its work in 2017 and is housed at Yerba Buena Center for the Arts (YBCA) in California's Bay Area, considers artists and arts and culture organizations to be the center of community investment strategies. Our fundamental insight is in valuing artists as early investors in the revitalization of their own communities—with the power to promote measurable value and unlock community wealth specifically in disadvantaged, intentionally divested and economically and socially distressed places—by focusing on their creativity as a key tool to unlocking that wealth. CultureBank has planned pilot initiatives in Oakland, California, and Kansas City, Missouri, but the Dallas-based artists are the first cohort to test this approach.
CultureBank Collaborators
In 2017 and 2018, Dallas's cultural community was engaged by the City's Office of Cultural Affairs as it embarked on a five-year cultural plan. Close to 9,000 city residents participated. Highlights of the plan included an increase in public-private partnerships in order to fund support for more projects between artists and arts organizations and the public and private sectors of health care, education, technology, and community development.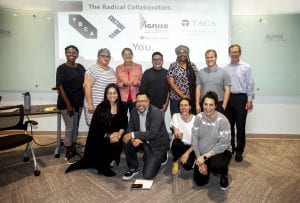 It also called for infusing more sustainability into Dallas arts organizations and artists by communicating the power of the arts through data and stories. CultureBank's focus on artists who have the goal of developing scalable enterprises that address challenges and needs in their communities fit within the city's goals.
In Dallas, Ignite/Arts Dallas, the public-engagement initiative of the Southern Methodist University Meadows School of the Arts, initiated the invitation to TACA, a longstanding arts intermediary and service organization to collaborate on the development of CultureBank in Dallas. The initial pilot funding for CultureBank Dallas came from the Meadows Prize, a bi-annual award administered by Ignite/Arts Dallas.
Artists in Community Conversations
CultureBank, Ignite/Arts Dallas, and TACA partnered with the City of Dallas' Office of Cultural Affairs (OCA) and invited OCA artists from its neighborhood grants program to discuss what true community investment looked like. The responses were enlightening.
"Investment that isn't based on assumptions of needs and priorities."
"So you're calling my work in this community an investment?" 
 "I'd never thought of what results from my work as an asset."
"You mean we have permission to do what we really want to do?"
The next step was to invite artists to further explore the concept of their work as early investments that illuminate assets of value in their respective neighborhoods.
An Artist-Investor Cohort
The 75 artists who attended the community conversations were invited to participate in a learning cohort. Of the 24 that responded, CultureBank Dallas collaborators selected the first group of six artist-investors representing neighborhoods across the city. The group began meeting in May, and through November will continue to learn and build capacity as they advance their own work. New learning cohorts will be invited as the pilot progresses into 2020. Their stories follow: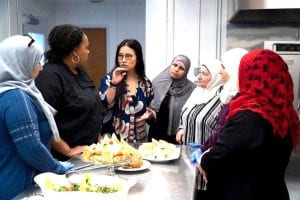 Jin-Ya Huang is an interdisciplinary artist who founded Break Bread, Break Borders (BBBB) in 2016, a social enterprise that works to economically empower refugee and immigrant women through storytelling and food and culture. BBBB provides apprenticeships in culinary training and licensing and certification for the food service industry. Huang is supporting the livelihoods of these women and their families, many of whom are from war-torn countries like Iraq and Syria, and promoting social cohesion by infusing storytelling into their catering business, building empathy and appetites at the same time. Catering Clients of BBBB often hear directly from the women, their chefs, about their experiences and the role of food in their cultures. Because of the varying backgrounds of the women, BBBB also recently published a graphic Zine cookbook to present the women's recipes and remove language as a barrier. Working as a creative director at a major fashion brand, Huang's inspiration to launch the enterprise was her own experience as an immigrant and her mother, who owned and operated restaurants through her childhood.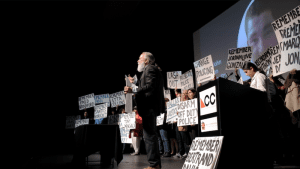 Sara Cardona, the executive director of Teatro Dallas, uses theatrical performance to empower and capture the narrative of the Eagle Ford community in West Dallas through a project called Co-LAB: Theater for Healing. Eagle Ford's proximity to Downtown Dallas makes it an attractive location for corporate real estate developers creating market-rate apartment complexes that require significant amounts of land. The rapid gentrification of Eagle Ford is threatening to erase the community's historical memory. The goal of Co-LAB is to capture real narratives of the residents as they experience rapid gentrification and involuntary displacement. The intentional act of sharing personal stories is designed to build trust and uncover the issues of housing instability, while learning new ways to navigate collectively through their changing neighborhood. The Theater Lab, in this instance, has emerged as a tool to create self-confidence, public speaking skills, and stronger command of the English language for a predominantly Latinx, immigrant, and working-class community.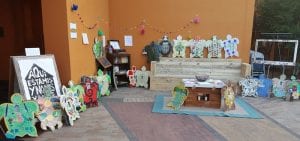 Ofelia Faz-Garza's Semillitas Literary Initiative creates intimate pop-up spaces around the city where families can gather to read, share stories, and create art. She addresses inequities and the lack of access to art experiences that exist throughout Dallas's Oak Cliff area, where access to arts and culture has been historically concentrated to a handful of libraries and some small theaters. Semellitas (Spanish for "Little Seeds") plants the opportunity for families to participate in collective creativity and simultaneously generate earned income potential for certain products, like handmade books and toys, for sale at pay-what-you-can prices. The initiative has the potential to scale while promoting civic participation, economic development, and early childhood development.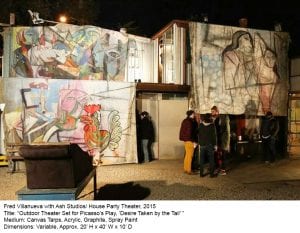 Fred Villanueva of Ash Studios is activating a 10,000-square-foot art lot with his Outdoor Painting Program (O.P.P.). He and fellow artists-of-color believe that the work of visual art and the objects created by artists are experiences undergone by both the creator and the viewer. O.P.P. is designed to signify the existence of artists and long-standing communities in South Dallas undergoing change. Ash Studios owns its space and, through the activation of its public facing walls, will work to build stronger relationships between artists and community members through their collective creation or art works along the Ash Studios fences. Geographically located across the street from the annual State Fair of Texas, visited by millions of people annually, the project also has the potential to create a new visual/cultural presence for the existing residents of South Dallas.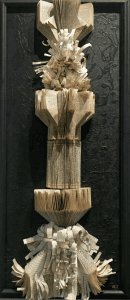 VET is a visual artist who uses found and discarded objects to create art. Through her project, ArtcycleTX she stresses the importance of preserving historical neighborhoods, beautification, safety—all of which enhance quality of life—and seeks to inspire others to recycle by transforming discarded items into objects of beauty. VET directly tackles the importance of upcycling, sourcing new purposes from existing objects in the community and promoting greater environmental awareness.
Tisha Crear owns and operates Recipe Oak Cliff, a vegan juice bar and restaurant in her native neighborhood of South Oak Cliff, a predominantly African-American area in Dallas, where access to fresh, healthy food is scarce.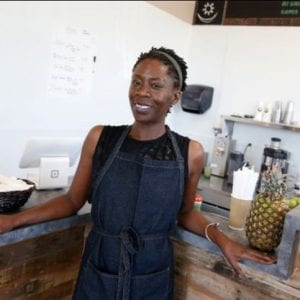 Crear, a trained theater artist, combines her culinary skills with her storytelling talents to activate Recipe Oak Cliff with community gatherings that help people envision the future of their neighborhood while taking ownership of their personal health and well-being. Crear does this through creating "pop-up" experiences with free, curated performances and food for her neighbors on a consistent basis. Her work lives at the intersections of health literacy, prevention, economic development, and social connectivity. 
The first learning cohort agreed to several objectives:
Using resources differently. They will use their initial demonstration grants to think about themselves as investors in the valuable assets of their places, thus explore more deeply the gaps and opportunities in the communities in which they work. The insight emerging from Teatro Dallas's work in Eagle Ford is a strong desire and interest of its community members to speak in English more confidently, and residents are responding to the theater work as a creative accelerator to help them do so. 
Shifting their frame. Support and encourage a new frame for themselves, in which they, as early investors in their own communities, are advancing sustainability and development efforts. The idea of artists living and working in their own communities being positioned as early investors is an effort to value what artists already see about the benefits of their neighborhood before external forces recognize these values.
Building capacity. Similar to mainstream investors, encourage one another to identify what tools they need to be successful (resources, training, connections, mentorship, etc.).
Changing traditional dynamics. Upend the traditional power dynamic between the "grantor" and "grantee"—the CultureBank collaborators regularly ask the artist investors, "What more do you need from us as partners and supporters of your work?"
The charge of the CultureBank Dallas pilot phase is to deliberately disrupt the inherent power relationships of our current system of investment with the righteous goals of achieving more equitable impacts and outcomes over a generational period of time. Taking a long-term approach and working with and for artists needs to become a critical component in a revised system of community investment. By valuing artistic expertise differently, we tap into a resource of natural community leaders, navigating and impacting their environments in profound ways.