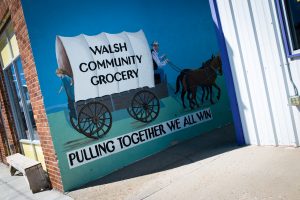 Kristine Michie is a die-hard believer in the benefits of small-business lending and entrepreneurship. As the vice president of strategic philanthropy and investments at Accion, a financial services organization that focuses on marginalized communities, Michie has long known that entrepreneurship can have huge economic advantages for an individual, their family, and their community. And to her, the health benefits of giving people—especially low-income folks—access to capital are just as clear.
The link between lending and health isn't immediately apparent to everyone, Michie concedes, but she says it doesn't take long for folks to understand it. In terms of health, "for most people, the transformative benefit of small-business ownership is right below the surface—just scratch a little and they're like, 'Of course!'"
Indeed, small-business lending as a tool for improving health outcomes is gradually gaining a foothold in community development and philanthropy circles. As a panel at a 2018 Opportunity Finance Network Conference illustrated, innovative partnerships between funders and lenders who target low-income communities and people of color are emerging, including one between the California Endowment and the Opportunity Fund that helps the latter group, a nonprofit microfinance organization, better target and support underserved entrepreneurs. Another is growing between the Colorado Health Foundation and Accion.
To some degree, the health implications of giving people loans and a chance to build their own business are a no-brainer. Access to capital brings the opportunity to make more money, and higher incomes have been consistently tied to better health outcomes.
But it's more than that. "Wealth and income are two different things," says Joe Antolin, executive director of the Asset Funders Network, a web of grantmakers that focus on lending policies and programs. "People conflate them all the time, but wealth is longer-term investment: reserves for a contingency, planning for college, retirement, equity in a house. And we know business owners do a better job of wealth accumulation than just employees."
Having a financial cushion leads to security and stability, and generally lower stress levels. But entrepreneurship in itself brings a sense of control over one's own destiny that has been linked to better physical and mental health. "There's a future orientation that's necessary to be a business owner. There's a sense of hope," says Antolin of entrepreneurship. "We know it has a significant mental health aspect."
Obviously, running a business also brings its fair share of stress. According to the Bureau of Labor Statistics, only about one-third of small businesses survive for 10 years. "But is it more stressful than employment?" Antolin asks. Especially for lower-income workers, "there's been a huge risk shift over last 20 years from employers to employees: the schedule's not certain, the hours are not certain, the benefits are more a la carte." In contrast, small-business owners, particularly those who are women or people of color, tend to pay their employees higher wages with more generous benefits, says Antolin.
Aside from individual benefits, successful businesses improve their communities as well. Small businesses lead in job creation; in the United States, they employ 48 percent of the private workforce. And for every percentage point increase in a state's rate of entrepreneurship, there's a 2 percent decline in the overall poverty rate.
Those are the kind of statistics the Colorado Health Foundation began considering when it revamped its approach to health a few years ago. Formerly, the foundation had thought about health fairly traditionally, concentrating largely on access to health care and health coverage. But when Karen McNeil-Miller came on as president and CEO in 2015, the organization underwent a strategic shift that resulted in a much greater focus on health inequities and their origins.
And that led to new thinking about the importance of economic opportunity for individuals and their communities. "We have to acknowledge that low incomes and lack of financial stability and lack of access to opportunities, especially among lower-income people, are a substantial contributor to poor health outcomes," says Christopher Smith, a senior program officer at the Colorado Health Foundation. "We've come to a realization that we have to start reaching out to organizations that are doing this type of work, help support it in a more meaningful way. That's how we came to the partnership with Accion."
A former Accion board member introduced the lender's team to executives at the foundation in early 2017, and the two groups spent 18 months getting to know one another. Accion, a worldwide microlender that works in the American Southwest, has made almost 20,000 loans of roughly $6,000 each in the U.S. since 1991, supporting mom-and-pop businesses like shoe repair shops, taco stands, dry cleaners, breweries, food trucks, karate studios, and health clinics. Its major focus is low- and moderate-income business owners or potential business owners who have otherwise struggled to borrow money at reasonable rates. That's the same population the Colorado Health Foundation is interested in—and it's a demographic that isn't the easiest to reach.
"[The Colorado Health Foundation] realized that, like them, we are very place-based," says Michie. "We're all trying to figure out how to be present in rural areas of Colorado." The two groups saw that by working together, they could essentially double their capacities in far-flung parts of the state and share information about the needs and players there. They decided to jointly connect with nonprofit organizations and social service agencies located in rural communities who can serve as ambassadors to potential borrowers there.
The upshot of the partnership—which will formally launch this month in Pueblo, Colorado—is a $1 million grant from the Colorado Health Foundation that will allow Accion to spend more time visiting rural areas to spread the gospel of their loan options; those visits are quite time-intensive. And the foundation has also committed $1.75 million in a program-related investment for Accion's revolving loan pool. Given the region's average loan size of $14,000 and typical term of 36 months, the Colorado Health Foundation's grant could enable another 400 to 500 loans that wouldn't otherwise be made.
Working with the Colorado Health Foundation has brought several tangible benefits, but Michie says one of the biggest perks is the credibility it gives Accion's work and attendant health effects. "We know the upstream systemic power of entrepreneurship as a path out of poverty. But when you get a health funder to endorse you, it's a huge message," says Michie.
But Smith says that supporting small-business lending has begun to seem like an obvious path to better health. "If you have your own business and self-determination, you know well in advance what the decisions are to be made; you don't go in wondering if you'll have a job tomorrow," he says. "There's a lot of satisfaction that comes into creating something and being able to feed yourself and your family. There's a lot of benefits that accrue."