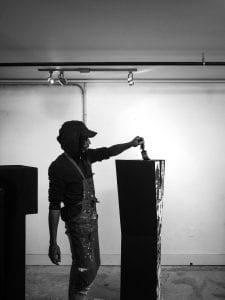 As the effects of widening inequality play out at the neighborhood level across our country, unexpected cross-sector collaborations are uniting arts and culture with the work of community development.
In Washington, D.C., an ongoing affordable housing crisis, coupled with longstanding racial inequities in employment and income, have resulted in dramatic demographic changes in many neighborhoods that were previously disinvested in, and were predominantly Black. Such inequitable change has reinforced both the need, and the shared value, of aligning arts and culture with community development to address the physical and cultural displacement pressures many residents face.
Two years ago, our organizations—LISC, a national community development nonprofit with over 35 years of experience, and The Sanctuaries, a newly formed multicultural arts community in D.C.—forged a partnership to work in this intersection.
The Sanctuaries brought expertise in training artists to work alongside residents to build power, shift culture, and heal spirits. LISC brought expertise in bringing the necessary resources to bear to help residents create healthy and sustainable neighborhoods of choice and opportunity.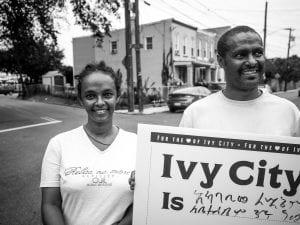 Through our work, we have found that fundamental to the strength of a partnership between artists and community developers is the unifying concept of voice. At their roots, both the arts and community development amplify a people's voice. The arts enable individuals and collectives to voice their stories, struggles, and dreams in ways that empower, expand minds and move hearts. Community development activates these voices to build vibrant, resilient, and socially-connected communities in the places they call home.
While this connection makes sense on paper, it can look a lot different in practice. We would like to share three insights from our work together that speak to the promise, and peril, of such collaboration.
Rhythms
First, artists and community development organizations often follow different rhythms. Artists tend to dwell in the ideation stage, brainstorming and prototyping ideas, drafting rough sketches, verses, and choreographies. Inspiration can be summoned, but when rushed, creativity is often hobbled.
While similarities may exist in the inclusive planning phases of community development projects, even these stages face the real pressure of time and resources. Many community development nonprofits, which tend to be under-resourced in the first place, have to compete with private market forces that wait for no one. Delay one second and the land eyed for that affordable housing project may be snapped up by a private developer whose vision for the site does not include existing residents.
Each artistic medium also has its own rhythm. It might take a poet two hours to create a spoken word poem, which could then be shared the following day for feedback. A muralist, on the other hand, might need two weeks to complete a project, which, once started, would be hard to modify, if not impossible. This is further complicated by differences in work habit. Many artists, in particular those who also hold part- or full-time jobs in order to support themselves, make art during evenings and weekends. A busy week at an artist's paid job could unexpectedly delay a project, or worse, lead an organization to question that artist's commitment to the project in the first place.
The key, here, is clear communication from the very beginning. When an artist understands the distinction between an organization's soft and hard deadlines, they can better plan for the unpredictable. Similarly, when an organization honors an artist's need for ideation and respects the timeline for that medium's process, they'll be better equipped to support the artistic process.
Visions
Second, artists and those typically leading community development projects may hold different visions. Our creative placekeeping project in DC's Ivy City neighborhood illustrates this well.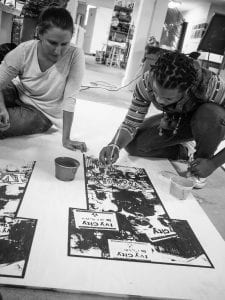 In a rapidly gentrifying area of the city that had long suffered from disinvestment, LISC and The Sanctuaries partnered with a number of other organizations in a collaborative, resident- and artist-led creative project that celebrated the neighborhood's rich African American heritage and fostered a dialogue about Ivy City's identity in the face of rapid development and demographic change.
For the artists and the community development organizations involved, success was primarily measured by the extent to which the artmaking process itself authentically engaged the people and culture of the neighborhood. This vision of the important role that process and engagement were to play contrasted with that of another collaborator, who was more invested in the story that the final product told. It is not that this collaborator disregarded the diverse, at times contradictory, voices of the community, but rather that there were certain narratives it intended to champion from the very beginning. In short, some collaborators cared more about the process, whereas other collaborators cared more about the product.
Community development organizations may find themselves on one side of this tension between process and product, or balancing somewhere in the middle. Similarly, there are artists who prioritize the artistic merit of the product over the process. We uncovered these differences in our work in Ivy City and found that what mattered was clarity and expectations from the beginning, and the imperative role the engagement process plays in creating community ownership and buy-in. It's important that all parties enter into a partnership aligned on what success means and how impact will be measured.
Histories
Third, artists and community development organizations often arrive with different histories. Artists may or may not be from the community in which they're working. Even when they are, they rarely have a background in the concepts, strategies, and frameworks of community development. For example, in debriefing a recent collaboration between artists-in-training at The Sanctuaries and a grassroots organizing campaign with which they were paired, campaign staff shared how simultaneously imaginative and unrealistic all of the artists' ideas had initially been. From elaborate weekly workshop series to large-scale digital installations, it was clear that the artists didn't understand the realities of time and resources. This unfamiliarity with context can manifest in blatant ways, like devising artistic messaging that alienates key stakeholders, as well as in more subtle ways, like printing t-shirts that are the wrong size for the majority of people living in that neighborhood.
In response, The Sanctuaries and LISC developed a Community Development Primer to help orient The Sanctuaries' artists working at the community level, oftentimes in neighborhoods with long legacies of disenfranchisement and disinvestment. The Primer is hardly exhaustive, but it provides artists with a better understanding of the structural forces that continue to inequitably shape our country's neighborhoods, and why community development organizations do the work that they do. Equipped with this broader context, it is our hope that artists will better appreciate the type of organizations with which they'll be working, and thus know which questions to ask.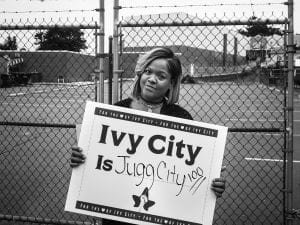 Above all, we've found that the most promising ingredient for a successful partnership between artists and community developers is a mutual faith in the power of the arts to transform, rather than to merely decorate. The type of collaboration we're talking about is more than designing a flashy logo—it is about a thorough focus on process and engagement, coupled with clear communication and a creative openness to learning different contexts.
If done well, it promises to draw on the boundless creativity of artists to reimagine community development in more innovative, inclusive, and intentional ways. And it promises to draw on the deep rootedness of community development organizations to harness their technical expertise, implementation skills, and local knowledge to work alongside neighborhood residents in the building of a more resilient, sustainable, and equitable future.