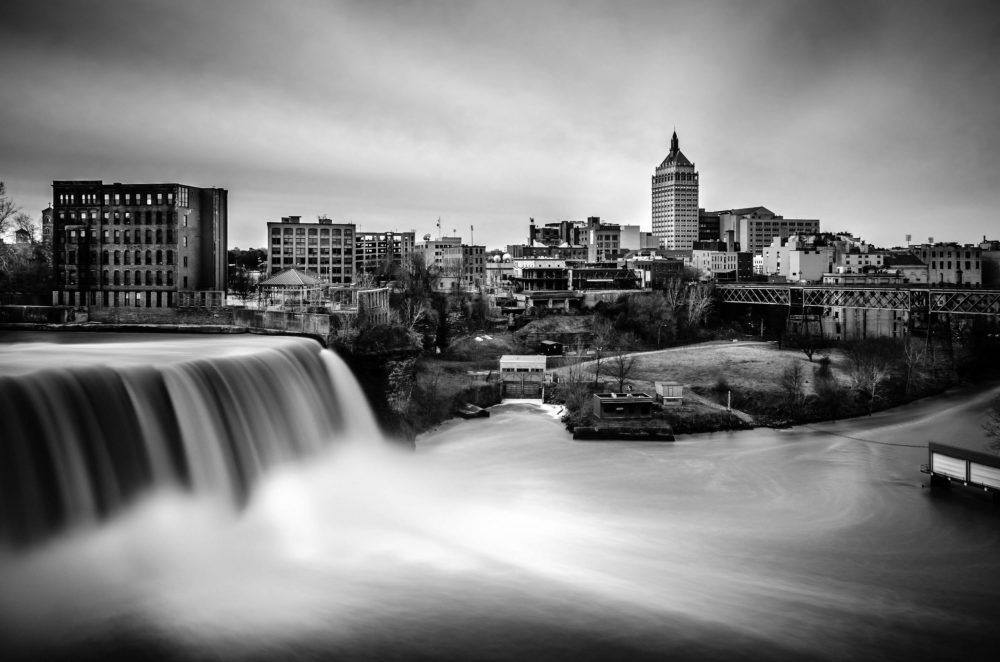 Rochester, the third largest city in New York State, was one of the first boomtowns in the U.S. Its wealth came from flour milled using the power of the mighty Genesee River waterfalls in the center of the city. Rochester was also the birthplace of big companies like Kodak, Xerox, and Bausch & Lomb, which employed thousands and thousands of the city's residents. In 1973, for example, 60,000 people worked for Kodak. Today, that number is down to 1,700.
The Rochester of today is very different from the Rochester of yesterday. The city's population has decreased by 37 percent from the mid-1950s, and it now ranks fourth in overall poverty among the nation's 75 largest metropolitan areas, and first in overall poverty, child poverty, and extreme poverty among comparably sized cities.
In the late 1990s, Rochester was at the top of another undesirable list—the number of children poisoned by lead paint. At that time, the rate of childhood lead poisoning in Monroe County, which includes Rochester, was alarming, especially among low-income children. Out of nearly 1,700 ZIP codes in New York State, over 41 percent of childhood lead poisoning incidents came from 36 ZIP codes. Six of the ZIP codes were in Rochester, where 87 percent of the housing stock was constructed prior to 1950, and virtually all of it contains lead paint. These ZIP codes were home to mostly Latino and African-American children under the age of 5.
Children diagnosed with lead paint poisoning may suffer permanent brain damage that can result in learning disabilities and behavioral challenges. Long-term health effects in adults who were exposed as children include hypertension, kidney damage, and osteoporosis. Current research also points to a possible connection to dementia. The damage is usually caused by ingesting lead dust from deteriorated lead-based paint in the home. Lead poisoning is untreatable, but almost entirely preventable. It is necessary to prevent any exposure among children to deteriorated lead paint and lead-contaminated dust. In the early 2000s in Rochester, it became clear that this was a critical issue of equity in housing, health, and children's well-being.
Building a Coalition
In 1999, Ralph Spezio, the principal of Rochester City School District School No. 17, learned that 41 percent of children entering kindergarten at his school had a history of elevated blood lead levels (EBLLs).
Spurred by this realization, pediatrician Dr. Rich Kennedy, the University of Rochester, a VISTA volunteer, and other partners conducted a study of 100 homes in the neighborhood surrounding School No. 17. The study found that 98 percent of the homes had lead hazards and that the hazards could be remediated for an average cost of $3,300 per home. The enormity of the danger, as well as the modest costs to remedy the situation, made a compelling argument for a housing intervention.
Spezio brought together social justice lawyers, family nurse practitioners, environmental scientists, and community organizers to begin discussions on what could be done to combat lead paint poisoning. In 2000, the Coalition to Prevent Lead Poisoning (CPLP) was established with a mission to end childhood lead poisoning in the county. In Monroe County that same year, testing results revealed elevated blood lead levels in 1,293 children age 6 and younger.
The coalition—where I serve as program manager—worked to include community members from all walks of life to bring expertise, visibility to the issue, and credibility to the organization and the issue. CPLP bylaws called for at least 30 percent of the board of directors to represent the most affected communities. Committees were created to address the goals that CLPF had determined: government relations, science, screening and provider outreach, finance, communications, leadership, and housing.
The effort had strong support from a plethora of organizations, neighborhood and parent groups, health care providers, and city, county, and school district officials, growing to over 100 individuals that became a broad, science-based, and action-focused coalition.
In 2002, the Monroe County Department of Public Health commissioned the Center for Governmental Research to generate a community-wide needs assessment that utilized data on lead screenings to identify census tracts with the highest rates of lead-poisoned children. The assessment projected the number of children expected to have high levels of lead in their blood over the next 10 years, and identified next steps for community stakeholders. This third-party assessment was incredibly helpful in providing data and strategies to pave the way forward.
A careful and inclusive strategic planning process drove all coalition activities and identified the coalition's first priority—getting two policy changes made:
A new city ordinance to require lead-hazard inspections as part of the existing Certificate of Occupancy process for rental housing.
A county policy adding lead-hazard inspections to the existing Quality Housing Initiative (QHI) "move in, move out" inspections of housing rented by public assistance recipients.
It would take all the coalition's creativity, problem-solving skills, and determination to make these policy changes a reality.
Lead Poisoning: Not a Household Term
CPLP had a great strategy but it needed more support. The coalition's leadership approached the United Way of Greater Rochester (UWGR) because it was in the process of developing a new public policy agenda. In 2004, after a rigorous prioritization process, UWGR's policy team ultimately chose preventing childhood lead poisoning as its top policy issue. At that point, the coalition had the data and evidence to back up its case for a new lead ordinance and the United Way could add influence to help convince decision makers.
Though support for ending childhood lead poisoning eventually became robust, the initial challenge was convincing the community and policymakers to care about this issue. Lead poisoning was not exactly a household term in 2004.
With UWGR's support, the coalition organized a "Community Lead Summit" in early June 2004. For months prior to the event, articles and op-ed pieces in local newspapers called to task elected officials, including the New York State health commissioner, the mayor of Rochester, and the Monroe County executive. Property owners and the legal system were accused of using "children as lead meters" because at the time, parents could only force landlords to fix lead hazards after a child had tested positive for lead poisoning, according to the Democrat & Chronicle. Some property owners tried to claim that bad parenting and poor cleaning habits were the problem, but many wanted to do their part to protect children: the question was, what would be effective, affordable, and equitable?
The daylong summit featured national experts. Over 500 community members attended. CPLP backed up messages about the health dangers of lead poisoning by publicizing estimates of the costs in terms of juvenile justice, special education, and medical care, and refrained from pointing fingers at government officials, property owners, or paint companies. Instead, CPLP focused on the community's obligation to protect its children and maintained that all groups had a role to play in solving the problem. The summit concluded with a "commitment session" where elected officials and community leaders pledged to support the goal of ending childhood lead poisoning. The summit presented a unified community voice that declared that childhood lead poisoning was morally, economically, and politically unacceptable. Taped messages from Rep. Louise Slaughter and Sens. Chuck Schumer and Hillary Clinton praised the community for its effort. Clinton and Slaughter also agreed to introduce legislation that would provide a tax incentive for owners who paid to make their properties lead safe. Most importantly, the mayor and the county executive pledged to support the policy changes.
The next challenge was to get those two policy changes enacted.
All Voices at the Table
Lead poisoning prevention is a classic "pocket" problem—the pocket that saves money was not the pocket that had to spend the money to prevent the problem. In other words, the eventual monetary savings to the health care, criminal justice, and education systems from fewer cases of childhood lead poisoning would not benefit local property owners who would pay for lead remediation. A small but vocal group of property owners opposed the policy proposals. To understand their concerns, the coalition invited rental housing interest groups to join them. While these discussions were sometimes quite difficult, the coalition believed it was crucial to have all voices at the table.
Property owners attended CPLP meetings and provided feedback on the policy proposals. However, they decided to submit their own lead law to the city council. A key difference between the proposals was whether to target child-occupied homes (preferred by the property owners) or to focus on all rental housing (preferred by the coalition). The city also developed its own ordinance.
After an often contentious, more than two-year process, the Rochester City Council unanimously passed its version of the ordinance with amendments, a historic and precedent-setting lead-based paint poisoning prevention law. The ordinance targeted rental housing in high-risk neighborhoods where 90 percent of children who were poisoned by lead resided.
At the same time, Monroe County added lead hazards to its QHI "move-in, move-out" inspection for publicly assisted housing. The combined passage of the city legislation and the changes to the county inspection process were major victories. (Unfortunately, in 2011, the Republican majority of the Monroe County Legislature saw that 90 percent of properties passed the inspection, so they surmised there wasn't a lead problem instead of understanding that the law was keeping property owners compliant. They believed there was no need for mandatory lead inspections and the requirement was removed from the QHI.)
The City of Rochester Lead-Based Paint Poisoning Prevention Ordinance took effect on July 1, 2006. It requires all rental housing in the city to "receive a visual inspection for deteriorating paint as part of their Certificate of Occupancy inspection."
The ordinance presumes that a structure built before 1978 will have lead hazards. A hazard is determined by visual inspection to be present on the interior if there is deteriorated paint covering 2 square feet or more in any room or space, or more than 10 percent of the surface area of a component with a small surface area. On the exterior of a pre-1978 structure, lead is determined to be present if there is deteriorated paint on more than 20 square feet of the exterior surface or more than 10 percent of the surface area of a component with a small surface area. Bare soil within the dripline of residential structures is also considered a hazard. Homes in high-risk areas of the city that pass the visual inspection might be subject to a proactive dust wipe test.
A rental property may not receive a Certificate of Occupancy if there is deteriorated paint inside the home. The paint must be stabilized by an EPA RRP-certified owner/agent/contractor. After the hazard is remediated, the property must undergo a clearance test by a third-party certified lead inspector or risk assessor. Additionally, any Rochester tenant may request a free inspection of their residence without a property owner's permission. If the tenant is receiving a housing subsidy from the county, children under the age of 6 reside in the property, and a lead hazard is found upon visual and/or dust wipe inspection, a health and safety violation is issued. The county will issue a "stop payment notice" on the housing subsidy if the violation is not corrected and the home doesn't pass a third-party clearance inspection within 90 days. The withholding of rent is a powerful motivator for landlords.
The lead ordinance is an effective tool because it was built upon a pre-existing property maintenance inspection program. The City of Rochester has a highly trained staff and high standards of quality assurance and accountability. The procedures include random assessments/audits of the city's own staff, third-party ordinance evaluations, and audits of third-party lead clearance providers. If it is determined that a lead-clearance provider is not complying with local and federal lead inspection procedures, the city can initiate an administrative adjudication process that can result in a refusal to accept clearances from the company for a specified period.
Part of the law requires that the city provide a yearly report on the effect the ordinance has had in Rochester. As of July 2018, over 166,000 inspections have been conducted, with 95 percent of units passing visual inspection for interior deteriorated paint.
CPLP continues to monitor implementation of these policies, provide input on adaptations or changes, and work with city and county officials to increase their effectiveness. Fiscal challenges are a constant and Rochester is always working to address these concerns, including exploring a housing court to more efficiently address code violations, and adjusting its targeting of lead inspections of properties to focus limited resources where hazards have been identified.
In 2011, the ordinance was amended to exempt certain buildings that pass visual inspections: those with more than five units, studios, and senior citizen complexes with more than 10 units. The amendment to the law was based on five years of data that almost no violations occur in these types of properties—it was a smart, data-based prioritization of resources.
In 2013, the ordinance was again amended to: cover the gap resulting from the county legislature's cancellation of the QHI "move-in, move-out" program, and change the required renewal period for certificates of occupancy for 1- and 2-unit houses from six years to three. This change was prompted because data showed that 91 percent of children who had elevated blood lead levels (EBLL) resided in one- or two-family structures.
Safe From Lead Hazards
A 2014 report studied the decline in the number of children identified with elevated lead levels across New York State. The study found that rates of lead poisoning decreased 2.4 times faster in Monroe County than in all other counties. The study concluded, "In addition to national and statewide policies, local efforts may be important drivers of population-based declines in childhood EBLL rates."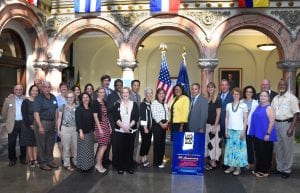 From 2000 to 2016, the number of children in Monroe County who had elevated blood lead levels was reduced by 85 percent, from 1,293 to 191. Thus, it appears that this law and the community and housing programs supporting it are effectively compelling property owners to make the necessary changes to keep rental properties safe from lead hazards.
Twelve years into implementation, the coalition's government relations committee still hosts monthly meetings that include representatives from the Rochester Housing Authority, City of Rochester, Monroe County departments of public health and human services, and the Rochester City School District. The effort to make a community lead safe is one that requires dedication, attention, and vigilance. It's important to note that these agencies, who will freely and laughingly acknowledge that in the beginning they had to be dragged to these "community" meetings, now work together to align, make more efficient, and support their respective housing and health policies to keep families safe from lead poisoning.
An example of this collaborative approach happened in 2010 when the Rochester Housing Authority (RHA) proactively revised its HUD Quality Housing Standards (QHS) inspections. The revisions made RHA QHS inspections more stringent than required by federal guidelines, but they now aligned with the city code. The decision to hold all inspections to one standard so property owners did not have to follow multiple requirements and criteria to keep properties lead safe and compliant came to fruition at a coalition government relations committee meeting. Creating an opportunity each month to share information and host open discussions has been crucial to the Rochester model.
The Rochester Lead Ordinance, and the work of the Coalition to Prevent Lead Poisoning, has made a profound and lasting impact on this community. The law has resulted in making thousands of units with lead hazards safe for children. Rochester is a model example for the United States of how community groups, property owners, and local government can work collaboratively to solve an important community health issue.