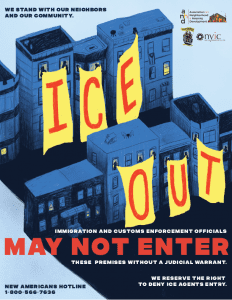 New York City has long been known as a city of immigrants, and has been the site of immigrant activism throughout its history. Once again, New Yorkers are being pushed to stand up for their communities and neighborhoods and are fighting back against the current administration's draconian and punitive immigration policies.
According to the Marshall Project, almost a half-million immigrants in New York City lack documentation. Many come from mixed-status families, or families where some members have documentation while others do not. They are caretakers, teachers, shop owners, friends, and neighbors. Rising anti-immigrant sentiment has led to many people, regardless of their documentation status, living in fear of the threat of U.S. Immigration and Customs Enforcement, or ICE—fear that they or their family members and friends could be ripped from their homes and communities.
Anxiety and apprehension is pervasive; in immigrant enclaves, entire main corridors shut down upon rumors of impending ICE raids because of a lack of clientele and inability to keep customers safe in the event of an ICE raid. The threat of deportation has even reached people's homes. ICE officials have been showing up at houses and in apartment buildings, demanding entrance in order to detain residents for deportation proceedings.
Though ICE officials are legally obligated to hold a judicial warrant before entering a building, in many cases they forgo the proper paperwork and use intimidation and fear to gain entry. In today's climate, the first and often most important barrier between vulnerable residents and deportation is simply their front door, and too often, residents don't know of their legal right to refuse entry to ICE officials without a warrant.
In immigrant-dense areas like New York City, know-your-rights trainings have sprung up, offered by community organizations, faith groups, and even city governments. However, most of these trainings are tailored to single-family homes, and leave the onus on individual residents to protect their own homes from ICE. Rarely is the role of the neighbor discussed. In dense sanctuary cities where residents have been particularly targeted, most people live in multi-family homes and apartment buildings. This presents an opportunity for community members to play a role in keeping their neighbors safe from deportation.
The Association for Neighborhood and Housing Development (ANHD) is a coalition of 100 neighborhood and community groups committed to housing and economic justice, including nonprofit developers that have spent the past 40 years building tens of thousands of affordable housing units in immigrant-dense neighborhoods. ANHD has partnered with Make the Road New York and the New York Immigration Coalition to launch ICE OUT—a campaign to spread the word that New Yorkers can help keep their undocumented neighbors safe by refusing ICE officials who lack a judicial warrant entry into their apartment buildings. ANHD, Make the Road New York, and the New York Immigration Coalition have been at the forefront of immigrant justice for decades, working directly with tenants and community groups, and are well-positioned to disseminate this information.
This political moment is the nexus of anti-immigrant sentiment in major cities: increased threats of displacement due to rising rents, and questions of community safety and policing that leave immigrants especially vulnerable. Under the guise of "safety," sanctuary cities have been targeted for defying the Trump administration's attacks on immigrants. "Operation Safe City" was a massive, multi-city deportation raid across the United States that led to the detainment of over 500 people. The four-day action characterized sanctuary cities' policies of protecting undocumented residents as "allowing violent criminals to roam the streets."
In order for the administration's policies and justification of deportation to succeed, average citizens need to believe that undocumented immigrants pose a threat to community safety, and deportation is in their interest. In keeping with this strategy, the true success of Trump's focus on deportation hinges on the complicity, and sometimes the participation, of citizens. When people no longer fear their undocumented, immigrant neighbors, actions like Operation Safe City are less and less successful.
The ICE OUT campaign not only provides a resource to residents and tenants that informs them of their rights, it also clearly states that New Yorkers are not willing to participate in a system that endangers their friends and neighbors. Moreover, it flips the narrative of actions such as Operation Safe City to one of community agency, in which residents can determine for themselves what safety looks like. This coalition opted not only to incorporate information on judicial warrants and ICE entry in apartment buildings into ongoing know-your-rights trainings, but to also develop a visual element.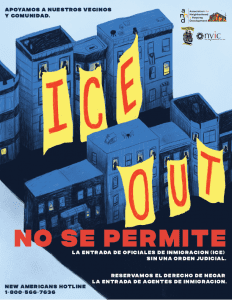 In collaboration with artist Colleen Tighe, we decided that a simple, yet powerful poster translated into different languages was the appropriate tool that affordable housing developers and tenants alike could use to signal that ICE is not welcome in their homes and communities. Posters are inexpensive to print and can easily be put in the windows of buildings. Also, Tighe's design tells an important story of a city that stands by its immigrant communities. As a coalition, we needed a design that displayed community solidarity against ICE while simultaneously displaying the importance of neighborhood bonds. The image shows a powerful community bond that transcends neighborhoods. It clearly displays to ICE not only that they can't take our friends and neighborhoods without impunity, but that the power of an entire community stands between them.
New York's social fabric hinges on its immigrant communities. Fifty percent of the city's residents are foreign born. This means that there are real implications for entire buildings, blocks, and neighborhoods when immigrants, regardless of documentation status, are threatened or made to feel unsafe. ICE OUT is simply a reiteration that New Yorkers will stand up for and with their neighbors with a clear message: ICE and its methods are not welcome in our homes and in our communities.