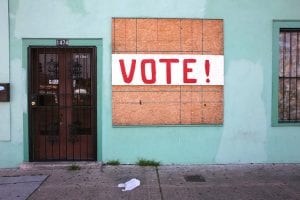 Most politicians see housing as an issue with a lot of downside and not much upside. But that might be changing.
Political debates around the issue of housing affordability have typically focused on the needs of low-income earners. Those in favor make moral and economic arguments about the benefits of all people having a safe and decent home, while those against have often encouraged resentment against the poor by linking affordable housing to "welfare" and stoking concerns about who will be moving in next door. In many local elections, some voters are motivated by the negative arguments, but today's housing market may be shaking up this traditional political calculus.
The National Association of Home Builders (NAHB)/Wells Fargo Housing Opportunity Index (HOI) released in August 2018 indicates that the affordability of single-family housing for sale reached a 10-year low in the second quarter of 2018. 
Harvard's Joint Center for Housing Studies' most recent State of the Nation's Housing Report indicates that in 2017, 47 percent of renters were cost-burdened (paying more than 30 percent of their income for housing) and approximately one quarter of renter households were severely cost-burdened (paying more than 50 percent of their income for housing). Many urban core communities, once abandoned by whiter, wealthier households, are now seeing investment and an influx of new residents—and a national anxiety about gentrification and displacement has emerged.
The fact that wage growth has not kept up with the pace of increasing housing costs helps to explain why housing affordability is a concern for households across a broader range of the income spectrum and in cities where housing has traditionally been viewed as relatively affordable. Middle-income families are feeling the pinch of rising real estate prices, rents and property taxes, and not just in high-cost coastal cities. An issue that was once about "other people," is now being discussed at many more kitchen tables. 
In the summer of 2017, Ron Nirenberg became the new mayor of San Antonio. He talked consistently about housing affordability on the campaign trail, but surprised everyone when he announced the formation of a Housing Policy Task Force within weeks of being sworn in. Some viewed this as a political risk, but many others saw an indication that Nirenberg was really listening on the campaign trail and that he saw how a changing real estate market was impacting San Antonians.
Like residents in many cities, San Antonians are wary of public processes that have little or no impact on the actual policy and investment practices of their city. The Mayor's Housing Policy Task Force has been different from any previous planning or housing policy effort in San Antonio, and presents a model for addressing these issues that other cities are likely to examine very closely.
Most cities have a weighty collection of blue-ribbon commission reports that did little more than make political hay and collect dust on a shelf. From the outset, Mayor Nirenberg intended something different. Past housing commissions and task forces were typically 15 or more members, with housing industry practitioners making up the majority. The result was typically gridlock or an "official" report with vociferous dissent from a minority.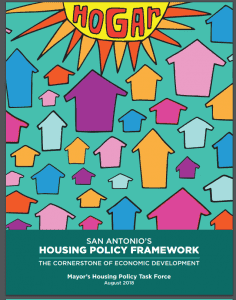 Nirenberg appointed a small five-member task force made up of individuals with a high degree of credibility in San Antonio's diverse neighborhoods as well as in the housing and banking sectors. Where past commissions focused narrowly on specific issues related to housing the poor, Nirenberg made it clear that his task force intended to look at the housing sector broadly, across the entire income spectrum and the entire city. 
The members of the task force began by reviewing existing research, defining five key topics around which to frame their analysis and designing a process for engaging a wide range of affected constituencies. Concurrently, the City of San Antonio commissioned a Housing Vulnerability Study and engaged a consulting team to support the task force.
The task force enlisted almost 100 community leaders and practitioners in five technical working groups, each of which met in facilitated sessions over the course of four months. These working groups proposed more than 400 specific ideas or solutions, from which the task force ultimately shaped its report. It also engaged hundreds more members of the public through a series of public meetings and a survey.
The resulting report of the Mayor's Housing Policy Task Force has the support of a diverse and engaged constituency. On Sept. 6, the City Council of San Antonio accepted it by an overwhelming margin after listening to dozens of endorsements from organizations and citizens. This week the council took the first major step in implementing the report's recommendations by passing a budget that prioritized housing with $17 million in additional investment. 
Local elected officials are having to re-examine the risks and rewards of making housing and housing affordability a political priority. Mayor Nirenberg's bold steps on housing policy may be a national bellwether.