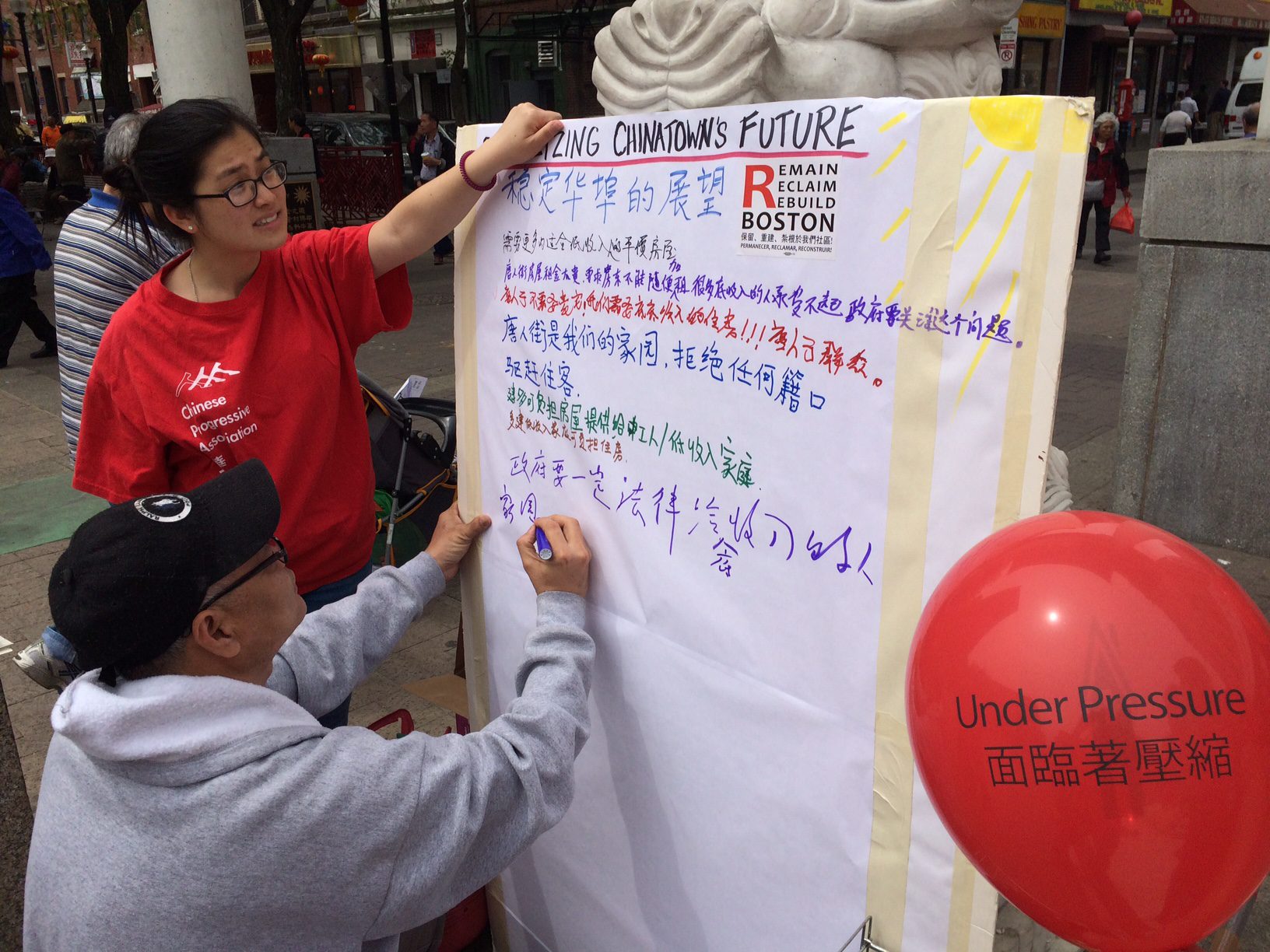 In Boston Chinatown, we have spent decades organizing against institutional expansion followed by luxury high-rise development. The most we could usually expect was to slow the pace of unwanted projects or increase mitigation benefits.
Property owners have rights. But over 93 percent of Chinatown households are renters, with a majority of the Asian-American households living in low-income subsidized units. So, just three years ago, a group of longtime community activists created a new tool in the fight for community control of development. We are using collective community ownership as a strategy for low-income and working-class residents to gain greater control over the future of Chinatown.
We began as a core group of longtime community activists who met for a year to learn from the Dudley Street Neighborhood Initiative (DSNI) in Roxbury about their experience launching Boston's first community land trust. With DSNI's assistance, we formed a founding board and incorporated the Chinatown Community Land Trust (CCLT).
CCLT's board consists of a majority of Chinatown residents, representing both renters and owners as well as small-business entrepreneurs. The two non-resident members include a former resident who is a researcher and community historian, as well as a community planner who for three decades worked on Chinatown master plans. We held community meetings to talk about the purpose and role of a community land trust and developed a mission statement focused on "community control of land, development without displacement, permanently affordable housing, and shared neighborhood spaces, consistent with the vision of the Chinatown Master Plan." Voting membership is open to any Chinatown resident who supports the mission and pays annual dues of $10. The membership elects the board and participates in decision-making through either site-specific committees or general meetings.
The biggest challenge facing the CCLT is the red-hot market driven by speculation—where a three-story brick row house has gone from costing $900,000 to $2 million or $3 million just since 2016! But there are things that a community land trust can do if we use it creatively as an organizing tool for collective power. We launched a campaign with other community partners to reclaim municipal public land, holding community meetings to discuss our development priorities, tabling at block parties and street fairs, and displaying a gigantic canvass map of the neighborhood where residents could mark rent increases and evictions.
The campaign pushed city government to begin the disposition process for a public parcel (Parcel 12) that is now proposed for a multi-use project that includes 171 units of 100 percent affordable housing, led by the local community development corporation and several for-profit partners. While community residents and activists are generally pleased with the project's vision, developed by the local community development corporation and its development partners, CCLT is advising and helping the community negotiate for easements that would ensure access and visibility of a future branch library and public access to the courtyard in perpetuity, since residents have seen so many promises of community open space later morph into privatized, gated courtyards. This effort is currently underway; our goal is for the Friends of the Chinatown Library to own an easement that ensures access to the library and for CCLT to own an easement to the courtyard.
As a nonprofit community group focused on collective ownership, CCLT can enforce public access through an easement as a legal contract entered into a deed without even owning the land.
Tufts University gained development rights and the option to purchase another public parcel (R1) back in 1996. But with no institutional development plans in sight, the parcel has been leased for use as a surface parking lot for Tufts Medical Center employees and patients for more than two decades. CCLT organized residents to successfully end institutional development rights here and to focus land use on community priorities. CCLT is calling for community control of the parcel and proposes both a short- and long-term plan. The long-term plan is to own and develop the land for community priorities like low- and moderate-income housing. As a transitional plan, CCLT proposes to operate a community-owned parking lot on the site for three to five years that accommodates both institutional and commercial parking. CCLT will use the revenue to establish an anti-displacement subsidy fund for Chinatown tenants.
An organized community of immigrant, working-class residents continues to be the power base to demand development that stabilizes Chinatown's future and serves resident needs. But past organizing to bring attention to community concerns has rarely resulted in direct negotiations for enforceable agreements. The community land trust is a new tool, prepared to collectively own and manage land and accountable to community residents, that is helping residents have a seat at the table.