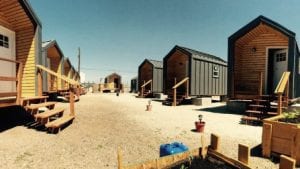 Last time I was in Atlanta, I stayed near a spot where dozens, probably hundreds, of homeless people would congregate on the sidewalks in a couple block radius around a center that served their needs. There were many things striking about this, but I remember one of the things that bothered me was the two large empty lots on the corner, which had signs that expressly forbid entrance or camping. One still had the foundation of a previous building, so though totally open to the sky, it still would have been a mildly sheltered and slightly more private place to be. Since the lots weren't fenced off, and yet were empty, while the sidewalks were crowded, I had to assume that those signs were backed up by aggressive enforcement. Yuck.
Some folks in Denver are trying to do a little better. At the Intersections conference last month, the Urban Land Conservancy (ULC) and design group Radian, gave a brief presentation in the Ignite pitch session on the Beloved Community village. Beloved Community is a self-governed tiny home village for those transitioning out of homelessness, especially those not served by the shelter system. People with pets, couples, transgender folks, and people trying to stay sober, for example, can all find themselves either not welcome or not safe in shelters and are therefore among the priorities for acceptance into the Beloved Community village. Various organizations provide supportive services to the residents, who share the work of maintaining the community.
ULC has some land it will be building permanently affordable housing on—but that for now is sitting vacant while the predevelopment work happens. ULC Director Aaron Miripol said that while ULC's work aims to reduce the housing crisis over the long term by increasing affordable housing, there is also the very immediate question of what to do for people who are homeless now. As we've written about before, tiny home villages are one life-saving answer to that question. But they need somewhere to be.
So ULC became the Beloved Community's landlord, putting its access to land—which is at a premium in a booming place like Denver—to good use for the time being. People moved in in July.
At this point, I start thinking: what happens when it's time to move on? ULC has only given the community a six-month, $1/month lease—a "proof of concept" period that will hopefully convince the city to adjust zoning and permits for a permanent location, which is still being sought. They are also looking for other places, especially faith-based organizations, that might have land to host more small villages, in a "dispersal strategy."
Temporary uses are efficient, and still better than being on the street, but evicting people who are still homeless when it comes time to build something permanent sounds very difficult. It was hard enough when temporarily leased community gardens were bulldozed in New York City in the late 1990s for housing.
The folks organizing and supporting Beloved Community seem to be aware of this. The homes have been made entirely off-the-grid, self-contained, and mobile.
The village is intended to be short-term transitional housing in the first place. Nonetheless,  for people already trying to achieve stability, yet another move in the middle of that process, with the possible disruptions in access to transportation and other services, is not ideal. It makes sense that they are looking for a permanent location.
But if moving is expected from the beginning and involves bringing your physical home with you, that's a lot better than it could be—as long as there's always somewhere else to go.
Imagine if hosting a transitional tiny home village became the norm for all suitable vacant land—dare I say even an expectation. Then our cities might look a lot more like proverbial beloved communities.