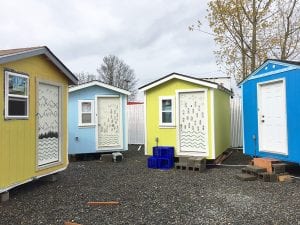 Seattle is known for having mild winters, with average temperatures hovering around 45 degrees. Nevertheless, in December 2016, the King County Medical Examiner documented that four homeless people had died from hypothermia. Since January of this year, 37 homeless men and women have died living on the streets.
In 2016, at least 91 homeless men and women have died due to exposure, poor health, violence, drug overdoses, suicides, and being struck by cars. More people die as a result of their homelessness than are murdered in Seattle, on average.
Seattle has the third largest homeless population after New York and Los Angeles. The 2017 point-in-time count tallied more than 8,522 homeless men, women, and children living on the streets, in shelters, or in transitional housing. There were 3,857 unsheltered homeless people living on the streets, under roadways, or in vehicles—an increase of 31 percent from 2016. Shelters are full, low-income neighborhoods are rapidly gentrifying, and Seattle is outpacing other major cities in the percentage increase in market rents.
In 2015, the Seattle City Council—after seven years of advocacy from housing activists—unanimously passed an ordinance permitting up to three tent encampments or tiny house villages on city-owned or private property. In 2017, three new ones were also permitted and funded by the city.
Even though the Low Income Housing Institute (LIHI) is primarily known for developing low-income, multi-family rental housing (we own and operate over 2,000 apartments and have over 500 units in our pipeline), we decided to undertake tiny houses as a quick and effective way to respond to the homelessness crisis.
We've worked in partnership with SHARE and Nickelsville to establish five tiny house villages and one tent encampment, located in neighborhoods throughout Seattle. Five are city-sanctioned and one is church sponsored. SHARE and Nickelsville are responsible for day-to-day operations and the creation of self-managed communities of homeless people. Each adult resident agrees to a code of conduct and contributes to the community with work hours and chores. LIHI develops the sites, oversees finances, handles construction of the tiny houses, and provides case management and other supportive services to move residents into long-term housing and employment.
The Tiny House Village concept was developed as an innovative crisis response to homelessness by moving people into tiny houses instead of tents. Being able to live in an insulated or heated tiny house instead of a tent is a huge improvement for families and individuals experiencing homelessness.
Each tiny house costs $2,500 in materials and is 8 feet by 12 feet in area, about the size of a small bedroom. A couple or small family can fit in one. A large family can live in two tiny houses side by side. Local high schools, community colleges, and carpentry apprenticeship programs, tribes, businesses, church groups, and community members volunteer to build the easy-to-construct dwellings, and we receive donations of materials and funds from individuals, businesses, and foundations. The homes have electricity, heat, ventilation, insulation, windows, and, crucially, a lockable door. One of the main barriers homeless people face in stabilizing their lives is having a secure place for their belongings and documents.
How is it possible for tiny houses to be built so quickly given Seattle's lengthy process for land-use and building-permit approvals? Tiny houses that are under 120 square feet are not considered dwelling units under the International Building Code. They can also be built in a few days by volunteers. This may feel like guerrilla housing, but a legal method has been established by the city of Seattle.
While each tiny house village has a somewhat different design, each has a common shared kitchen, a dining and community space, bathrooms, showers, a security booth at the entrance, and a donation hut. The villages provide a safe place to live for homeless individuals and families and the houses are all safe and sturdy structures.
The villages have proved to be incredibly successful. Kitty DeBerry, a resident, believes that the tiny houses are a good alternative for people experiencing homelessness.  "Housing, four solid walls and a door that can close out the world; this is an essential need for a person's sense of safety, security, and stability. The recent movement seen here in Washington and throughout the nation of supplying homeless populations with small housing units in long-term communities has shone a large ray of hope upon a population that can use all the hope it can find."
We now have nearly two year's experience with five city-sanctioned sites. The sites accommodate about 400 people, including children, at any one time. Hundreds of people have been helped short term as they passed through and stayed for a night or a week and successfully moved on. Last year was a watershed with positive outcomes. In 2016, LIHI case managers moved 157 people into housing, assisted 103 people obtain employment, and helped 30 people reunite with relatives or friends.
The city ordinance mandates there be a Community Advisory Committee (CAC) comprised of neighbors, businesses, community councils, and church groups who monitor progress, give feedback, and lend support to each village. Neighborhood residents in Ballard, Interbay, Georgetown, and Othello have embraced their new neighbors and are generously supporting residents with donations of building materials, clothing, blankets, food, books and toys for children, hygiene supplies, and other necessities.
Any time a new multi-family apartment building is planned to provide homeless housing, it takes three to four years to get through land assembly, financing, design, building permits and construction. We know that building more low-income housing is the real solution—but with thousands of vulnerable families and individuals on the streets today, tiny houses are a viable, low-cost, and dignified solution. And they save lives.