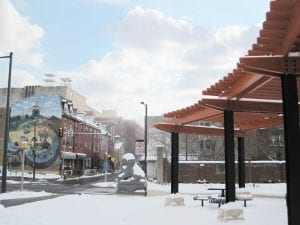 Last year, Philadelphia was one of the first cohorts to go through the AFFH process, a fair housing assessment mandated by HUD to discover impediments to opportunity in the city. Others have written excellent summaries of the rule, its challenges, and efforts by a Republican Congress to dismantle the rule as a viewed effort to force desegregation and take away local control on matters of land use and housing policy.
Today, fair housing feels eons away, but I would argue that a process like AFFH is now crucial to local efforts for the conversation it creates around equity and its vision for a collaborative, cooperative process.
A Process Like No Other
Chinatown is often left out. As a low-income immigrant hub in a high-income city center, and representative of an often-invisible minority that lives all over the city, we have few peers in Philadelphia. In addition, our origin story, rooted in discrimination and negligence continues to define the neighborhood today as residents face gentrification that simulates those same dynamics of socioeconomically charged displacement. In short, it has been difficult for us to appeal for greater resources to be allocated to our challenges.
However, the AFFH process was uniquely hopeful in three respects.
First, AFFH created a platform to discuss matters of equity and race like no other planning process. Starting with mapping tools that visualized just how segregated Philadelphia was and measured the level of access to opportunity for specific groups, taking this topic head-on was a unique vantage point to assess our city's approach to fair housing.
For our part, we were able to add nuance and lived experience to the discussion. Chinatown is a regional hub for the low-income Asian community, many from far-flung neighborhoods, in part because they lack access to services and jobs closer to where they live. There is nearly zero participation from the Asian community in many of the major housing programs by our housing authority and department of housing. And as we face down a lack of affordable housing and increasing property values, we lose the residents who are uniquely served by access to those opportunities, and we erode away the anchor of Chinatown's complex network of institutions, businesses and services. Although it does not adhere to the typical narrative of segregation, it is another form in which we lose access to opportunity.
Second, AFFH focuses on direct engagement with underserved and challenged populations. That doesn't mean that all of a sudden, local governments will suddenly develop competencies to carry out grassroots community engagement. But for the first time, it meant that we could hold them accountable to it.
For an invisible minority, that is extremely valuable. It meant that we could question the fact that Chinatown's challenges were not addressed in any of the draft plan goals. It meant that we could point out the fact that the lack of disaggregated data meant that measures of access to opportunity papered over the wide range of access between ethnic groups in the Asian race. It meant that we could question why the main engagement tool was not translated into any language except Spanish, despite the fact that Chinese is the second most common language for LEPs in the city, and half of all Asian households in the city are LEP.
It meant that we organized community members to testify at the public hearings with confidence that their lived experiences would not just be recorded for posterity's sake, but addressed in the final plan. "I am not alone," testified a Chinatown resident at the public hearing, in her native Chinese dialect.
Third, AFFH creates conversations across sectors, which presents opportunities for learning, partnerships, and re-setting of goals. As we move into the implementation phase of the AFFH plan, within budgetary and political constraints we can find new ways to refine programs and investments so they can reach those without access.
Interest groups added causes in which they could stand in solidarity, and our individual issues can be enriched and strengthened with this perspective. Shortly after the plan was accepted, my organization testified in support of a campaign for tenant representation in eviction court which was driven by fellow coalition members. As part of conversations around eviction, we were also able to spotlight the need for language access for LEPs in court.
Where You Live Matters
In the United States, our historic and current housing policies have enabled the widespread acceptance of segregation and the spatial hoarding of opportunity. Local work is crucial to progress on this front because so much of housing, community development and land use policy is determined locally.
Segregation is an important issue that has dominated the conversation, but in doing so, policymakers and ideologues have co-opted and abstracted a conversation that that should, and must, belong to communities.
Above all, communities must tell their stories and be invested in this process. We can demonstrate what lack of access looks like on a map, but that only projects that disconnection onto an image. The voices of those minority groups are essential to the understanding of those inequities and the creation of a new process.
Now, more than ever, we need to create a conversation that treats community development and access to opportunity as a common project. Only when our local governments and housing authorities understand the shape and histories of our communities can they understand how to serve them. Only when communities are allowed to be part of a conversation about policy and programs can they understand the trade-offs inherent in the process and advocate for the greatest needs. Together, we can identify opportunities to improve programs, change policy, and reconsider our investments.
Lately, it feels like local policy has gotten short shrift and that advocacy has been interchangeable with narrow, self-interested goal scoring. AFFH reminded me that our fates are interdependent and that progress starts at home. How can we continue to push that progress forward?