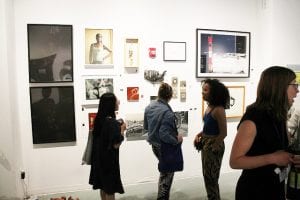 I'm in the process of buying a house in the Station North Arts and Entertainment District of Baltimore. Here's what the listing has to say about my house: "This modern rehab is close to everything Station North Arts and Entertainment District has to offer. Walk to restaurants, Charles Theater, various entertainment venues, coffee shops—it is all here."
Baltimore's arts scene was a major reason I moved to Baltimore, and a major reason for choosing the Station North neighborhood. But while my listing talked up the arts, it said nothing about the artists.
Artists have certainly left their mark on Station North, and my partner and I certainly look forward to patronizing the businesses they run. But the organically-developed communal live/work spaces that play such a vital role in helping make Baltimore an arts mecca are an endangered species.
In fact, there's another listing down the street that's a little out of my price range: the Bell Foundry, for sale for $1 million.
You may remember the Bell Foundry from last winter, when its tenants were suddenly evicted by the city in the wake of a tragic fire in an Oakland, California live/work warehouse that killed 29 people. More than one Bell Foundry tenant subsequently became homeless, joining the 7,500 other Baltimoreans evicted in 2016—one in 17 renter households.
Arts and culture workers put a compelling face on the eviction crisis, since Baltimore is using the arts as an engine of economic development. But many of the solutions to the crisis are the same for artists as they are for any population facing housing insecurity: rent court reform, more robust eviction prevention assistance, and permanent affordable housing.
My listing goes on to say "a mortgage would be less than many pay for rent in the same area," which to this millennial is like saying "water is wet." Becoming an adult in the wake of the foreclosure crisis, I've only known housing markets of low mortgage interest rates and rental inflation.
Rental inflation is particularly pronounced in Baltimore thanks to stagnant wages, costs associated with maintaining the aging housing stock, and highly-leveraged investments giving landlords little flexibility in what to charge. One in three Baltimore renters spend over half of their income on housing, versus one in four nationwide. How are they supposed to save, for a house or anything else, at that rate?
Fortunately, the mayor has appointed a Safe Art Space Task Force to explore how the city can make space for the artists it's hoping will make Baltimore a more attractive place to live. I'm excited for them to release their recommendations shortly. Committees have been surveying the artist community on their space needs, identifying areas of regulatory code and enforcement to change, and understanding potential sources of financing for building and renovating artist spaces.
Early results showed a staggering 80 percent of survey respondents indicating interest in owning a home or workspace. Baltimore should pay attention to this statistic. Unlike places like Denver and Oakland, which launched similar efforts to support artist spaces, we are starting early enough on the redevelopment curve that large-scale artist property ownership could be financially feasible.
It could happen faster than you'd think. Look at Howard Street, home of the artist-owned spaces Le Mondo and Current Gallery. After several years of failing to attract developers to the rest of the block, the city recently inked a deal for market-rate apartments and retail— right after Le Mondo opened to the public. Coincidence? I don't believe so.
As someone investing in the Station North neighborhood because of its creative amenities, it's in my interest that artists be able to stay for the long term. And it only seems fair that if I'm going to build equity because of their work, they be able to build equity too.
I'm trying to do my small part by seeing shows and buying art and donating money, but we also need policy changes that acknowledge the value artists bring to Baltimore.
A version of this op-ed originally appeared in The Baltimore Sun.