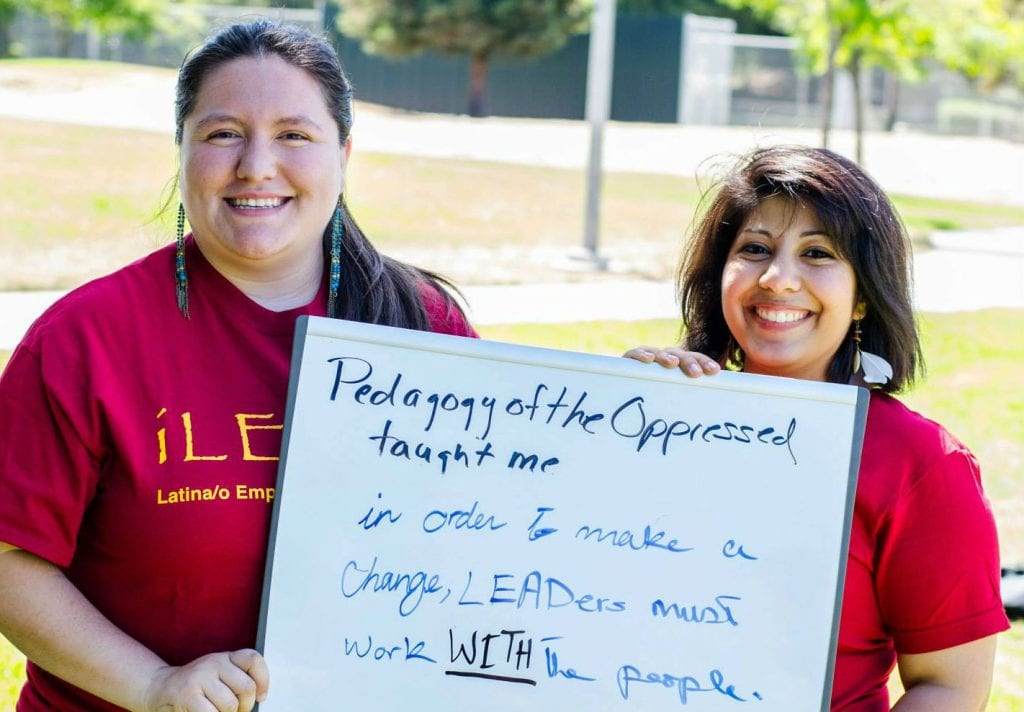 When Mia Hernandez first signed up for classes to earn a Leadership and Social Change (LSC) certificate at De Anza College in Cupertino, California, she thought she would be attending a series of lectures. Instead she found a unique combination of classroom interaction among students and professors, along with hands-on experience as a change agent in her local community.
Over the course of the program, Hernandez has participated in local community service projects that involved migrant children and families, political lobbying, a role in student government, and organizing around equity issues. Working two jobs on and off campus as a full-time student, "the LSC program kept me grounded between all the demands on my time," she recalls. "And it gave me the building blocks for the career skills I'm developing now as a transfer student in community studies at UC Santa Cruz."
Hernandez's experience has special relevance today as the nation weathers a deep political divide. Now, more than ever, progressives are looking to their own communities to create and grow solutions that reflect the civic values that distinguish our democracy. Searching for ways to reconnect and renew, a nonprofit organization called the Community Learning Partnership (CLP) is offering students, instructors, and community groups a model for preparing the next generation of local leaders and activists.
Over the past seven years, CLP has established a national network of community change studies programs that offer students accredited courses in community organizing in partnership with local organizations and colleges like De Anza. Today, CLP has more than 300 students enrolled in seven sites across the country, according to Ken Rolling, CLP's executive director. More than 75 percent of these students are people of color who come from a low-income background. Nearly 15 percent have personally experienced homelessness.
More than an exercise in academic study, CLP's programs are designed to give students the knowledge and skills they need to take a leadership role in revitalizing their local communities. In the process, CLP aims to renew the practice of participatory democracy where it counts—especially in marginalized or distressed areas. Hernandez continues to draw inspiration and support from her classmates in the LSC program.
"We came to know each other's stories and we really became a family," she says. "I see my fellow LSC grads organizing in our local community and around the Santa Cruz campus too. It gives me a great network of friends that all support each other."
Along with her college studies, Hernandez is currently participating in "No Place Like Home," an ongoing collaboration between UC Santa Cruz and the local community, which captures stories of renters, families, community organizations, landlords, and developers to illustrate the area's housing crisis. She is also exploring field study opportunities that address affordable housing and renter's rights issues in San Jose.
A Crucial Step on the Path to Community Leadership
Participating in a CLP certification program at The City College of New York (CCNY), Nina Tinikashvili and Isael Tejeda got involved in a research project for CASA, a local community organization dedicated to tenant rights in the South Bronx. Both say their research with CASA was a life-changing experience.
Tinikashvili and four classmates were introduced to Carmen Vega-Rivera, a CASA leader, in a community-based research class. Vega-Rivera explained CASA's mission and activities, and the students eventually met the organization's outreach coordinator, Enrique Colon. The two helped guide students in choosing to conduct a research project focused on how to engage the burgeoning West African immigrant population of the South Bronx, which meant conducting surveys at soccer matches and attending local church group meetings, among other contacts.
Living with her immigrant parents from the former Soviet state of Georgia, Tinikashvili had experienced displacement in her own South Brooklyn neighborhood. "You realize how vulnerable and scared people are when the building where they've rented for years is sold. Or the rent suddenly increases as the neighborhood is rezoned or becomes gentrified," she says. "It's one thing to read about organizing but to get actual experience in outreach to the community really helped me improve my skills . . . The project with CASA was a great learning experience. It affirmed this was the type of work I wanted to do and I got credit for it too. I don't think I'd have gotten my current job with the New York City Health Department if I hadn't been involved."
With a lifetime spent in community organizing, Vega-Rivera is encouraged by the leadership potential of the students from CCNY. "We're here to share our knowledge and experience, but it's really up to them to demonstrate their own leadership in the community," she says. "They don't have to reinvent the wheel but they have to make it their own." Tejeda says the CASA experience opened a door to a career he had not anticipated: that of a community organizer.
A resident of the Bronx who had personally experienced eviction and displacement, Tejeda was getting his degree in political science at CCNY and thinking about becoming a police officer.
"I enrolled in the community-based research course almost by accident when I was looking for an elective," he recalled, "but it changed everything once I got to experience things first hand at CASA. When I saw that map at CASA showing the effects rezoning would have on rent-stabilized areas, I said to myself, 'I have to get more involved.' . . . Working now as an apprentice at CASA after graduating in May makes me feel I have control of how I feel and act in the world. I'm working in my own community, growing as an individual, and helping people I know change things."
Addressing the Progressive Leadership Gap
As the founder of CLP, Andy Mott spent more than 35 years at the Center for Community Change (CCC), a national nonprofit that helps grassroots groups in changing their local communities. "Over the years, I saw that progressive leaders—primarily white males—from the '60s and '70s were retiring," Mott says. "This created a big gap in finding and cultivating the next generation of leadership—especially among people of color and from low-income areas."
With a grant from the Ford Foundation, Mott left CCC to explore ways of blending leadership knowledge with the practical skills of organizing locally to effect change. He found Denise Fairchild, who, since 1999, has been partnering with the Community Development Technology Center (CDTech) in Watts and South-Central Los Angeles. She had built the kind of program model Mott was searching for.
"The community college is a key catalyst to creating a pipeline of skilled, capable, local community leaders," says Fairchild, who serves as co-chair of CLP's steering committee. The program she helped develop with CDTech gives local students with a passion for community organizing a place and a career pathway where they can learn by doing. "We educate our students in a program that's one part therapy, one part knowledge, one part organizing, and one part technical planning," she explains. "In many cases, we have to first encourage them to overcome any cynicism they feel about the way things operate, and give them a sense of optimism about how they can effect change in their own backyard."
CDTech is celebrating its 20th anniversary. To date, 3,000 individuals have graduated from CDTech, with alumni going on to careers in community organizing as well as founding their own nonprofit organizations. With inspiration and lessons learned from CDTech, CLP has so far developed programs in 12 community and 4-year colleges across the U.S., including a partnership with the Minneapolis Community and Technical College (MCTC).
As a political science faculty member at MCTC, Lena Jones teaches core courses developed in conjunction with Syd Beane of the Native American Community Development Institute that enable students to earn an associate's degree in community development. "CLP embraces a holistic vision that's inclusive rather than the typical academic specialization," Jones says. "We work with other academic departments, with city and county government, and local nonprofits to supply internships for our students, guest speakers in the classroom, and in co-organizing local events."
CLP courses at MCTC offer open enrollment with no GPA or academic requirements outside of a GED or high school diploma. Jones noted that many CLP students transfer to four-year colleges to continue their education, and nearly all participate in local community organizing. One student, for example, is a policy aide to the mayor of Minneapolis, while another works for environmental justice at the Center for Earth Energy and Democracy. Some students have started their own businesses or nonprofits such as a recovery house for addicts, and a housing cooperative for Native Americans.
"We want students to understand their own personal story," Jones explains, "and what kind of change they want to see in their communities. As a teacher, it's so rewarding to engage with passionate people who want to connect with their communities, and help them discover the confidence and skills to make it happen."
Expanding the Role of College in Community
As president of De Anza College in Cupertino and a co-founder of The Democracy Commitment, Brian Murphy considers CLP in the forefront of helping students develop their leadership potential. CLP provides core curricula that can be adapted to each college's specific culture and community, and a national network of support and connection for participating college faculty. Located in the heart of Silicon Valley, De Anza College reflects the diversity of the region, with Latino, Asian, white, and African-American students. Many are first generation, immigrant, and working-class students who commute long distances to attend a college that emphasizes both academics and social engagement.
Community colleges typically emphasize preparation for the labor market, Murphy says, but he believes it's critical to teach students more than technical, vocational, or job-specific skills. With more than a third of American undergraduates enrolled in community colleges, Murphy argues, "Our colleges have an obligation to give students a way to participate in their communities, and learn to work collaboratively with their neighbors to help solve very complex problems.
"That's actually what employers are looking for in graduates these days," he says, "and why programs like CLP are so important to facilitating the social, entrepreneurial, and political skills students want and need to effect change."
Investing in Future Community Leaders To help fund its expansion over the years, CLP has obtained grants from the W.K. Kellogg Foundation, which invests in programs that benefit vulnerable children and families, concentrating on many of the cities where CLP now operates. "CLP programs stand out among leadership programs in their unique connection of academic learning with hands-on experience at the local community level," according to Uma Viswanathan, program officer at the Kellogg Foundation. "CLP reinforces the changes we want to achieve with our funding, helping legitimize community organizing among both academic institutions and employers while creating career opportunities for local leaders."
CLP's goal, says executive director Ken Rolling, is to establish 30 community change studies programs by 2020, and certify 3,000 students on the path to careers in community change. "We have the interest and commitment for starting CLP programs in 10 additional cities around the country today," Rolling says. "Right now, we are focused on gaining the funding we need to expand our efforts. With more resources we can give a new generation of community organizers the opportunity to learn how they can lead change in their own communities."
A version of this article first appeared in YES! Magazine.