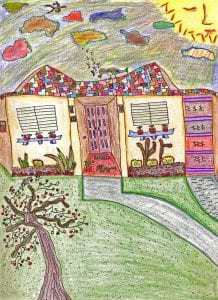 New York City's homelessness crisis is generational. Nearly 70 percent of the city's shelter population is composed of children and their families, who on average remain in shelters for more than 430 days. Our family homelessness crisis has separated families from their communities, relatives, schools and jobs, caused educational disruptions, high rates of absenteeism, health issues, and increased the risk of future homelessness for the 27,000 children sleeping in shelters each night.
Improving the well-being of these children and their families led Enterprise Community Partners, Citizens' Committee for Children of New York, and New Destiny Housing to convene a Family Homelessness Task Force comprised of over 40 organizations to inform the development of recommendations to prevent more families from becoming homeless, improve the conditions and services provided to families in the shelter system, and better support families transitioning from shelter to permanent housing to ensure they do not become homeless again.
Prioritizing Homeless Children and Their Families: A Report and Recommendations Based on the Work of the Family Homelessness Task Force was released in June, and stresses that family homelessness is not the sole responsibility of any one entity, but rather is the collective responsibility of the city and state, service providers, landlords, and advocates alike.
City and state representatives must develop a comprehensive approach to homelessness; one that provides resources to keep families from becoming homeless in the first place, supports them while they're in a shelter, and offers services after they secure permanent housing to ensure long-term stability. These three tenets shape the task force's recommendations, and each is essential for reducing family homelessness over the long term while improving the outcomes for children and families.
Recommendations
Targeting efforts toward preserving the city's shrinking supply of affordable housing and supporting policies that help keep struggling families afloat. New York State can do this by strengthening and enforcing its rent stabilization policies to prevent the loss of valuable units.
Because domestic violence is the leading driver of family homelessness, the city should consider creating safe and stable alternatives to shelter that allow survivors to keep their jobs and avoid disrupting their children's lives. Alternatives offer survivors the option of remaining in their homes, with added safety measures and sometimes financial assistance, or moving directly to other permanent housing, bypassing shelter. The New York City Human Resources Administration's Alternatives To Shelter program and Project HOME, a pilot being conducted at the city's Family Justice Centers, are two initiatives that support this work. Both could be scaled up to serve more domestic violence survivors at risk of homelessness.
Raising awareness of the city's universal access to legal counsel for tenants facing eviction and enacting Assemblyman Andrew Hevesi's Home Stability Support rental assistance proposal will help families remain in their homes. More broadly, the city should invest in strategies that help identify housing issues further upstream long before they become a crisis to prevent homelessness and promote greater housing security.
When children and families are in a shelter, New York must place them in settings that don't just meet their basic needs and keep them safe, but are focused on improving their well-being. For example, prolonged episodes in city shelters lead to high rates of absenteeism. Knowing this, the city must take additional steps to educate families about their rights, offer them access to assistance year-round, and streamline transportation policies and procedures to be more expedient. In addition, residing in a shelter is proven to have a detrimental impact on a person's physical health, mental health, and child development, so it is critical that families living in shelters have access to child care and early intervention services, health services, parenting supports, and employment training.
The lack of affordable housing is one of the root causes of the family homelessness crisis. New York must increase its stock of permanently affordable housing available to homeless families by specifically setting aside more units in existing zoning, tax incentive, and publicly funded housing programs.
Targeting housing subsidies and resources using available data about families, standardizing the procedures for different subsidy programs, and prioritizing the processing of housing applications for homeless families will ensure that homeless families receive assistance as quickly and efficiently as possible.
Many families need support once they leave a shelter to ensure they never become homeless again. Investing in aftercare services that help families access much-needed social supports, and exploring the development of an affordable housing model that includes on-site services for families in need who do not qualify for supportive housing will help homeless families with children to remain stably housed after leaving shelter.
While combating family homelessness is humbling, previous efforts to address veteran homelessness suggest that city, state, nonprofit, and advocacy partners have the capacity to advance and effectively implement a comprehensive plan to end homelessness. The task force's next steps are to convene a Family Homelessness Steering Committee that will develop and advance an implementation and advocacy plan for the recommendations listed in the report. By working together and focusing the joint resources and expertise of city and state agencies, nonprofit service providers, advocates, academics, landlords, and the philanthropic community, New York City can make great strides in addressing family homelessness. With 27,000 New York youth in shelters, our next generation is counting on it.
The Family Homelessness Summit was sponsored by Deutsche Bank Americas Foundation and JPMorgan Chase, with additional support from Santander Bank and Mizuho Americas.