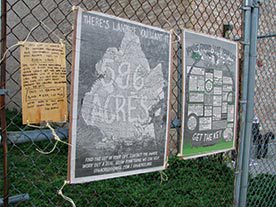 When I first exited the train in Cityline, East New York, on the border of Brooklyn and Queens, I was struck by the smell of Asia. Bangladesh, to be precise. The spices. It looked like the outer boroughs of New York City, with buses going by and streets too wide and a bodega with a yellow awning, but it smelled like somewhere absolutely exotic.
I had been asked to come out to Cityline by a local community organizer, Misba Abib. My organization, 596 Acres, helps neighbors transform vacant public land into community resources by publicizing the status of that land and connecting neighbors who want to use it with each other and with the correct decision-makers. Abib was dealing with a vacant lot situation that no one seemed able to resolve. In the heart of his neighborhood is the place where the A and the C train come up from underground. If you're on the train to Rockaway Beach, this is the spot where you suddenly encounter sunshine after miles of dark subway tunnel walls and your cell phone starts working.
At that exact point in the journey from the rest of the city to the sea, I found Abib, standing outside a triangular vacant lot situated above the last few feet of subway tunnel. The lot had a diagonal wall painted green, with a 6-foot red MTA emblem in the middle of it. It also had a rusty chain-link fence and a small forest of weeds so thick that it took me a few minutes to see the wall as a whole and understand that this piece of aging municipal pride had been repainted to resemble the Bengali flag. Abib told me he remembered a garden here, with containers for vegetables and elderly Italian ladies taking care of them. That was in the late 1970s when he was a child who had just arrived in the United States from Bangladesh. Through his teen years, the neighborhood changed. The Italian ladies disappeared — in fact a lot of people disappeared. No one cared for the containers or the plants. Trash accumulated. And then, one day in the mid-1980s, a fence went up, though it didn't stop the trash. In fact, it seemed to increase its flow.
Three years ago, Abib started talking with the Community Board about this piece of neglected space in his neighborhood's heart. He had trouble getting answers. So did the community board. The only concrete advice Abib got was that, if the mess in the lot was bothering him so much, he should jump the fence and clean it up.
If only it were so easy. Abib and his community are Muslim. There is a mosque right next door to the fence, perched just on top of the train tracks. The second time we met, he told me a story about a 17-year-old neighbor who had gone home to Afghanistan during summer vacation and had been detained on his way back to New York City. "We're too scared to go in there," Abib explained. "It's too close to the subway. Have you heard of stop and frisk?"
Through 596 Acres' information sharing platform, I was able to put Abib into direct contact with the MTA official who is responsible for their landholding and, after years of trying in vain to talk to someone about this space, Abib was finally able to have a direct conversation with someone whose interests aligned with his — to make all MTA property a resource. MTA agreed that the lot should be "beautified," but wasn't sure of the next step. When, a few weeks later, a clumsy driver knocked down one of the poles holding up the chain link, Abib and I made a plan to clean up the fence. I brought a few college students with me for the afternoon, and Abib rallied some community members. Teenagers stopped by and pitched in. The leaders from the mosque came outside and laughed and carried clumps of weeds. "You make me brave," said Abib. "You make all the people here brave."
Standing on the street corner, watching the weeds pile up at the curb and the fence be cut down and stacked for the scrappers to come pick up, I talked to two other residents of the neighborhood, one from Ghana and one from Trinidad. Both had lived in Cityline for as long as Abib had and both told me, in confidence, that they had never spoken to the "Bangladeshi people" before. Cityline has a Bangladeshi population of somewhere between 20,000 and 30,000. Abib put it best later in the afternoon when the group of us sat down to share a meal: "If we have no reason, we won't talk to each other. This lot, this place, it gives us a reason."
An Accidental Start
596 Acres is the most optimistic thing I have ever done. In April 2011, I accidentally started this project when I got my hands on a spreadsheet and a map that showed all the vacant public land in Brooklyn, according to the NYC Department of City Planning. "Vacant" land is land for which the NYC Department of City Planning has no use code on file; this is land that is literally, from the perspective of the department, not being used for anything. Public land is any land that is being held by a city, state, or federal agency. Adding up the rows in the spreadsheet, I came up with the number 596 acres for vacant public land in Brooklyn alone — an astounding total area of land slightly bigger than Prospect Park, the borough's celebrated oasis. I thought people needed to know; and so "596 Acres" was born.
We started as an experiment in getting information about land ownership into the hands of people who really were ready to make change.
The first incarnations didn't work. Sending spreadsheets of GIS coordinates for vacant public lots in each City Council district by email to people I knew who lived and worked in those districts produced absolutely nothing. Crickets.
So I got together with a visual artist friend, Julia Samuels, and we made posters that advertised Brooklyn's municipal vacancies. People snatched them up. In one weekend of block parties and festivals, 200 posters were gone. So we printed 1,000 and took them out to the neighborhoods, glued to foam rescued from the trash. We began physically labeling the vacant and available lots themselves, with signs that explained, in specific, painfully bureaucratic detail, what was going on behind each particular fence.
In June 2012, I threw some zinnia seeds embedded in a clay ball over a fence into a lot owned by the NYC Department of Environmental Protection, a lot that had been the frustrated target of decades-long community organizing efforts for a new community green space. By September, I was able to pick a few of those flowers with the daughter of a neighbor, and by October I found myself sitting in a peaceful circle of self-appointed land stewards, flowers as backdrop, inside the new "Myrtle Village Green," discussing community composting, health fairs, and a greenhouse for growing a last fall crop of radishes. There were fourteen neighbors in the circle. I had lived in the North Bed Stuy neighborhood for a decade, but I had only ever spoken to two of them.
Vacant Land and Unsorting
Public life is life that happens in between privacies. It is no accident that Occupy Wall Street began in a place that was neither work nor home nor shopping, creating in Liberty Plaza in the fall of 2011 a momentary community living room.
The city on a map shows us areas where resources are pooled and vast steppes where resources are scarce. Deleterious conditions concentrated in certain New York City neighborhoods are not accidental, but rather a systemic deprivation enabled through urban geographies. Power congeals in pools of inequality that carry with them their own gravitational pull. The map of vacant public land in NYC is a map that shows both the present day reality of a city sorted on racial and economic lines and the history of disinvestment and subsequent bulldozing that affected some neighborhoods and not others.
The differences between neighborhoods are even more stark when one looks at where foreclosures are concentrated, where vast numbers of people live who pay more than 50 percent of their income in rent, where renters most often find themselves in housing court. These places overlap to a shocking degree. These are also the areas from which jail and prison populations are drawn and to which they return, bringing the trauma and violence of their experiences back home, as well as the neighborhoods to which you have to take a bus because the subway does not reach them, the neighborhoods where few hospitals ever opened and those that did are closing, the neighborhoods with few grocery stores and fewer farmers' markets, the places without parks but with trash incinerators. These are also, by the numbers, the places where one is most likely to be stopped and frisked. The most burdened neighborhoods are also the neighborhoods where the majority of New York City's people of color live.
596 Acres' maps make patterns of neglect visible by showing the distribution of unused, misused, or otherwise untapped resources. These maps make concrete what would otherwise be invisible or, at best, anecdotal.
In the face of neighborhood-level disparities, 596 Acres engages communities in a set of tactics with the goal of unsorting the city through neighborhood-level change. The residents of neglected areas do not lack the imagination or will to create a more ideal neighborhood. The missing piece is a path to follow and the contextual information that people need to organize their communities. Sometimes all that is missing is the phone number for a specific person in municipal government who has the power to move an idea toward reality or the ability of a resident to speak the same language as the city official who answers the phone.
Our signs, hung on the fences that disconnect them from the usable landscape, activate the dreamers around them. They speak directly to those residents of the neighborhoods who walk by them daily and wonder where the decisions are being made that will someday lead to the removal of the fences and the arrival of new people and institutions that are not "from the block"; they speak equally to those people who walk by and simply refuse to see them, being so accustomed to living in a landscape of scars and rust and inaccessibility.
Opportunities are born on our sidewalks in the simplest conversations. Start taking down a fence on a corner that has served no purpose but to house weeds and bags of human waste and other untouchable elements, and people really stop to talk. People who have never had a cause to speak to one another, who sometimes struggle to find a common language, suddenly have a question in common: "What should we build here?" (Or sometimes, the much simpler "Which way should the benches face?")
Connecting Neighbors
Shatia Jackson, co-founder of the 462 Halsey Community Garden and now a member of our advisory committee, was one of the first people to see one of our signs and plug in.
"The brownstone that my family owns has been there since 1899," says Jackson. "My great-grandmother bought it and we're five generations in. We all grew up there. My great-grandmother had her life there; my grandmother grew up there; my dad; me, my sisters; and my son. And since that lot is on that block and since it has been the backdrop of a lot of wonderful memories of my childhood, its very important to me to transform it and make it something beautiful and something that the community can utilize."
Shatia saw the sign in July 2011. By November of that year, she and a small group of local residents had successfully navigated the murky municipal process that led them to keys to the rusty locks and a signed agreement with GreenThumb and Housing Preservation and Development to turn the space into a "garden" (defined loosely) within six months. As of October 2012, 462 Halsey has over 80 members, an active children's corner (with the only sand box for miles around), an affordable produce program run by GrowNYC, a collaboration with a local school's science program, an active community composting program, and open hours every day.
"Providing a community hub is one of the goals that we have, a place where people can come together," Jackson explains. "And the first step in doing that was the fact that my co-founder, Kristen Binardi Rapp, is not a native Bed-Stuy resident. She just moved her with her family. The fact that we have linked up, that you have someone who has been in the neighborhood for a long time and has been through its ups and downs, and someone who is brand new but is willing to learn about the history and really make this their home . . . hopefully this will set the model for other residents to feel like they can do that." Rapp, a 596 Acres volunteer, met Jackson through the 596 Acres platform — Rapp did a search for lots near her new address, and they were introduced by email after Jackson sent a note in response to the sign on "her" vacant lot.
Organizing geographically around "third spaces" and the disparate distribution of vacant land in poor communities allows for the congealing of power in unexpected places. While the NYC budgeting process inherently gives more life chances to projects and people living in places where capital is pooled, the areas left underfunded are no less likely to house people who want to live in a city and neighborhood they are proud of. Letting those people find each other using spatially organized social networking tools allows their voices to be heard.
For years, I taught adult speakers of other languages to speak English. One of the most common struggles I encountered was elucidating the difference between the word "neighbor" and the word "neighborhood." My students consistently pointed at pictures of people (or at actual people in the classroom) and said, "This is my neighborhood." Again and again, I painstakingly worked with them to "correct" this mistake: to somehow get them to internalize that a 'hood is a place, and neighbor is a person. I think there is a really obvious reason that it was always so hard. Neighborhoods are people. I am thrilled to be engaged in a tactic aimed at making it possible for them to create and re-create themselves.