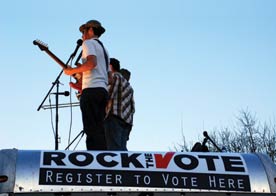 In June 2012, thousands of African Americans braved the heat to attend Milwaukee's annual Juneteenth festival. While this typical Midwestern city is famously known for Laverne & Shirley and Happy Days, people of color actually make up more than half of the city's population. So even though the unseasonably sweltering weather kept some in the house, the event was well attended and street vendors competed to get the attention of attendees.
One of those vying for attendees' attention was Wisconsin State Sen. Lena Taylor. A member of "The Wisconsin 14," the group of state senators who left the state in 2011 to prevent the passage of Gov. Scott Walker's union-busting Budget Repair Bill, Taylor was out engaging voters even though she is unlikely to face a serious opponent in her upcoming reelection bid.
Taylor is a member of the Unity Caucus, a new contingent of Wisconsin's black elected officials who have vowed to become more active in local elections. Taylor, and groups like 100 Black Women and the League of Young Voters Education Fund, were out to engage with the mostly young crowd and convince them to register to vote.
In 2008 at this point in the election cycle, more than a million more voters had registered than they have this time around. Why? Because after decades of empowering hundreds of thousands of voters, organizations that have historically run large voter registration canvasses — namely ACORN — are no longer around.
While the conservative attacks on ACORN that took place in 2008 and 2009 may seem like ancient history, those unfounded accusations of fraud have had a lasting effect. Not only did the trumped-up narrative create a hostile environment that led to Congress defunding the 40-year-old organization, but opponents critical of nonpartisan voter engagement have also continued to exploit the false accusations against the organization to justify making it more difficult to both register to vote and participate in elections.
In 2011, after Republicans dominated their Democratic opponents in the 2010 midterm elections, the number of states with voter ID laws nearly tripled. Republican-controlled legislatures, like those in Florida, dramatically altered the landscape of voter organizing by changing local election administration laws. In an attempt to quell the growing effect of third-party registrars, Florida required groups running voter canvasses to turn in voter registration forms within 48 hours of their completion — or risk being fined. While the federal court recently threw out parts of the Florida registration law, including the 48-hour mandate, the law has had a chilling effect on registration in the state. "We were actually considering not working in Florida this year," said Heather Smith, executive director of Rock the Vote, one of the co-plaintiffs in the federal lawsuit that voided parts of the Florida Law. "But even though we are still fighting to register voters, our campaign is months behind schedule." To date, there are nearly 100,000 fewer registered voters in the state of Florida than there were at this same time in 2008.
And that's exactly the point of these laws. To many, the efforts to restrict civic engagement organizing are outright attempts to suppress the growing number of young voters and people of color who are participating in the process. By 2016, voters born after 1980 (so-called Millennial voters) will make up nearly one-third of the American electorate, according to the Center for American Progress, and they are overwhelmingly more progressive than other age cohorts. From gay marriage to support of government programs to the immigration reform of the Dream Act, young voters are far more likely to support progressive, often Democratic, causes. What's more, young black voters, like those attending the Milwaukee Juneteenth Festival, have participated in larger percentages than their white counterparts in recent elections.
"The surge in youth voting over the last several presidential cycles has been overwhelmingly driven by young voters of color," says the University of Chicago's Cathy Cohen, whose recent text, Democracy Remixed: Black Youth and the Future of American Politics, highlights a growing trend that black youth see themselves as reluctant, but consistent stakeholders in the civic process. "But when the media talks about the youth vote, it rarely mentions that young people of color are the most politically active segment of the Millennial generation."
Not surprisingly, this is the same demographic hit hardest by the changes in election law. Young people of color are more likely to be registered by a third party operation and they are also more likely to not possess the proper ID needed to vote. So when groups like ACORN disappear, access to the civic process also disappears.
The adoption of voter ID laws — although framed as necessary protection against voter fraud — actually disenfranchises young people of color at higher rates than any other demographic. And many experts agree: voter ID laws prevent more Americans from voting than they were ever meant to protect.
The Loss of ACORN
Before closing its doors in 2010, ACORN had faced repeated attacks by conservative opponents. Although the nonpartisan organization's massive field program never endorsed candidates, it did engage new voters who typically wouldn't engage in the civic process. Progressives may point fingers at conservatives for trying to suppress voter turnout, but the truth is that ACORN's greatest attribute was empowering working class and poor communities to engage at the local level, where the Democratic Party is often dominant. ACORN's ability to bring new voters into the civic process made poor communities more powerful politically. The organization took on both sides of the political spectrum, giving community activists and leaders a platform to stand in solidarity with their neighbors. This level of civic engagement, while often ignored by political pundits, is exactly the type of democratic participation needed to rebuild the struggling communities ACORN targeted. Most people, regardless of political background, would agree that self-determination is a good thing. The truth is: the entire country is hurt by the loss of ACORN.
But there are some standout organizations working to mitigate that loss:
The Bus Federation: Probably the most effective youth-driven field organization in country, the Bus Federation focuses on large-scale voter mobilization efforts. It gets its name from the actual buses it uses to mobilize hundreds of volunteers to the field during its campaigns. Perhaps best known as the originators of Trick or Vote, a nationally recognized effort to engage voters on Halloween, the Bus Federation kicked it up a notch this year with Voter Registration Day, a massive national coalition effort to register voters on September 24. Although the Bus has local offices in a handful of western states, its innovative voter engagement strategies have a huge influence over the national landscape.
Rock the Vote: Twenty years after its launching, Rock the Vote is still the most revered brand in the youth civic space. Combining the best of lifestyle marketing and data-driven online organizing, Rock the Vote aims to register nearly 1 million voters in the 2012 election cycle. More than a registration outfit, Rock the Votes develops innovative online tools and content for the entire civic engagement space. And it isn't just a liberal group. You can see Rock the Vote at both the Democratic and Republican national conventions.
Voto Latino: Led by Maria Teresa Kumar and actress Rosario Dawson, Voto Latino has a growing list of supporters who are cultural tastemakers from entertainment and sports and it is changing the perceptions of organizing in the Hispanic community. Like Rock the Vote, Voto Latino uses smart online tools, like to TurboVote, to ensure sure that young Latinos are being registered, educated, and mobilized in a method that is familiar and fun.
The Hip-Hop Caucus: Led by pastor and activist the Rev. Lennox Yearwood, the Hip-Hop Caucus uses grassroots organizing to educate the hip-hop generation about the political process. In 2008, its collaboration with platinum rapper T.I. educated the public about the confusing obstacles preventing the formerly incarcerated from voting. This year, the Caucus is working with the reigning king of Southern rap, 2 Chainz, to revive this narrative and inspire urban music lovers to register to vote at its numerous community engagement events.
These are just a few examples of efforts picking up the pieces after ACORN, but the demand for civic engagement organizations in low-income communities of color remains at an all-time high, and there are huge opportunities for organizations to engage young people of color and take advantage of mobilizing this Millennial electorate. The effect could be the building of major 21st-century political movements, but we have to start now. Now is the time to engage.