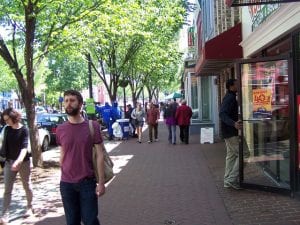 Unemployment and other economic reversals have led to adult children to come back home to live with their parents, increasing housing size and reducing demand for housing: (see NPR's "One Roof, Three Generations, Many Decisions") even as the number of singleton households continues to rise ("More singles living alone and loving it, despite the economy" from USA Today).  This is a leading cause of the continued weakness in the housing market.
As David Smith of Recap Real Estate Advisors and the Affordable Housing Institute said in his Guru column, "What should we be preserving?," last June:
"Last year, for the first time in 50 years, American average household size rose, to perhaps 2.65 people. With 307,000,000 Americans, households of 2.59 people need 118,500,000 dwellings, whereas households of 2.65 people need 115,850,000 dwellings.  At a demographic stroke, this means reduced effective demand for 2,650,000 homes – more than two years' total national housing production.
Where did the households go? Back into hibernation, by doubling and tripling up or moving back home – today roughly 30% of all young adults live with their parents, and for one principal reason: jobs. They can't afford to be independent.
Housing fails if communities fail, and communities fail if jobs fail."
Middle class wages continue to drop, especially because of the globalization of the labor market: while economist Paul Krugman makes this point often in his columns in The New York Times, I was really struck by Elliot Spitzer's mentioning of this at his presentation at the recent ULI Washington Real Estate Trends conference ("ULI Washington 2012 Real Estate Trends Conference #1: Elliot Spitzer"). This furthers the "doubling up" trend. Rents are rising: because people leaving the owner-occupied housing market need a place to live. This furthers the "doubling up" trend.
Also, new credit guidelines in the mortgage market make it much harder to buy (or refinance) a house. During the real estate bubble, I came up with my only decent joke, that "polygamy is going to be legalized, because you need at least three incomes to buy a house." Will this have an impact on household size?
These kinds of dynamics may mean that the old way of extended families—parents, grandparents, children, adult children—living under one roof may be returning and this could have major implications for market rate and social housing production going forward, if it is a real trend, especially in weak market metropolitan areas.
Policy and Planning Implications
We need more apartments with more bedrooms. Production in multiunit residential housing of units with three or more bedrooms is minimal.  Most market-rate buildings, except for superpremium properties, tend to focus their production 55 percent on studios/efficiencies and one-bedrooms and 45 percent on two-bedrooms, although as much as 5 percent of the units can be three-bedroom, depending on the market.
A typical three-bedroom apartment layout has a shared living and dining room and no additional family spaces, other than bedrooms.
Hope VI rebuilds of social housing projects tend to significantly reduce the inventory of larger apartments, and the tenancy of multi-generational families is often seen as problematic.
Housing elements in comprehensive land use plans will need to be adjusted so that they provide guidance for the provision of such housing, and incentive packages probably need to be developed to assist in the provision of a larger inventory of larger apartments than would normally be provided.
We need greater attention given to outdoor public spaces, civic spaces,
and commercial spaces.  Community planning processes need to be updated to ensure that these types of spaces are provided. As households become larger, more people will spend more time out-of-the-home on social activities, "get away" from the house and the cramped quarters. Parks and other public places, recreation spaces, active streets in commercial districts, and other places may become increasingly in demand as households become larger and multi-generational. Too often, community land use practices haven't caught up to these changing circumstances as more people live in city centers.
This was discussed in the entry "Park Service, Wells helping downtown get a playground" in Greater Greater Washington, although I will point out that I have made similar points about the need to plan for recreational space downtown in blog entries and writings over the years. The Zoning Commission ruled that downtown housing projects didn't have to provide recreational space, but at the same time, they didn't require that such projects pay into a fund to be used to pay for the creation of shared recreational spaces.
Indoor community spaces within multi-unit residential complexes need attention too. Increasingly, higher end properties are providing high quality on-site amenities ranging from business centers, wi-fi, television projection rooms, outdoor kitchens and patios, fitness facilities, etc.
From the standpoint of addressing "social exclusion" through the provision of high quality programs and practices of "social inclusion," we need to ensure that social housing developments have high quality on-site amenities also.
The THEARC (Town Hall Education and Arts Campus) was created by the William Smith Companies as part of their rebuilding of various housing projects in Ward 8 in Washington, D.C.  While not an on-site amenity building per se, it's an example of creative and innovative thinking about the provision of amenities and community spaces in social housing.
U.S. social housing development policies need to change too, to adapt to these changing circumstances. While the HOPE VI program changed social housing polices to change public housing communities so that they now can and do incorporate residents with a mix of incomes, policies haven't changed to allow the inclusion of retail and commercial space in these projects.
Trends for mixed-use development shouldn't bypass social housing, especially because "commerce is the engine of urbanism" and is one of the crucial forms of exchange that support community as well as build and extend it. And profits made on commercial space can support the provision of other programs.