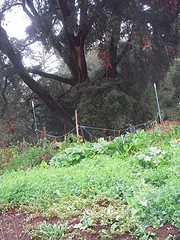 I was introduced to the concept of the community garden on my street in Boston several years ago, on a site where a house had burned to the ground some time earlier. After it was cleared, the city claimed the lot and turned it over to a citywide open space group, which in turn gave residents of our street the right to plant vegetables on it.
The house lots in that neighborhood were tiny and sloping, and few residents had the knowledge to cultivate produce or fruit. The community garden helped people achieve their aspirations to grow their own food, enough to supplement what they bought at the store in a meaningful way. The garden also served, for many residents, as a means of community-building. We had potlucks and meetings in the garden, and there were some organized work sessions so folks could till or weed together (as well as gather the harvest).
Now that I live in a rural area, I've been surprised to learn that community gardens are growing in popularity there as well. Many residents living in the countryside live on lots of an acre or more; also, many people are from rural places originally, as were their elders. But like so many things in this modern world, the art of home gardening has been forgotten by many. And as in urban food deserts, the fresh vegetables and fruits in rural groceries are often of subpar quality, overpriced, or just plain scarce.
So it is that in one nearby county, a local activist has worked tirelessly to find a strategically located site for a community garden in the town. The location is intended to be near a large residence for senior citizens as well as an elementary school. In my county, an agency that runs a food pantry is encouraging people to help plant seeds in a garden adjacent to where people pick up donated goods. They are also encouraged to stay involved through the growing season. A third county, even more rural than the other two, sees a need for a community garden because, as one activist noted, many young people are not learning about agriculture anymore at home.
The kickoff date for the food pantry's planting campaign is next weekend. I'm curious to get a sense of the motivations of the people who attend.
Photo by Flickr user meganpru, CC BY-NC 2.0