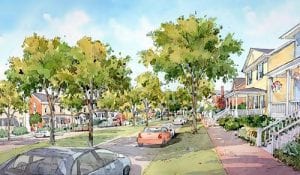 This is exactly how the federal government should be supporting sustainability: helping communities who want to do the right thing for their environments, economies, and residents. Congress may have just used the federal budget to zero out the sustainability assistance program of the Department of Housing and Urban Development but, in what may be its last round of major grants for a good while, HUD yesterday awarded $97 million for planning and other efforts in 27 regions and 29 communities across 32 states. The residents of those communities will be the better for it, and so will the planet.
Here's a way-too-quick summary of how the agency is supporting local efforts:
Help with transit-oriented development
Consider the distressed neighborhoods along Boston's Fairmount/Indigo transit corridor, for example. 90,000 people live within walking distance of the line (but not within walking distance of the limited number of stops), their median income some 35 percent below the state average. Two-thirds of the Boston region's foreclosures were along the corridor. But currently the rail service lacks stops in the low-income communities that most need them; as a result the line primarily serves commuters passing through. HUD is awarding the city of Boston $1,865,160 to facilitate mixed-income, mixed-use development in conjunction with the construction of four strategically placed new stations (and improvements to existing stations) along the line.
The Boston grant was one of several in this round that seek to address strategies for affordable, transit-oriented development. The largest of the grants, for example, is sending $5 million to support planning for a 13-county area of northern New Jersey connected by regional transit systems. Similarly, the San Francisco Bay Area's Metropolitan Transit Commission will be receiving nearly $5 million for a nine-county regional initiative "to increase access to regional prosperity for workers, by creating middle-income jobs and developing and preserving affordable housing in transit-served communities."
Other communities receiving help explicitly to coordinate land use and economic development in transit corridors include Seattle; a consortium of five suburban communities west of Chicago; an East Florida rail corridor; the Denver Regional Council of Governments; the city of West Sacramento; and Phoenix.
Sustainability planning and rural regions
The agency also awarded sustainability planning grants to comprehensive regional efforts less specifically tied to transit. Many are in urban regions but some are for rural areas including (among other places), for example, Eastern Arkansas; the Western Greater Yellowstone Area; the South Central Kansas region around Wichita; North Central Montana; Dona Ana County (NM); the Adirondack Gateway Region (NY); Western North Dakota; and two regions in Vermont . Another rural recipient, the scenic Flint Hills, Kansas, region, was awarded a planning grant that should not only benefit its continuing rural character but also help protect the mission of Fort Riley, a 100,000-acre military facility.
Local zoning and community innovation
Yet some of the most interesting grants were made for innovative efforts by individual communities rather than regional authorities. For example, in the Kansas City region, a grant emphasizes older suburbs: the 19 member communities of the area's First Suburbs Coalition are receiving help to update their ordinances and codes to better align them with sustainability goals. Stamford, Connecticut, is getting a grant to plan a "Health and Wellness District" around the Stamford Hospital. Warren, Ohio, is receiving a grant to assist affordable housing with the incorporation of inclusionary zoning ordinances.
This round of grants even includes at least one to help address food deserts: a grant will enable Sacramento County (California) to evaluate the prospects for a new food distribution hub that could provide access to local fresh fruit and vegetables in urban neighborhoods without full service grocery stores. New suburban development is also addressed: in Austin, the city's Neighborhood and Development Office is getting a grant to assist a master-planned, 208-acre suburban development "that will incorporate best practice strategies for energy-efficient building design, water conservation and zero-waste technology and standards to create a model sustainable and livable mixed-use, mixed-income community."
Native American Communities
Having admittedly read only somewhat superficially through HUD's announcement, I do have two favorites in smaller grants made to indigenous communities. First, in New Mexico, the Pueblo de Cochiti Housing Authority will be awarded $292,023 to study historic settlement patterns around the community's central Plaza. The Plaza hosts traditional and cultural activities throughout the year, and "this project aims to maintain and strengthen ties to the traditions, culture, and language of the Cochiti people. Through this effort, the Tribe will address substantial and long-term needs and obstacles for promoting local employment, affordable housing, cultural sustainability, and improved transportation systems."
In Arizona, the Hopi Tribe is facing a housing shortage along with high rates of unemployment and poverty. In response, HUD is awarding $150,000 to develop economic development feasibility studies, along with planning and zoning codes, for the proposed Tawa'ovi Community on the Hopi Reservation. The community is intended to house up to 1,500 people with the necessary community services and jobs to sustain its residents over the next 10 years.
HUD and the federal partnership
With space and time constraints, I've left a lot out. Look over the full description of grant awards for a more complete story. But the point is that local communities frequently lack capacity on their own to plan sustainable futures that will benefit of their residents and visitors along with the environment. They need help, and HUD has stepped up in a way that no previous HUD administration has. Its agency partners in the federal Partnership for Sustainable Communities — the Environmental Protection Agency and the Department of Transportation — have stepped up, too, with their own programs. These efforts are making a difference.
It must be stressed that no one gets these grants unless the local communities assemble a major effort to request them. This is not government intervention but government assistance. And it's also job creation, by the way.
The work that HUD, DOT, and EPA have done in the federal Partnership is perhaps the closest we've come yet to matching European sustainability efforts. My guess — and hope — is that attempts to shut down these kinds of approaches, principles, and assistance won't succeed for long. The sustainability genie is out of the bottle and growing. And, when it is helping local communities this much, it may take different forms, but it's not going back.