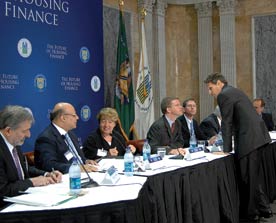 Last year, then-chairman of the House Financial Services Committee Barney Frank told Shelterforce, regarding Fannie Mae and Freddie Mac, "the model of a private shareholder corporation with a public mission doesn't work." HUD/Treasury's February report to Congress, "Reforming America's Housing Finance Market," appears to agree — it is now infamous for its proposal to "wind down" Fannie Mae and Freddie Mac, which have been under FHFA conservatorship since 2008, calling for "private markets — subject to strong oversight and standards for consumer and investor protection" to be "the primary source of mortgage credit [and] bear the burden for losses."
While having the private market take responsibility for its risk-taking sounds nice, the emphasis on expecting private markets to produce public goods is still curious, given recent history. When the administration championed injecting private capital into public housing (See SF, Summer 2010) there was substantial backlash from people concerned about privatizing public resources and entrusting people's homes to the whims of an amoral market. Some of the same concerns are following this move, with advocates asking if dissolving Fannie and Freddie will completely undo a 70-year commitment to affordable homeownership.
The administration's plan, which also calls for larger downpayments and higher fees for home loans, says "Americans should have choices in housing that make sense for them and for their families. This means rental options near good schools and good jobs." It does not mean, it says, that "our goal is for all Americans to be homeowners."
We agree that the homeownership-only anthem needs to be phased out. But does this go too far? Would it create a homeownership class that re-forms along all-too-familiar racial and economic lines? The options put forth in the report could lead to just that, according to Barry Zigas, director of housing policy for Consumer Federation of America. While he praised the administration for "long overdue" standards proposals, he told Shelterforce having no government presence outside the FHA would alter the housing market back to include fewer long-term fixed-rate mortgages, higher prices, and less access to secondary markets for smaller banks and credit unions. "That would be hugely puzzling and disappointing," Zigas said.