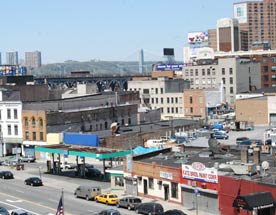 A controversial, 17-acre expansion of Columbia University's Harlem campus received a nod from the New York Court of Appeals, which overturned a lower court decision, tentatively allowing the university to pursue a $6.3 billion development in facilities for science and health-care research, along with housing and amenities. The ruling allows the state to deem the area blighted, which allows the project to qualify for eminent domain. The area, known as Manhattanville, is currently home primarily to warehouses and auto repair shops.
The expansion effort has caused a great deal of strife in the neighborhood, as documented in 2008 in Shelterforce ("Will Columbia Take Manhattanville?" Shelterforce #158).
Earlier this year, the proposal was put to a halt by the New York State Supreme Court's appellate division, citing a misuse of the eminent domain law by the state on the university's behalf. Specifically, the court ruled that there was no civic purpose behind the school's expansion plan. The school's developer argued that the proposed project had civic value, adding education facilities, community vitality, and increased job opportunities.