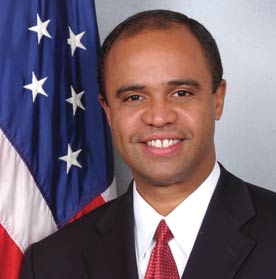 First it was the Office of Urban Policy. Then, at the time of its launch in 2009, it quietly turned into the Office of Urban Affairs: a small, but interesting name change. Its director, Adolfo Carrion, the former Bronx borough president once rumored to be in the running for HUD secretary before President Obama tapped fellow New Yorker Shaun Donovan to head the agency, was at the helm of an upstart White House office. The office was supposed to represent something of a pipeline between the West Wing and respective urban city halls.
Just over a year later, Carrion has left his post, being named HUD's regional director for New York and New Jersey. Carrion's tenure as President Obama's point man on urban issues at the Office of Urban Affairs was short and mostly uneventful, characterized by a muted tone that contrasted with the high level of anticipation it had generated, a reflection of the ethos that "urban policies are the rules and incentives that shape the prosperity, equity, and environmental sustainability of the metropolitan regions in which 8 in 10 people live," as Xavier de Souza Briggs, associate director of the White House Office of Management and Budget, wrote in Shelterforce just before the 2008 elections.
A new director for the Office of Urban Affairs as not yet been named, and we'll be watching how that office takes shape anew moving forward. Certainly we wish Carrion well, but we'd like to see that foundation really take hold — soon.